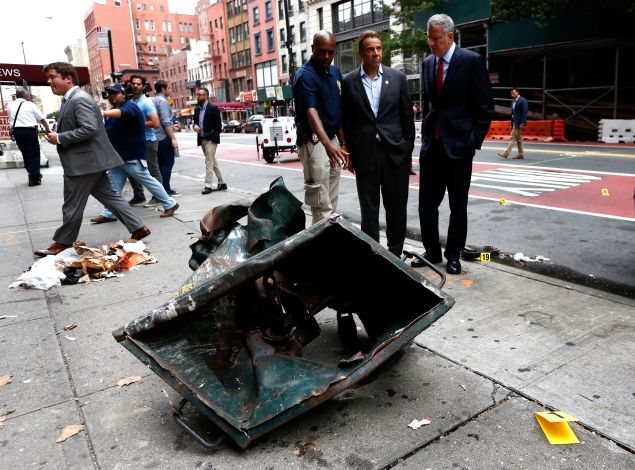 New Yorkers have been very lucky—in large part because the NYPD has been very good. Since 9/11 there have been 21 terror plots against New York or involving people in New York. Only one – last year's bomb in Chelsea – has resulted in injuries. Thirty-one people sustained injuries in that attack, none of them life-threatening. But we were fortunate: the home-made bomb was placed in a dumpster. And though the blast was powerful enough to hurl the container 120 feet down 23rd Street, its impact was limited, as the dumpster contained the blast.
We cannot count on future terrorist being so inept. The ISIS digital magazine Inspire recently published the equivalent of a military after-action report; it showed other terrorists how not to make the same mistake.
There is more to the city's good fortune than mere luck. We are also blessed with a police department that is extraordinarily competent and works well with the FBI and JTTF (Joint Terrorism Task Force.)
Last week, the Observer attended a breakfast at New York Law School where Deputy Police Commissioner for Intelligence and Counter-Terrorism, John Miller, spoke. His remarks were thoughtful and sobering.
Miller is the former television reporter who, just months before the 9/11 attacks, interviewed Osama Bin Laden for ABC News. In that report, Bin Laden declared war on the United States, and urged prospective jihadists to join his fight. Some did, and journeyed to Pakistan and Afghanistan to be trained in Bin Laden's camps.
The picture of today's terrorist threat that Miller painted for absolutely-hushed crowd of more than 200 at the Center for New York City Law is very different. We no longer face a radical leader seeking fealty and jihadists to travel to distant battlefields. In a global call-to-action, aspiring jihadists are being encouraged to remain in their home countries and take singular action in the name of jihad. It is a call to lone-wolf martyrs to uses trucks, guns, knives or anything else that can be weaponized to kill Jews, Christians, shoppers, club-goers—any targets of opportunity no matter how innocent.
Miller pointed out that the NYPD has liaison officers stationed in 13 foreign cities. Within minutes of last week's attack on policemen on the Champs Elysees, the NYPD was getting first-hand reports. In turn, resources went on full alert.
Perhaps the most terrifying aspect of Miller's presentation was a six-minute ISIS recruiting film – in English. Professionally produced, it documented the first-person account of a young Canadian decision to convert to Islam and become a jihadist. It ended with video footage of a battle and the Canadian's death – with a voice-over narrative by the deceased himself. It was eerie and undeniably effective as a recruiting tool.
The Observer asked Commissioner Miller what authorities, initiatives, or policies he would like to see implemented to help make New York safer. His answer had two parts, and the first was both enlightening and diplomatic. Miller emphasized that the restrictions that the NYPD operates under in monitoring "political" activity – known as the Handschu agreement, named after a 1971 law suit brought by members of the Black Panther Party against the NYPD – were not a problem. But the second part of the Commissioner's answer deserves serious and immediate attention on the federal level.
Miller fears that the terrorists' ability to "go dark" – to communicate safely via encrypted e-mails and text messages – is severely limiting law enforcement's ability to prevent future attacks. Similarly, the inability of the police and FBI to gain access to a terrorist's cell phone after an attack has taken place – and often after the terrorist himself has been killed in a confrontation with police – is hampering investigations and protecting conspirators. The combination of technological barriers and restrictions by the courts based on out-of-date laws is creating a terrible imbalance – and danger to the public. Miller pointed out that there are 109 unread emails on the cell phone owned by one the two ISIS shooters in the 2015 Garland, Texas attack. Who else, Miller asked, were they working with?
Similarly, because Apple refused to unlock the iPhone of Syed Rizwan Farook who killed 14 people in San Bernardino, the FBI had to spend four months to secure outside assistance to access potentially critical information about Farook's methods and accomplices.
There is an understandable concern about scaling back all the protections and privacy Americans have grown accustomed to. But the terrorist threats against western civilization by ISIS, Al-Qaida and its offshoots are very real, and demand a sensible balancing of security needs and civil liberties. It is time we address that delicate balance thoughtfully but quickly.