In Greek mythology, the Minotaur – a half man, half bull monstrous mutation – lived deep within the twisting, interweaving paths of a labyrinth built by the King of Crete, King Minos. The beastly Minotaur, unable to navigate the dead ends and trick turns of the labyrinth, was trapped, as was anyone who dared to venture within. It's an allegory for how choices affect one's life, and death.
This notion could well be the most likely reason why Rei Kawakubo (who worked closely with the Met on all aspects of this exhibition) chose a labyrinth to set the stage at the Metropolitan Museum of Art for the exhibition dedicated to her work, "Comme Des Garçons, The Art of the In-Between." The exhibition, curated by Andrew Bolton, is the first monographic exhibition on a living designer at the Met since 1983.
Rei Kawakubo, born in Tokyo in 1942, never went to design school to train as a fashion designer; she studied art and literature at Keio University. She took a job in a textiles factory, her first introduction to the fashion world. In 1967, Ms. Kawakubo became a freelance stylist. And then, in 1969, she started designing her own clothes under the label, Comme Des Garçons – which is French for "like boys." By 1973, due to its overwhelming popularity with Japanese consumer, she incorporated the brand in 1973. Throughout the 1970s, she developed her aesthetic and built her company, adding more and more lines as her empire grew exponentially. In 1981, she debuted in Paris, and by then, she had become famous for her oversized, strangely designed garments that defy description and categorization.
This exhibition is the logical follow-up to last year's Manus x Machina; now that we've justified that the craft of fashion is indeed art, Mr. Bolton has brought the perfect specimen, Rei Kawakubo, to illustrate and drive the idea home. Indeed, the fact that her work is constantly new and different, that she strives to "invent the wheel" every season, and challenge the notion of what makes fashion, Rei's clothing "makes the art versus fashion debate redundant," said Andrew Bolton. "Because her work embodies challenging concepts, it suggests an art for art's sake"
The name of the exhibition, "The Art of the In-Between," refers to the inability to classify Comme Des Garcons. It is avant garde, yet commercial. It's not quite art, not quite fashion. It is within this void, this "in-between" space of the undefined, that Rei Kawakubo's work can be fully appreciated, perhaps even understood.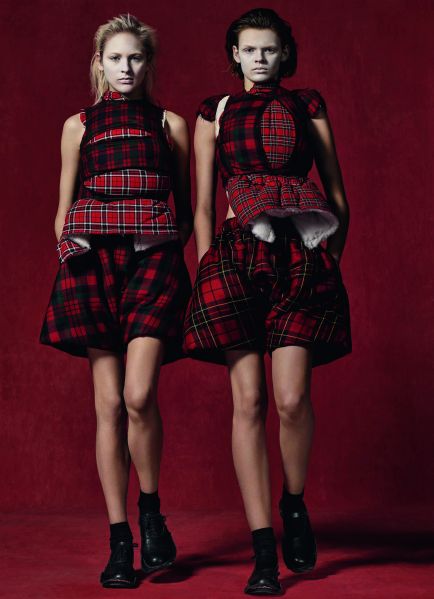 Entering the exhibition, you are confronted with a series of red voluminous dresses in a circular chamber, like a sci-fi portal to the mothership. The curved chambers, with its narrow openings, force you to look within, to examine each piece from every angle. The exhibition is all square cinder blocks and curved lines painted and bathed in a pure bright white that, like last year's Manus x Machina exhibition, is ecclesiastical in its reverence. Despite the massive amounts of people who came out to attend the press preview, the room was heavy with silence, people whispering politely as they squeezed by.
The room, despite the organic and geometrical masses that force you into corners and guide you along circular pathways, is spare. There are few boundaries between the viewer and the garments on display. There's a democracy at play, a stubbornness to abide by the classical notions of museum curatorial practice. The lack of decoration, even music, allows the clothes to stand out – the infinite shades and textures of the color black, from a faded soot to an rich asphalt; the intensity of the silhouettes and forms. The standout pieces in the exhibition, is, unsurprisingly, her most recent, more conceptual collections. This includes her most recent "The Future of Silhouette" collection, whose garments include thick, white bulbous forms that reframe and recontextualize the body.
But the spareness is also frustrating: there are no placards stating the year and collection of any given piece. Only a number code delineates the various pieces. And although you are provided with a booklet to guide you through the exhibition, with descriptions provided within, it is a confusing, almost archaic method to explain a conceptual exhibition for the masses, who tend to appreciate being spoon-fed. But that is also the point: you are meant to think critically, to come to your own conclusions.
The exhibition, with 150 garments, is divided into 9 themes: Fashion/Anti-Fashion, Design/Not Design, Model/Multiple, Then/Now, High/Low, Self/Other, Object/Subject, and Clothes/Not Clothes. By highlighting these dual qualities, Ms. Kawakubo breaks down the very notion of categorization. The beauty of Ms. Kawakubo's work is that it's so open to interpretation. Ms. Kawakubo's disdain for categorization is perhaps why she is known to be a challenging interview. She has no desire to be defined, to be placed into some arbitrary box that would limit her. It is why, despite her arguably progressive work that challenges notions of traditional Western ideals of femininity, she vehemently rejects the notion that she is a feminist.
And this refusal to be defined, Ms. Kawakubo's resistance to be placed in some arbitrary box simply to satisfy her fans and critics, allows her work to be wholly unique.
Her work is almost literary in its intense exploration of craft and the human spirit. The raw, unedited soul of a person is chaotic, unique, constantly shifting and changing. And the humanity of her work is what allows her to be so undefinable, so shrouded in mystery.
Because the core of humanity is its contradictions. Ms. Kawakubo, despite her need to control her vision, at the same time is trusting in the way she allows her employees free reign to interpret her vision. And her unwillingness to be categorized speaks to a very human desire: to categorize, yet an unwillingness to be categorized by others. "I learned to take Rei at face-value," says Mr. Bolton. "I think people overcomplicate and imbue so much meaning in her work, and she really just wants you to see the work and have your own intellectual and emotional response to it. Every response is valid. I think that's what she aims for."