Released on May 11, 1967, Country Joe & the Fish's debut Electric Music for the Mind and Body captured the magic wafting through the air in San Francisco just before the onset of the infamous Summer of Love.
But before we start peering through the rose-tinted kaleidoscope of nostalgia at the old days of the San Francisco psychedelic renaissance, first let's get the story straight about how Country Joe & the Fish got their name…
As their original guitarist/organist David Bennet Cohen tells it:
"Joe McDonald and E.D. [Eugene Denson, the band's friend/manager] were sitting around E.D.'s cottage in Berkeley trying to think up a name for the group. As they both had revolutionary tendencies, they wanted a name reflecting their political position. Leafing through Chairman Mao Tse Tung's 'Little Red Book' when E.D. found the phrase, 'The revolutionary is a fish that swims in the sea of the people.' From that came 'Country Mao and the Fish.' But Joe said it might cause confusion as America didn't recognize Red China. So, E.D. suggested 'Country Joe and the Fish, with 'Joe' being Josef Stalin."
"Joe's approach was…profoundly cerebral. His concept was basically to get a few people around and make something happen," lead guitarist Barry "The Fish" Melton explains.
"None of us were professional musicians, except maybe for David, who came from New York. [Drummer Gary] Chicken Hirsh was somewhat professional, but only because he was a few years older than the rest of us."
"When I got to California in 1965 I had been playing guitar, mostly folk songs," Cohen said.
READ THIS: How Paul McCartney Saved Classic Rock From Extinction
"I didn't decide to buy an electric guitar until after seeing the Beatles' movies. They finally got me to accept rock 'n' roll. I had been really opposed to it before that. I started hanging around the guitar shops and a few small local clubs called the Jabberwock and the Questing Beast, where we'd perform for $5 and food. The Jabberwock had an old beat-up piano and Barry went nuts over my boogie-woogie playing on songs like 'St. Louis Blues.' Country Joe wanted an organ player in the group after Highway 61 came out and Barry told him that I played."
"Church organs were really big intimidating instruments, with all those pedals. I'd never played organ before, but I wanted the gig," Cohen said with a laugh. "So, the band got me a Farfisa organ. I had no idea what I was doing. None of us did! We were just making up this music, creating a sound and then it became real. Later the reviews said I had 'a unique style.' But I was just copying my own guitar riffs!"
"We'd been a jug band but we didn't play in a conventional way," Melton said. "We were doing something new. We deliberately walked a different path. It wasn't like we discussed it. We bridged folk and jazz with bluegrass, country and blues. It was an improvisational folk music, like what the Grateful Dead exploited commercially. When you're creating something new you can't be held to any standard of criticism."
Just six weeks after the band formed they decided to record an EP comprised of three songs, and released it on the obscure Rag Baby label, as no record companies were pounding on their door…yet. The disc included three tracks that would soon appear on their debut album: "Section 43," "Bass Strings," and "Love."
"We weren't even sure we were going to remain a band for very long, but we wanted to make a record," Cohen said. "The EP came out surprisingly good."
Soon after the band signed with Vanguard Records.
"Joe signed a terrible contract for 12 albums in three years!" remembered Cohen. "But we were very happy about it because they had this hip folk image that we really liked. We recorded the first album [Electric Music] in three days, and although it could have been better, but it was definitely impressive. It was recorded on an eight track. For the most part we did everything live, with the vocals overdubbed later. [Producer/author/musicologist] Sam [Charters] pretty much stayed out of the way let us do whatever we wanted."
"Sam convinced us to fire our original drummer John Francis Gunning, an alcoholic beatnik conga player who once ended a drum solo by falling off his stool. It was a weird, heavy change for the band, but Chicken's drumming was much better. He didn't play flashy solos. He was solid and rarely lost the beat, and most importantly, he understood ensemble playing. But, even though musically we were much better, there was something intangible that was lost. We were becoming a 'professional' rock band…"
[youtube https://www.youtube.com/watch?v=DprmuBbi0N0&w=560&h=315]
Opening with "Flying High," in less than three minutes Electric Music for the Mind and Body lays down the template for what would come to be known as one of most forward-thinking, emblematic albums of the '60s: a slinky, sleazy blues featuring stinging lead guitar riffs, juiced with a mad electric vibrato that was popular amongst San Francisco guitarists like Jorma Kaukonen of Jefferson Airplane and John Cippolina from Quicksilver Messenger Service.
The album's second track, "Not So Sweet Martha Lorraine," was the only single from Country Joe to (barely) crack the Billboard top 100.
The tune opens with a slippery organ glissando from David Bennett Cohen. His sound was more reminiscent of Tex-Mex rockers like Question Mark & the Mysterians, and Augie Meyers of the Sir Doug Quartet than Al Kooper's Hammond riffs on "Like A Rolling Stone," which (along with Brit Invasion bands the Animals and the Zombies) made the instrument an essential part of '60s rock. With lines like "volumes of literature based on herself," Country Joe's lyrics revealed the inspiration of Dylan's surrealist poetry that illuminated his then-new albums, Bringing It All Back Home, and Highway 61 Revisited.
"Death Sound Blues" reverberated with a loud rattling tambourine and a smoking lead guitar by Barry Melton bearing the influence of the late/great guitar slinger Mike Bloomfield (who later produced one of Melton's solo albums). "Barry and I went to see the Paul Butterfield Band and Mike Bloomfield was fabulous," Cohen recalled.
READ THIS: We're Still Chasing the High of 'Are You Experienced' 50 Years Later
"We went to see 'Butter' on acid and realized we had to be electric," Melton explained.
"Butterfield's East-West [released the previous year, in 1966] really stuck in my mind. They brought Mid-eastern riffs into Western music. I grew up in L.A. and the folk scene was really thriving at the time, at a club called the Ash Grove. Ry Cooder, Taj Mahal and David Lindley all played there. There was a lot of what later was called 'world music' happening. I went to see Ravi Shankar and Ali Akbar Kahn recording at World Pacific Studios, as well as [Egyptian oud player/singer/percussionist] Hamsa El Din and Kimeo Eto, the great [blind] koto master."
Within the purple poetry of "Porpoise Mouth" Country Joe, who enthusiastically embraced every possible taboo of the time, offered a hilarious metaphor for oral sex, as he sang, "I hunger for your porpoise mouth and stand erect for love."
Featuring David Bennet Cohen's keyboards, with a spell-weaving finger-picked guitar and bluesy harmonica riding atop driving tribal drums, the rambling instrumental "Section 43" was the perfect psychedelic free-form jam, to dance the night away.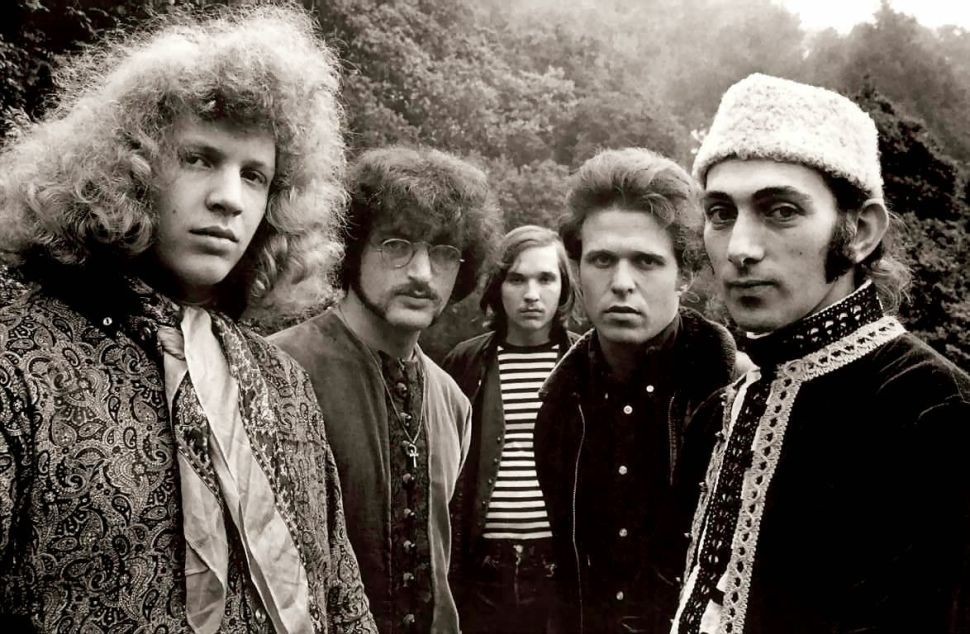 "We started packing the Fillmore and the Avalon Ballroom. The dancing was pretty weird, vaguely sexual and slithery," Barry said with a laugh. "People didn't always get a backbeat. Sometimes the beat would get suspended or dropped altogether. They'd either be happy or pissed off, but to be honest we didn't care what people thought."
Side two of the album kicked off with "Superbird" in which Country Joe took dead aim at LBJ's promise of the Great Society and the voracious war machine that fed it. "C'mon out, Lyndon, with your hands held high," MacDonald jeers, threatening to send the establishment's water-boy "back to Texas, [to] work on [his] ranch."
A Byrds-style folk-rock number follows with "Sad & Lonely Times," complete with warm-heart harmonies and twanging country guitars. Despite a surprise jazzy ninth chord tagged on the ending, the song sounds like something of a throwback, even by 1967 standards. "Joe had already written most of those songs long before we recorded the album. They'd already been in his repertoire," Cohen explained.
Next up is "a stone groove" blues tune called "Love," that Barry Melton sang in his dirtiest Janis Joplin (yes, Country Joe and Janis were an item for a hot minute) raspy yowl. Cohen and Barry trade licks as Bruce Barthol's bass pumps underneath. But the fade comes too fast on what was clearly the best jam the album had to offer.
Six months before Mick Jagger casually wondered "Where's that joint?" in the midst of the Stones' psychedelic free-for-all, Their Satanic Majesties' Request, Country Joe openly urged his pals to "pass that reefer round" on "Bass Strings" (most likely named in honor of Barthol's gentle, walking bass part).
Joe's meandering vocal delivers one of the classic stoner lyrics of the '60s: "I believe I'll go out to the seashore, let the waves wash my mind. Open up my head now, just to see what I can find. Just one more trip now, they know I'll stay high all the time." Barry Melton bends and twists elastic riffs from his guitar as MacDonald repeatedly whispers "L…S…D…" as the song fades.
"The Masked Marauder" follows, another loopy, drippy, trippy waltz perfect to flounce around in the glow of the ever-morphing light show. "We were pretty stoned. Most everyone was high almost all the time," Cohen confessed with a laugh.
Complete with clanging wind chimes, distorted guitar harmonics, a mournful recorder and echoing voices, the album's closing number, "Grace" was the band's sparkling sonic valentine to Jefferson Airplane's siren, Grace Slick.
"Around that time, a friend asked if I wanted to see 'the Airplane,' " Cohen recalled. "I didn't know what he was talking about. I thought he was going to take me to the airport! So, we went down to the Haight and met Marty and Jorma. Their mansion was full of beautiful guitars! Then we went to see the Dead, who I was familiar with and I heard Jerry doing exactly what I wanted to do! Soon after we played a gig at the Berkeley campus and Jorma and Jerry came down to see us."
Ten years before punk broke in New York and London, the San Francisco bands defiantly stood in opposition to the slick, polished pop bands that dominated the radio and were presented weekly on The Ed Sullivan Show. There was a do-it-yourself, Devil-may-care, go-for-it spirit, that defined the new groups from the Bay Area, whose unvarnished sound unnerved even the likes of Pete Townshend.
"I couldn't see how the Grateful Dead, Janis Joplin or Country Joe could be taken seriously," Townshend told author Harvey Kubernik (in his new fab picture book 1967: A Complete Rock History of the Summer of Love). "Their sound was so ragged and raw," the Who's guitarist groused. "Now I see better what they were doing, and just like the Who, it was not just about music, it was about message and lifestyle and change…[but] it took a while to understand that."
Despite its thematic and sonic daring, I was met with a distinct feeling of indifference from Melton and Cohen when I asked if there were any plans for a reunion concert to commemorate the 50th anniversary of the Summer of Love. In fact, the city of San Francisco seems like it would rather forget the much-revered counterculture renaissance ever happened at all—there seems to be nothing on the horizon to celebrate that wild, wonderful moment in time.
"In two years will be the 50th anniversary of Woodstock," Melton said casually, as if to hint that the future might possibly allow for one last concert.
"Joe is a complicated guy," David Bennet Cohen offered. "I left the group by the end of 1968. Playing with Country Joe & the Fish was like playing the absolutely best gig and worst gig of your life at the same time."