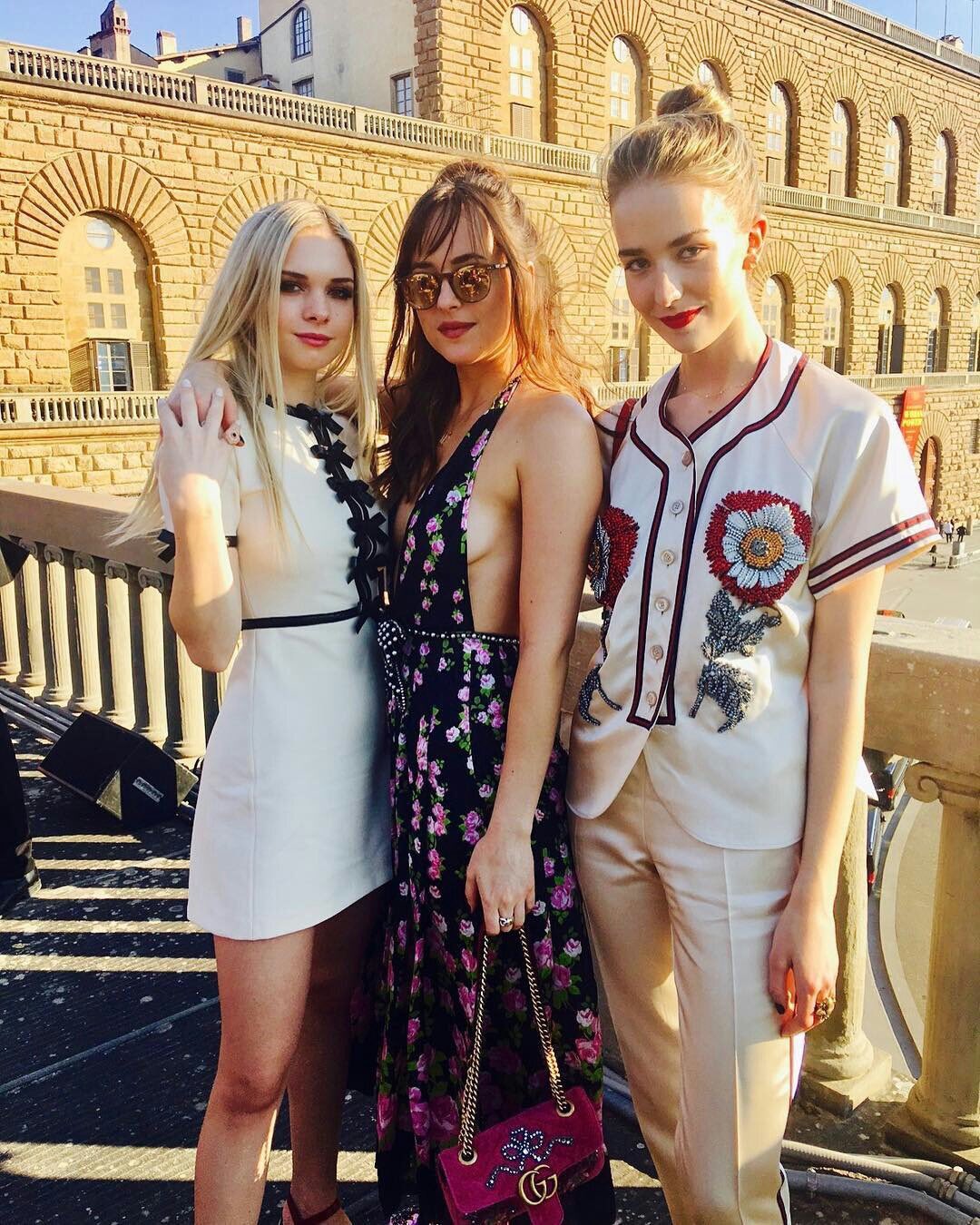 With the official start of summer 2017 comes a trio of celebrity siblings that are bound to become your next social media obsession. Let us introduce you to the Johnsons.
Surely you're already familiar with Dakota Johnson, of Fifty Shades of Grey fame. For Gucci's Resort 2018 show, held this past Monday at the Palazzo Pitti in Florence, Italy, she brought along a little familial entourage, made up of her two sisters. Luckily for Stella Banderas and Grace Johnson, this was a major debut on the fashion scene. As we all know, sitting front row at an Alessandro Michele-designed show is not only an honor, but also a feast for the eyes.
For the occasion, the 20-year-old Stella wore a bow-festooned minidress from Gucci, in the inoffensive shade of ivory. Meanwhile, Grace, who is only 17, channeled a baseball player and wore Gucci's version of a jersey, with flowers instead of a team name and buttons made from mother of pearl. Dakota, who is currently the face of Gucci Bloom, the brand's new fragrance, bared some skin in a floral silk jacquard dress, which was decorated with pearls, crystals and a big bow.
But wait, how are all these sisters related? Dakota's parents are Don Johnson and Melanie Griffith, while Grace is the daughter of Don Johnson and Kelley Phleger. Stella, meanwhile, is the offspring of Antonio Banderas and Melanie Griffith. It is quite a confusing family tree, but clearly one that has been blessed with very good genes.
And if their Instagram accounts are any indication, the Johnsons are set to join the ranks of the "it" girls of summer 2017. Gigi and Bella, you've got some competition.