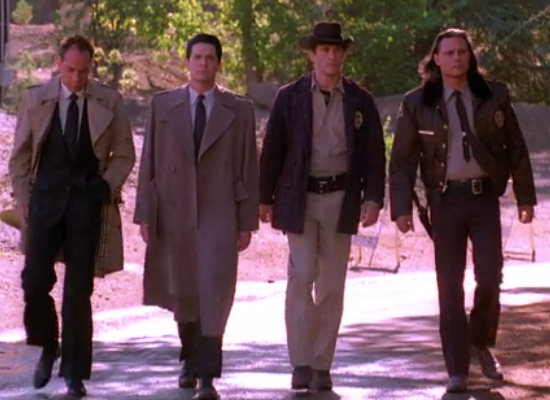 Welcome to our TV Fashion column, where TV Ate My Wardrobe's Emma Fraser discusses the trends in television apparel. This week: Before Showtime's revival, we look back from 25-years-later at the style of Twin Peaks. 
In the time since Twin Peaks ended fashion has moved on, circled back and stood in the same grunge-influenced spot. Before finding out what new Twin Peaks has in store for us sartorially let's take a trip back to 1990 and the style highlights, including what wouldn't look out of place twenty-five years after Dale Cooper last hung up his suit.
High school is a good place to start even if this show pretty much forgot that Audrey and Donna were students by the second season. Costume designer Patricia Norris—a long-time David Lynch collaborator who died in 2015—created looks that borrowed heavily from the 1950s while also nodding to the shabby chic that was about to dominate all things pop culture. Donna's oversized knitwear is grunge adjacent and injects contemporary fashion into a school that leans more Rydell High.
Pleat plaid skirts are the school uniform of choice for plenty of different eras and the length normally indicates where we are in time. Rules dictating how long a hemline can be are often ignored by students or at least modified until told otherwise (flashbacks to me rolling up my waistband). While Twin Peaks High doesn't appear to have an official uniform, the skirts Audrey Horne wears (and Laura Palmer in Fire Walk With Me) wouldn't look out of place in a school that does have a plaid skirt policy. Audrey's pleated plaids are far longer than those seen in Clueless, Gossip Girl or the Britney Spears video for "(Hit Me) Baby One More Time" and even Rory Gilmore's Chilton uniform, but this doesn't make Audrey any less coquettish.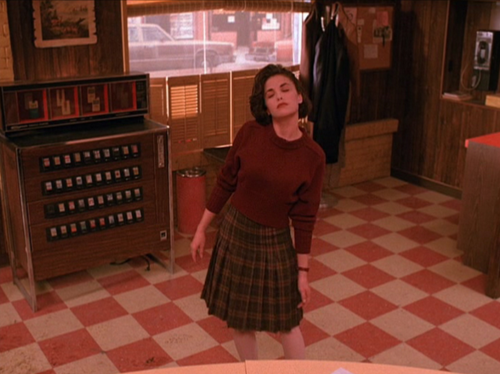 Plaid weaves its way through everyone's wardrobe regardless of age and this is the signature style of Twin Peaks; lumberjack attire for a lumber industry town. Even Agent Dale Cooper gets in on the action after he is put on temporary leave from the FBI, embracing Pete Martell's usual fishing getup. Even Albert notes this change pointing out that this "fashion suicide" manages to look good on him, a compliment of the highest order. Despite Albert's comments it is a timeless wardrobe staple. After stripes, plaid is the pattern that features the most in my closet and in the widest number of garments. Everything from outerwear to shirt dresses.
In early episodes Audrey's costuming walks the line of burgeoning sexuality; tight sweaters paired with her pleats and saddle shoes getting switched for red heels. A mix of sweetness and sensuality that thankfully steers clear of going full Lolita/sexy schoolgirl because she's 18 and her crush on Agent Cooper never goes further than awkward suggestive behavior.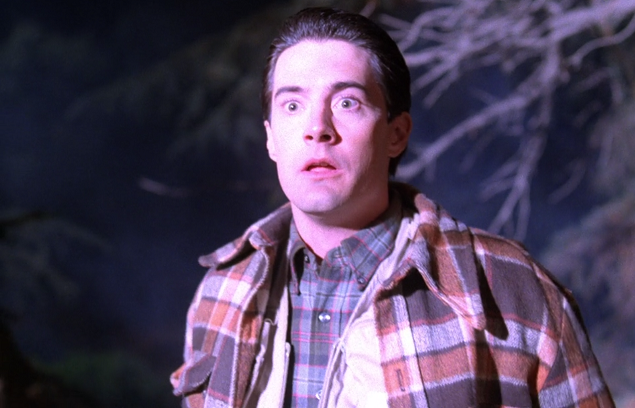 Coming to an iconic show as late as I have (I watched for the first time this year) means that certain images were already burned into my brain despite never seeing an episode; so while I didn't know who killed Laura Palmer—a miracle—I did know that coffee, cherry pie and donuts were Agent Dale Cooper sustenance favorites. It was also clear from these snippets – usually in GIF form – that Audrey Horne was the style standout and scenes such as the diner dance and her conversation with Donna in the bathroom pointed to her sweater preferences. They are entirely devoid of context and original intent so impressions are made entirely on looks.
This is something Jennifer Gillan discusses at length in "Textural Poaching Twin Peaks: The Audrey Horne Sweater Girl GIFs" and seeing scenes in their original form for the first time (I also had this with Donna's crying moment) is both jarring and revelatory; Audrey is far more than the "Sweater Girl." It can take you out of the emotional tone of the scene while also giving this additional layer of context. The same can be said for the Audrey/Donna bathroom scene, which I already had earmarked as a costume to look out for; that lace neckline, nipped in waist and wool pencil skirt against the pink and red peaks bathroom decor is a standout visual moment from this show. As iconic as cherry pie and coffee.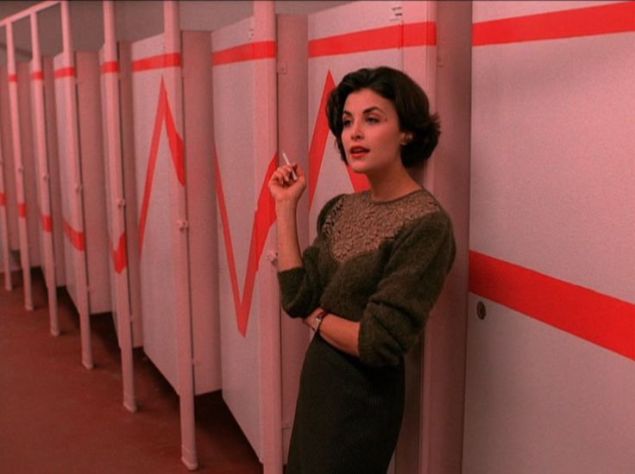 And if someone wants to make a sweater based on the Twin Peaks High bathroom decor then I will be first in line. So far I can only see this cape version and the Black Lodge chevron floor is the undisputed leader in Twin Peaks production-design-turned-clothing inspiration.
It makes sense that Audrey, out of all the characters is the one who's wardrobe resonates the most; her look is classic and blends so-called 1950s innocence with the end of the '80s. Global politics had shifted in a major way and this new decade was about to bring a whole new set of concerns. In part Twin Peaks and its costuming mirrors real world desire for the comfort of what was perceived as the' good old days' with this dark underbelly nipping at its heels.
Audrey's look is undeniably feminine and this mix of naivety with a strong sense of self makes for a fascinating character that is far more than one thing. In a long line of teens turned detective, Audrey is determined in helping with the investigation and later on in scoring an important role in the running of her father's business. This is when they forget the whole school thing and switch sweaters for boxy blazers matching the trend of the time.
Through a 2017 lens, Donna's style reads more "hipster cool." There is often the sense that she is trying to break out of the "good girl" box she has been put in when looked at in opposition to her best friend Laura Palmer and frenemy Audrey Horne. Donna is all layered knits and vests over buttoned up shirts or turtlenecks. Layering is your friend when you live in a colder climate. Her knits are of the baggier variety and have a grunge aesthetic that was just about to take over big time. She wears Laura's oversized shades and starts smoking as she embarks on the dangerous investigation into who killed her best friend.
Laura's cousin Maddy—Sheryl Lee played both parts—joins Donna. While it's a time of reinvention for Donna, plus a time to embark on a romantic narrative of her own, Maddy is another obstacle (Let's take a moment to ponder why super dull James in his biker leather is even worth all this effort). Maddy is a mix of preppy—those pearls—with an effortless take on the whole early '90s look. She is all big red frames and cashmere looking sweaters. Maddy hates her specs and I can hear a thousand voices scream out "NO" —including my own—when she breaks them. They would be quite the seller in certain circles right now. Yes, I have my own pair of oversized glasses as my backup.  
Other knits to envy come from both the Log Lady (also a red frames wearer) and queen of bold sweaters/cardigans, Lucy. Log Lady is not the likeliest of fashion icons and yet she nails so many knitwear trends that have since followed. Sartorial fortune telling by costume designer Patricia Norris. Lucy's look is very much one foot in the end of the '80s and patterned sweater chic in a police setting has taken another recent spin thanks to The Killing. Sarah Lund (I'm all about the original Danish version) isn't so out there with her pattern choices and Lucy brings a lot of fashion levity to proceedings.
And it looks like Lucy hasn't lost her love for fun knits as her brief appearance in this trailer reveals. Costume designer Nancy Steiner is at the helm for the Twin Peaks revival and I am already so pleased to see this continuation of attire for Lucy; it will be interesting to see how a character like Audrey has evolved style wise over the last 25 years (and what happened to her after the bank vault blew up).
Steiner was the costume designer on The Virgin Suicides, Lost in Translation and Little Miss Sunshine all of which have a strong aesthetic. It is also worth noting that Steiner is responsible for some iconic music video looks such as the green cardigan Kurt Cobain wore for "Come As You Are" and Gwen Stefani's polka dot frock from "Don't Speak." These videos were made almost as long as the original Twin Peaks and '90s is very much on trend in all things pop culture including this revival.
As there has been a limited amount of images from new Twin Peaks made available I am excited to see how old and new are blended together and what we will be talking about in twenty-five years time.
Emma Fraser is the creator of TV Ate My Wardrobe and spends most of her time writing about TV, fashion and costuming; Abbi and Ilana's Broad City style, the wigs on The Americans and Mindy Lahiri's pajamas are just as vital as talking about '90s, '00s teen shows. Emma has a MA in film and television, and she probably holds Angela Chase responsible for this path. You can find her on Twitter @frazbelina.