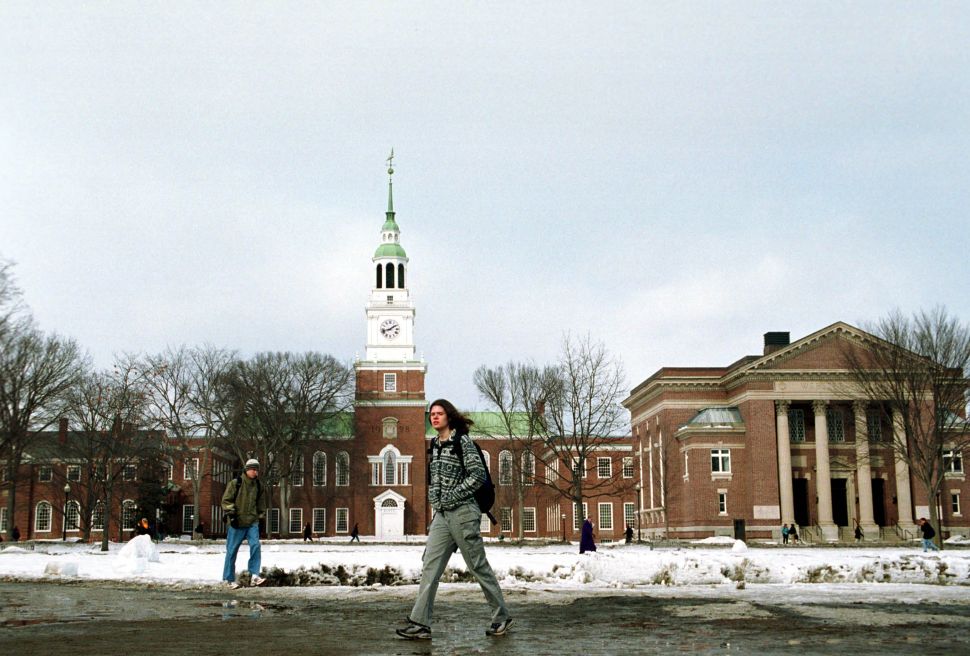 One of the nation's most prestigious colleges has come under fire for appointing a prominent advocate of the anti-Israel Boycott, Divestment and Sanctions (BDS) campaign to the position of dean of faculty.
By naming N. Bruce Duthu as Dean of the Faculty of Arts and Sciences, Dartmouth President Philip Hanlon has brought into question the college's commitment to academic freedom. Duthu is a co-author of the "Declaration of Support for the Boycott of Israeli Academic Institutions" by the Council of the Native American and Indigenous Studies Association (NAISA).
Regarded by pro-Israel advocates as a movement born out of anti-Semitism, BDS singles out the Jewish state for condemnation while ignoring atrocities committed by other countries such as Iran, Syria and North Korea. Critics of the Duthu appointment view Hanlon's decision as the latest chapter in the school's history of anti-Semitism.
"The message seems to be that Dartmouth is perfectly comfortable appointing a dean who is in favor of the anti-Semitic BDS movement and is unaware of or is unconcerned with the contradictory public positions he has taken with regard to his obligations as dean of the faculty," Dartmouth Economics Professor Alan Gustman told the Haym Salomon Center. "I had hoped that the specter of past anti-Semitism had left Dartmouth. Now, I am not so sure."
Gustman shared his concerns with his Dartmouth colleagues in a May 3 email that reads in part:
In advocating the boycott of Israeli academic institutions, BDS is anti-Semitic. The chant of the BDS movement, from the river to the sea, is anti-Israel, anti-Zionist, and profoundly anti-Jewish. It refers to sweeping the Jews out of Israel… I have no reason to believe that Professor Duthu is anti-Semitic. His friends and colleagues do not consider him to be anti-Semitic and are sincere in their opinions. What is relevant here is that he is supporting a movement that is substantially anti-Semitic and that he has taken a position with regard to the BDS movement that is in opposition to the position and responsibilities he will have as dean of the faculty. Most importantly, he has not publicly renounced his public NAISA statement on the BDS movement… Professor Duthu's public advocacy of BDS and his responsibilities as dean of the faculty are in direct conflict. 
Susan Julien-Levitt, co-founder and executive director of Alums for Campus Fairness, shares Gustman's concerns, noting the absurdity of targeting Israel "as a human rights abuser worthy of pariah status while ignoring the substantial ongoing human rights abuses occurring in Israel's neighboring countries." She adds, "Professor Duthu's apparent belief that academics and academic institutions should be shunned based on the policies of their governments shows a disregard for the fundamental principles of academic freedom."
Diana Lawrence, Dartmouth's associate vice president for communications, provided the Haym Salomon Center an exclusive statement after an inquiry was sent to President Hanlon's office.
In December 2013, Hanlon made Dartmouth's position clear on the boycott of Israeli academic institutions. He opposed it. As a member of the administration, Duthu firmly supports the institutional position.
In his capacity as associate dean for International Studies and Interdisciplinary Programs, Duthu has been instrumental in making Jewish Studies a success on campus. He has facilitated the often complex arrangements to bring visiting professors from Israeli universities to teach at Dartmouth, as well as graduate students and post-docs from abroad.
Duthu has the full confidence of President Phil Hanlon, Provost Carolyn Dever, and the Dartmouth Board of Trustees. He has broad support among the faculty, including the leaders of the college's Jewish Studies program. He has offered to meet with Alan Gustman to discuss his concerns; however, Professor Gustman has declined.
Gustman explained, "I refused to meet with Professor Duthu because the only adequate response to his public support for the BDS movement is that he publicly renounce his support for BDS or that he resign. I made that clear to Professor Duthu in a letter I wrote to him in response to his invitation to meet. It would not matter if he pledged to ignore the conflict between his public position supporting BDS and his responsibilities as dean. If he publicly renounced his support for BDS, I would be satisfied. I made that clear to the president and dean before going public, but there was no public renunciation."
Professor Duthu did not respond to our request for comment.
Paul Miller is president and executive director of the news and public policy group Haym Salomon Center.