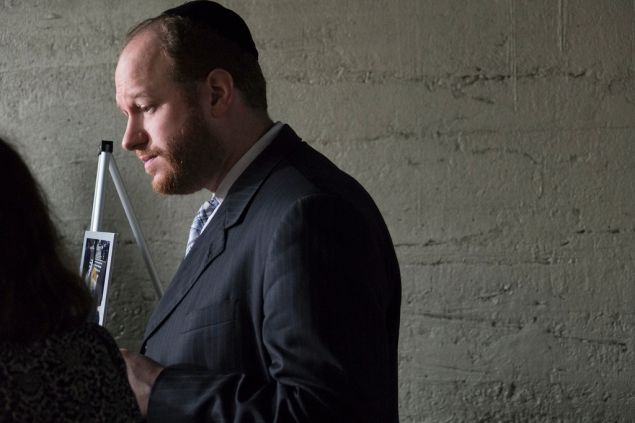 The chairman of the City Council's powerful Committee on Land Use, a crucial gatekeeper for all developers seeking zoning changes in the five boroughs, has several hundred thousand dollars from real estate interests socked away in a state political account for an undeclared office—and he has used the money to make periodic payments to an operative known to be plotting his own bid for a Council seat.
State Board of Elections records show Brooklyn Councilman David Greenfield has $308,641.71 stashed in a campaign account called "GreenfieldNY"—a separate entity from his re-election committee, "Greenfield NYC." Both troves of political lucre report as their headquarters the home address of a Democratic Party apparatchik named Kalman Yeger and his wife Jennifer Berger, who works for Council Speaker Melissa Mark-Viverito.
The New York City Campaign Finance Board, with which the Greenfield NYC account is registered, forbids donations from corporations, business partnerships and law firms, so as to reduce the influence of private interests and to amplify and empower individual citizens. The state rules governing the GreenfieldNY account, however, include no such stipulations.
Of the funds in the GreenfieldNY account, $86,600 would be outright verboten under city rules. All but a few of the contributing companies are real estate entities, or are businesses belonging to individuals who also deal in property development and management.
For instance, in January, GreenfieldNY received a $5,000 donation from Five Star Apparel LLC. A clothing wholesaler, Five Star's website identifies it as a joint venture of the Oved Group and the Betesh family.
The former is a major commercial landlord, the latter owns—among other enterprises—the construction firm Abeco.
Two of the largest donations the account has received came last year: $10,000 each from the Chetrit Group and Cornell Realty Management.
This past December, Chetrit revealed it hoped to rezone a vast eight-acre industrial tract in Maspeth, Queens to allow residential development.
In November, Cornell unveiled a vision in January of two 16-story towers on a pair of properties in the Crown Heights section of Brooklyn, the construction of which would require the city to raise height restrictions.
It withdrew the plans temporarily in January after local protest, but said it would resubmit them in the near future
Greenfield's Land Use Committee serves as one of the final valves in the rezoning pipeline for such projects. Property owners seeking exemptions or alterations to existing restrictions on a property's development must go through a long and often fraught process known as Uniform Land Use Review Procedure, which begins in the local community boards and eventually comes before the full Council for a vote.
But before it can reach that latter stage, the project must clear the Land Use Committee. This power renders the Land Use chair the third most important member of the body, following only the speaker and the chair of the Committee on Finance, who helps handle the budgeting process.
Among the other corporate contributors to Greenfield's undeclared account was HEB Partners LLC, which gave $10,000 last year. The company's address is identical to that of the Read Property Group, perhaps best known as the developer of the Rheingold Brewery site in the neighborhood of Bushwick, Brooklyn.
Another entity operating out of the same address, OMNI Read LLC, chipped in $1,000.
An entity calling itself 255 Jefferson USA LLC donated $5,000 in 2013. That company reports as its address 199 Lee Avenue—infamous in real estate circles as a mailbox center that houses some 1,400 limited liability corporations.
The Federal Bureau of Investigation raided the location last May.
New York State Division of Corporations records list 255 Jefferson USA LLC's specific box number as 471. That number corresponds to that of the company that owns the Ridgewood Masonic Temple in Brooklyn.
In 2014, Greenfield's first year as Land Use Committee chair, the councilman was the prime sponsor of a measure in support of designating the structure a landmark.
City tax records show that, prior to the designation, the property's assessed value had generally risen in increments of $11,000 to $23,000 a year. After receiving landmark recognition, the assessed value shot from $659,000 to $718,000.
The list of GreenfieldNY contributors also includes several operators of homeless shelters, including Pilgrim Realty LLC. The Land Use Committee will likely have to review the construction of new, safer shelter facilities under the mayor's new plan to curb the rising indigent population.
City rules cap individual and political action committee donations for Council candidates at $2,750. But being registered solely with the state Board of Elections has enabled GreenfieldNY to accrue $90,000 in contributions that exceed that ceiling.
Among the biggest donors is Joseph Sitt of Thor Equities, a developer notorious for his battles with the city last decade over zonings for properties in Downtown Brooklyn and Coney Island. More recently, Sitt has indicated he will seek more zoning changes to move forward with planned projects in Coney Island and Red Hook—changes that would likely need to pass through the Land Use Committee.
Sitt contributed $10,000 to GreenfieldNY. It also received a $5,000 donation from Paulette Bailey, the wife of Morris Bailey, the founder of JEMB Realty and Helm Equities.
Marc Caller, of the Marcal Group, also forked over $5,000. So did Ukrainian-born fertilizer and real estate baron Alexander Rovt, who announced last year he had set aside $250 million to construct a pair of luxury hotels in Manhattan and Brooklyn, in as-yet undecided locations.
The Edelstein family, of Edel Family Management, collectively contributed $25,000. The clan has cameoed in the news several times for its operation of the "Imperial Court Hotel," an Upper West Side residential property that has flouted zoning laws by functioning as a single-room occupancy facility—so badly, in fact, that Mayor Bill de Blasio labeled it "one of the most egregious illegal hotel operators in New York City," and slapped it with $65,000 in fines last year.
An entity registered at the Edelstein's home address, Realty Management Co., also gave GreenfieldNY a $5,000 contribution.
Greenfield first gained his seat in a 2010 special election, and his fundraising prowess allowed him to ascendquickly among his peers. He became co-chair of the Brooklyn delegation and a member of the budget negotiating team before he even won his first full term in office in 2013.
It was during that second campaign that he opened the GreenfieldNY account. Having become perhaps the single most influential figure in the Kings County Democratic Party, it was all but certain a plum committee appointment awaited him upon re-election.
Yet for all the money that has flowed into GreenfieldNY, relatively little has trickled out. Every filing since its founding, the account has made a single disbursement of a few hundred dollars to "Compliance NY."
"Compliance NY" has the same address as both Greenfield accounts—that is, Yeger and Berger's Brooklyn home.
Yeger confirmed he is the owner of Compliance NY and that he is responsible for maintaining both of the councilman's campaign accounts. He told the Observer it was "offensive" to suggest that donations might in any way sway Greenfield's official decision-making.
"It is not uncommon for candidates to establish a separate committee for a potential future race," Yeger wrote in an email. "This is normal, is permitted and anticipated by law, and this committee follows every legal requirement."
The city Campaign Finance Board told the Observer that GreenfieldNY operates outside its jurisdiction so long as none of its funds go toward the account of a candidate for municipal office.
It is unclear why Greenfield established a state campaign account while seeking a second term as a city lawmaker, or what state office he might have eyes to pursue. The councilman has long had an acrid, acrimonious relationship with Assemblyman Dov Hikind, whose district overlaps heavily with his own and in whose office Greenfield once served.
Democrats may also be looking to unseat local State Senator Simcha Felder, who currently runs on both party lines and who has caucused with the State Senate Republicans since his election in 2012, a move that has enabled the GOP to retain control of the chamber in the present legislative session despite their one-seat numerical disadvantage. But both Hikind and Felder are broadly popular in their districts, and would be difficult for Greenfield to dislodge.
Yeger, meanwhile, has his own undeclared committee at the city level. He is known to be weighing a primary challenge to sitting Brooklyn Councilman Chaim Deutsch—a distant relative of his whom Greenfield regards as a rival.