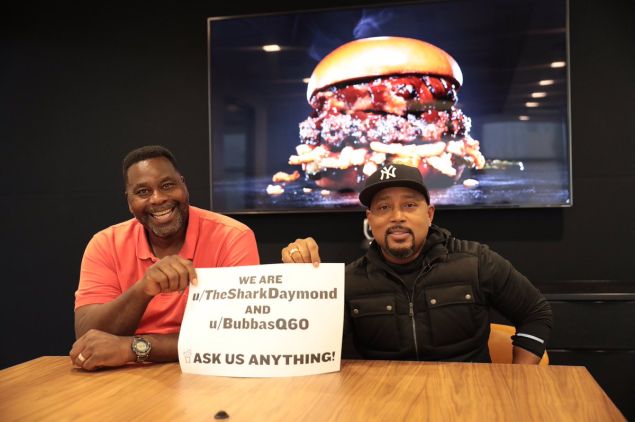 Shark Tank may be in the midst of its "most shocking season ever," but its resident investors still find ways to keep busy outside the boardroom—Chris Sacca is a seasoned startup investor in his own right (or he was until two weeks ago, at least).
FUBU CEO and beloved shark Daymond John has been dealing with some personal issues—today he revealed on Good Morning America that he recently received treatment for early stage thyroid cancer.
But with that battle behind him, John is embarking on a new business venture with an NFL legend. And today the duo hosted a Reddit AMA to tell the world all about it.
Al "Bubba" Baker, a defensive end who played for five different NFL teams between 1978 and 1990, traded in his pads for a chef's apron when his career ended. He opened the Bubba's-Q restaurant outside Cleveland, which specializes in boneless ribs (which are delicious—this reporter has been to the restaurant).
In 2013 Baker decided to get his rib steak into stores, and he turned to Shark Tank for help. He told the sharks that "Barbecue is my passion."
https://www.youtube.com/watch?v=8ByAEcDHc_0
John decided he had been "blessed by the Bubba baby back" and offered Baker $300,000 in exchange for a 30 percent stake in his company.
Fast forward to today, when Baker's boneless ribs and barbecue sauces are available online and in grocery stores around the country. Carl's Jr and Hardee's are also using Baker's recipe on their new Baby Back Rib Burger.
To mark the occasion, John and Baker took to Reddit to answer Shark Tank fans' questions. John wrote that he attributes his shark success to his childhood in Queens.
"I was fortunate enough to grow up in the same neighborhood as James Brown, Tribe Called Quest, LL Cool J, Salt n Pepa, Run DMC, Russell Simmons, Irv Gotti, Ja Rule, so to have those people to look up to was a huge inspiration," he wrote.
John also revealed the main factors he considers when deciding to invest.
"The person running the company," he wrote. "The other factors are whether the company is scalable, and whether or not they've had ANY sales to determine whether the public likes it or not. Not a lot. Just any."
This rationale has served John so well that he doesn't regret any of the deals he passed on.
"Either the deal wasn't good enough, I didn't like the entrepreneur or I didn't have the right vision for the product," he wrote.
On the flip side, some of the decisions he has made haven't panned out—John famously lost $6 million when FUBU partnered with fashion label Heatherette.
"Not rolling up my sleeves and diving deep into Heatherette" was his biggest investment regret, John revealed.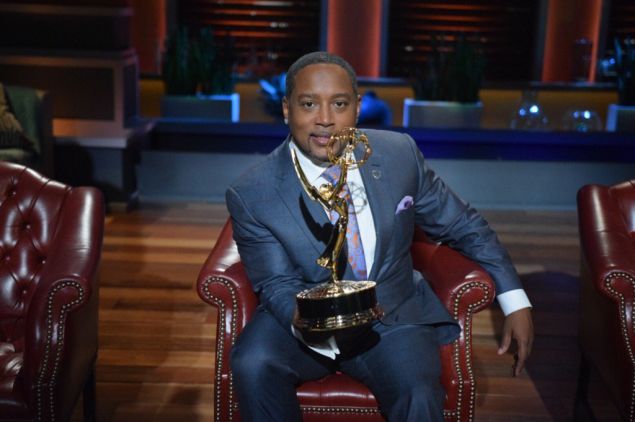 Baker disclosed that while he runs the show at Bubba's, John is still very involved.
"Daymond is a text or a phone call away from me," Baker wrote. "He is one of those guys who works around the clock, however, sometime he'll even text me at 2 AM."
Indeed, John loves Bubba's ribs so much that he's even tested how fast he can eat the burger—eight bites "and three licks on my fingers." (On the flip side, John joked that the McRib "makes his stomach upset.")
And Baker? "Six bites. I tested it," he wrote. "You should probably know I'm 6 foot 8 and 330 lbs."
Along the same lines, one user asked John which shark could eat the most Baby Back Rib Burgers.
"The black shark. Duh," he replied.
And of course, John couldn't finish the AMA without revealing some secrets about fellow sharks Kevin Harrington, Barbara Corcoran and Mark Cuban.
"Barbara pantses Kevin once a season," John wrote. "Kevin LOVES to dance to 'Rapper's Delight' while Mark and I rap. Trust me: it's horrible."