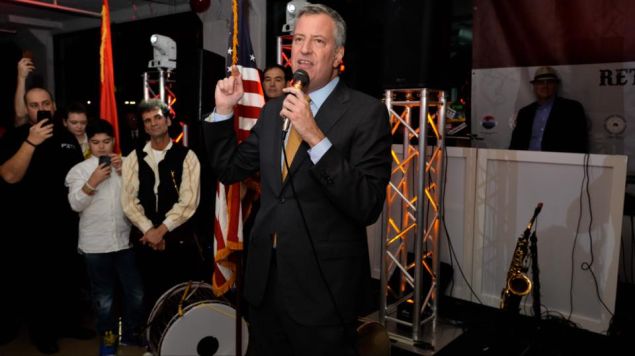 Mayor Bill de Blasio told reporters this afternoon that he has not yet published his long-promised op-ed piece detailing which of his political donors did not receive political favors because his initial draft did not adequately reflect "what I was trying to say."
Last May, as the clouds of a corruption scandal gathered over City Hall, de Blasio vowed that he would prove that donations to his now-defunct Campaign for One New York nonprofit did not buy favors by furnishing the press with a list of contributors who did not get any kind of special treatment from his administration. In April, when the threat of an indictment had passed, de Blasio vowed to instead write an op-ed describing them.
But today, the liberal Democratic mayor said he had trouble getting his thoughts into words.
"I am behind my own deadline on the op-ed because we attempted an initial draft and I didn't feel it said what I was trying to say," de Blasio said at an unrelated press conference in the Bronx. "So I'm gonna do it, but we're not there yet."
Questions of whether the mayor had traded city favors to deep-pocketed interests that gave to the Campaign for One New York, which promoted his agenda, led to grand jury deliberations over the winter. But in March, Acting U.S. Attorney Joon Kim announced his office would not file charges—a determination that coincided with Manhattan District Attorney Cyrus Vance's decision not to prosecute the mayor over his funneling of money to State Senate Democrats.
The mayor revealed today he also does not yet have a tally for the personal legal bills he racked up to deal with the probes. The mayor retained Barry Berke of the high-power firm Kramer Levin Naftalis & Frankel, which also represents clients that do business with the city.
"I don't have a final tally but we will speak to that soon," he said.
At the end of January, the New York Post reported that de Blasio's legal fees were costing the city $11.6 million, as seen in contracts released by Comptroller Scott Stringer. In February, the mayor said create the legal defense fund so that taxpayers would not have to finance his defense—but would not commit to would not commit to refusing to accept donations from individuals and entities with business before the city.
But in March, the New York City Conflicts of Interest Board ruled that donations of more than $50 toward such a fund would constitute an illegal gift.
De Blasio said at the time that he might ask the City Council to weigh legislation that would make a special exception to the gifts rule just for him.