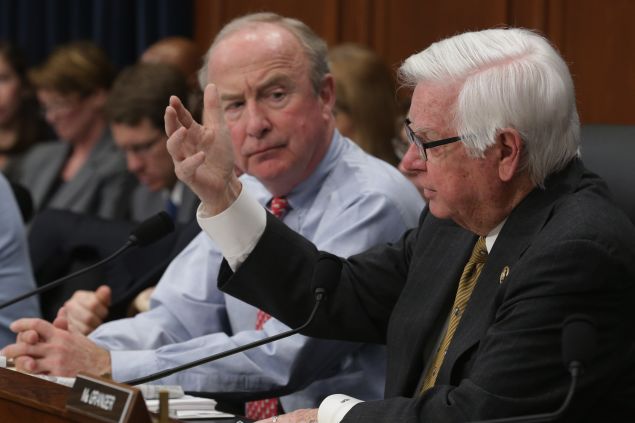 Rep. Rodney Frelinghuysen (R-11) is coming under fire from a Democrat challenging him in the 2018 midterms.
Frelinghuysen sent a letter in March to a campaign donor, Joseph O'Dowd, a board member at Lakeland Bank, describing how he was under attack from activists and needed financial support for next year's elections.
The congressman added a personal note at the end of what appeared to be a form fundraising letter, pointing out that one of Lakeland Bank's employees was part of an activist group calling for Frelinghuysen's defeat, NJ 11th for Change. "P.S. One of the ringleaders works in your bank!" Frelinghuysen wrote.
FEC records show that O'Dowd has contributed $2,300 to Frelinghuysen's campaigns since 2000, including a $250 donation six days after receiving the letter.
The letter was first reported by WNYC, which said Lakeland Bank officials interrogated the employee, Saily Avelenda. She then resigned.
Democrat Mikie Sherrill, a former Navy helicopter pilot and federal prosecutor who is challenging Frelinghuysen in next year's race, called it a "shameful abuse of power."
"Frelinghuysen has gone from simply refusing to meet with his constituents and telling them to 'back off,' to threatening constituents who are exercising their freedom of speech," Sherrill said in a statement. "That Frelinghuysen would use his powerful public office to hurt a private citizen is wrong, unethical and immoral."
In his letter to O'Dowd, Frelinghuysen included a printout of a news article that quoted Avelenda. In a statement to WNYC, the Frelinghuysen campaign said "the congressman wrote a brief and innocuous note at the bottom of a personal letter in regard to information that had been reported in the media."
Frelinghuysen, an incumbent of 22 years in a predominantly Republican district, has been drawing criticism this month for voting in favor of the American Health Care Act, a GOP plan to rewrite key sections of President Barack Obama's Affordable Care Act. The congressman became chairman of the powerful House Appropriations Committee this year.