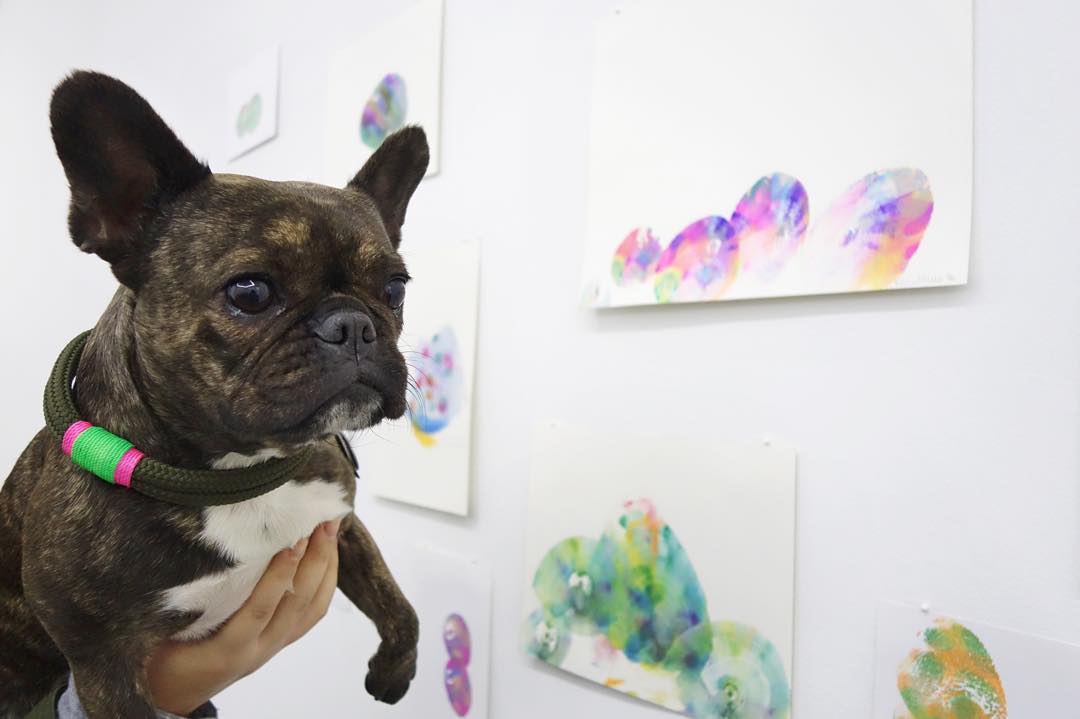 In New York, art has gone to the dogs—and I mean that literally. Former Washington Post art critic Jessica Dawson, with the help of her Yorkie-Maltese (Morkie as they're more commonly referred to, apparently) mix Rocky, has announced plans for an exhibition she's calling dOGUMENTA. The show's name is inspired by the major international art exhibition dOCUMENTA, except that Dawson's has been curated just for canines, reports W magazine.
The show, which is being billed as "America's first art show for dogs," is set to open at Lower Manhattan's Brookfield Place shopping center from August 11-13, and it will be open to the public each day from 8 a.m. to 1 p.m. and 4 p.m. to 8 p.m., "to be respectful of the heat sensitivities of our four-legged friends," Dawson told W. Among the ten artists selected, there will be pieces by Meraz Ezer and Eric Hibit.
In a piece Dawson penned for Criterion Collection on Laurie Anderson's film Heart of a Dog back in March 2016, she dropped the first hints about her inspiration and motivations behind the show, which she is co-curating alongside Mica Scalin, and which she was inspired to create after her gallery-hopping adventures with Rocky. "It's safe to say that dOGUMENTA is a revolutionary step forward for human creativity, and it is long overdue," she wrote.
But don't expect dog-themed artworks at dOGUMENTA. The show is an exhibition of serious art like any other you might find at a Chelsea gallery, except that it's been organized specifically with dogs in mind, "installed at puppy-eye-level, and considerate of their color perception limitations," according to W.
A statement on the show's website reads: "Not of or by dogs, but for dogs. The untapped audience is massive: Canines live in a staggering 47% of American homes—that's 80 million pups hungry for culture. dOGUMENTA offers an unprecedented opportunity for the creative community to engage with a new breed of art lover and to consider its concerns, interests and worldview. Our pups give us so much. Isn't it time we gave back?"
Now, I'm all for art worlders bringing their four-legged friends to galleries—I've encountered Miss Pickle, the Instagram famous pup known for her selfie-style snaps alongside colorful artworks, and Bert, the Pomeranian companion of Hole gallery owner Kathy Grayson, and I greatly enjoyed meeting them both—but a show just for dogs? Is this really all that different than a hotel for dogs, or a restaurant for dogs? I know the entire world is reading this and their eyes have rolled into the back of their heads because they're so overwhelmed by the adorable prospect of pooches sniffing pooch-height sculptures, but when the art world starts organizing separate shows for our furrier friends haven't we gone way too far? Yes, yes we have. Does art for humans no longer matter? Apparently it does not. Galleries take note, our canine overlords have won and a bowl of treats at the door will no longer suffice.
"Any really revolutionary new art-world action is going to be met with both this look of 'What are you thinking?' and with a real show of solidarity. That's what happens when you're innovating," Dawson told W.
Just throw me and all the pups a bone and we'll be set.