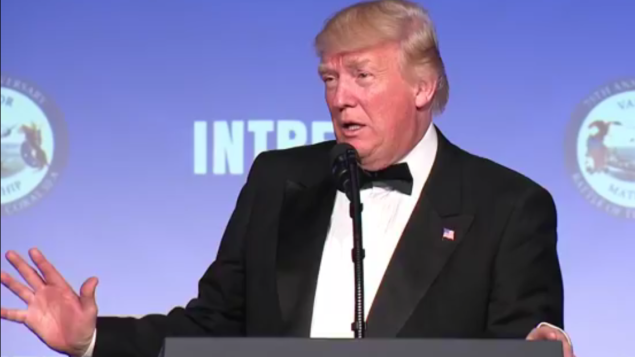 President Donald Trump offered praise to Australian Prime Minister Malcolm Turnbull—the man he clashed with on the phone in February—and, strangely, the Land Down Under's socialized healthcare system aboard the historic U.S.S. Intrepid last night.
The two statesmen met in for the first time on the nautical museum shortly before a dinner commemorating the World War II Battle of the Coral Sea, four months after the pair had a bitter telephone exchange over an Obama administration agreement to resettle refugees from Australia's offshore detention centers in the United States. During the photo-op, Trump took questions about the House passage of the American Health Care Act, which will loosen or eliminate many of the government protections and provisions of the Affordable Care Act.
"It's going to be fantastic health care. Right now, Obamacare is failing," Trump said of the market-oriented reforms, before turning to Turnbull. "We have a failing health care—I shouldn't say this to our great gentleman, or my friend, from Australia, because you have better health care than we do."
Australia has had a publicly run universal health care system since 1984, which coexists with some private insurance programs.
Trump inaugurated his speech with a shoutout to the "very, very special prime minister and his wonderful wife." He then addressed the reports that their conversation earlier this year had been contentious and had concluded prematurely.
"You know, they said we had a rough phone call. We really didn't have a rough phone call, did we? Everyone's talking about this phone call. The media was saying, 'What do you think about the phone call? You didn't really hang up?' No. We had actually a very nice call, right? Good," the president said. "Now the record is straight. All of those people back there. Thank goodness. It's true.
"We had a very nice phone—got a little testy. Got a little bit testy. But that's okay. We've had a very good relationship, and I'm very proud of the relationship. Thank you very much Malcolm," he continued.
In recalling the Battle of the Coral Sea, the 1942 clash between Japanese and American and Australian forces off the northeast coast of the British Commonwealth country, the president thanked the "amazing veterans" of both nations in the room. He highlighted the continued cooperation of their militaries in Middle Eastern operations, and vowed the two powers would together "eradicate terrorism" and the Islamic State.
"Security also requires friends that you can truly count on. That is why I was pleased to meet with Prime Minister Turnbull, and why I'm so glad to be here tonight," he said. "America and Australia are old friends, and really natural partners. And with your help, we will remain so for a very, very long time to come.
"On behalf of the United States, I thank the Australian people tonight. Believe me, I have so many friends here from this country, and we love Australia, all of us. We really love Australia. Thank you very much," he continued. "It's nice to win. It's nice to win. And we've won a lot, haven't we Mr. Prime Minister? We've won a lot. We're going to keep it going, by the way."
Ronn Torossian, owner of public relations firm 5WPR and an occasional Observer contributor, was present at the party. He described a largely Australian crowd, which gave the president a "cordial reception"—but a far warmer one to actor John Travolta, who also spoke.
The only prominent New Yorkers other than the president and first lady Melania Trump, the publicity guru said, were former Mayor Rudolph Giuliani, Rabbi Arthur Schneier of Park East Synagogue and Marcus Moufarrige of Servcorp. News Corp founder Rupert Murdoch, an Australian-born U.S. citizen, introduced the president.
"This was not an American crowd, certainly. This was not a New York crowd," Torossian told the Observer.
Also spotted were Secretary of State Rex Tillerson and White House chief of staff Reince Priebus. Torossian said that Trump spent much of the night speaking with the first lady, though a few people walked up to introduce themselves.
"Inside the event there was not tight security. You could go over and talk to him if you wanted to," he said.
According to Torossian, upon preparing to leave, the president posed for photos with NYPD officers stationed aboard the ship. Torossian even reported that it was impossible to hear the clamor of protests outside.