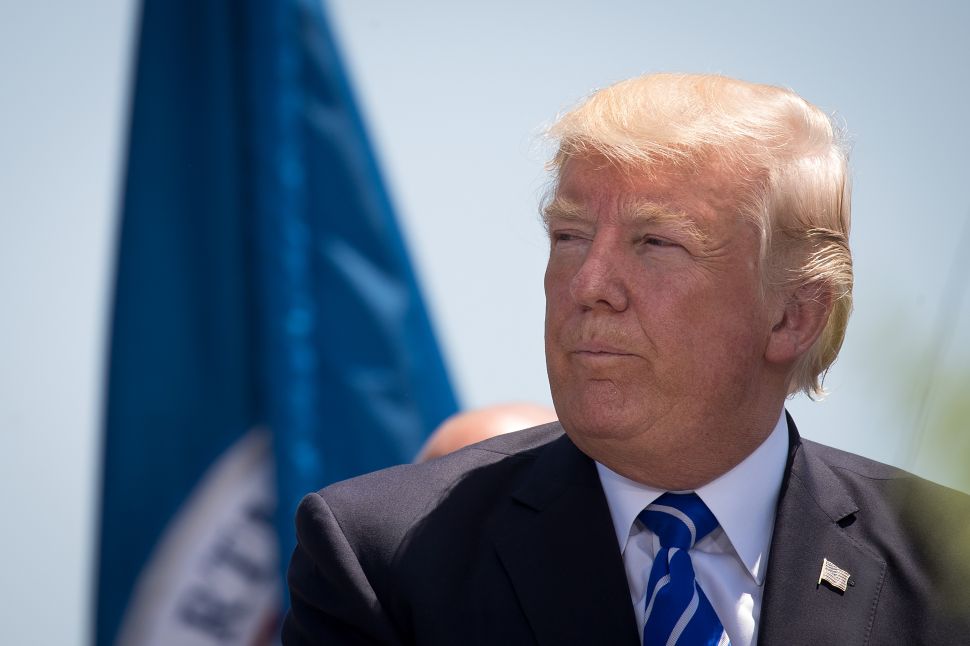 In sharing intelligence with the Russian government given to him by Israel, President Donald Trump has not, in any way, shaken the foundation of the relationship between the United States and Israel.
Those who think that the relationship has been damaged understand neither the nature of diplomatic relations nor the personalities of the leaders of these nations. That is not to say that underlings have not been hurt—they have been hurt. And it is not to say that the situation has given career bureaucrats an opportunity for acting out—they have been acting out.
Not all diplomats are smart, and not all diplomats are savvy. Some are so petty and impressed with their own—albeit limited—power that they abuse the privilege of their positions. Indeed, it was petty bureaucrats who leaked the story of Trump divulging information to the Russians, and it was petty and ignorant diplomatic bureaucrats who barked out nonsense to the Israelis involved in planning Trump's trip to Israel, telling them that the Western Wall is in the West Bank and therefore not under Israel control.
Ignorance and petty behavior do not belong in the diplomatic corps. Case in point is the two American embassy diplomats who basically said to their Israeli counterparts, "We're asking you to leave, and we need to be left alone. Israeli officials cannot be here; this is not your territory. It's the West Bank. This is a private visit by the president and it's none of your business."
According to reports, the culprits were David Berns, the political counselor at the U.S. embassy in Tel Aviv, and Jonathan Shrier, an economic adviser.  They should be fired. Then, they should be re-taught history and re-trained in the art of diplomacy.
But I digress. Now, back to the issue of the president sharing intelligence with the Russians.
Intelligence sharing is not new to Trump and the Russian government. It's a staple of world diplomacy. The rules are straightforward. The president knew the rules—minions, obviously, did not. It is also quite possible that these employees thought they knew better than their boss. And that arrogance has caused international and domestic flops. It is they who have compromised lives and diplomatic norms.
The principle is clear. Very delicate intelligence can be shared in two directions when the original sharer lends agreement. Intel is proprietary. If it is spread inappropriately, it can compromise the intelligence itself, and it can compromise the identity and life of the asset supplying the pertinent information. Much time and capital is expended to get assets into position and to get listening devices or computer viruses into place. It can all be lost in a moment's foolishness.
The intel given to Russia, which included an ISIS plot to attack a civilian airliner and emphasized the need to clamp down on laptops on planes, was information the Russians were already sensitive to and gathering. They have firsthand experience with the devastation and damage terrorists can cause on civilian airliners. Two hundred and twenty Russians were murdered two years ago when ISIS blew up a charter flight shortly after it took off from Sinai. In that case, the explosive was hidden inside a Schwepps pineapple soda can brought on the plane by ISIS rebels in cahoots with the Egyptians providing food and drink to the airline.
Contrary to the rumors capturing the attention of many Americans, I doubt that an Israeli is embedded in ISIS. I can also almost certainly guarantee that the asset would not know that he is reporting to Israel. The asset probably thinks he is reporting to Russia or Saudi Arabia. Israel is totally insulated.
But it might not be an asset. It may very well be a virus or a technological device that gave Israel the intel. The odds of that being the case are much higher than the odds that it was a human. Assets are mono-dimensional. They are not usually trustworthy, and they usually only have limited access to information. They can be caught, and they are highly susceptible to being turned into double agents. This is real life—not television or movies. Gone are the days when you were able to rely on these agents of espionage.
High tech monitoring is much more effective—it is the proverbial "fly on the wall" watching and hearing everything. Of course, a spy agency often needs a person to plant or insert the technology, but that is an in-and-out operation. While our enemies, in this case ISIS and al Qaeda, can try to deconstruct the intelligence and find its source, every agency knows that these devices have only a short lifespan before they are detected or before the agency itself sends them into dormancy.
ISIS knows that the West is trying to monitor them, so they have instituted protocols that make them very difficult to crack. They do not use wireless communication that is not heavily encrypted, and they do not send emails or texts that are not encrypted.
In the end, I would not worry too much about Israel's sources. They have a multitude of sources and never rely on just one for their information gathering. Neither did they share everything they have with the United States. The Israelis have a healthy sense of suspicion and are not surprised when the United States passes their information along. Donald Trump was merely following a tradition set by his predecessors. It was his bureaucrat who broke with tradition and leaked the story.
So really, vis a vis the relationship between the United States and Israel, nothing has changed, but there is one big change that needs to be made. The advisers and bureaucrats serving the president must get in line. Immediately is not soon enough.
Micah Halpern is a political and foreign affairs commentator, author the "The Micah Report," online and host of the weekly TV show "Thinking Out Loud w Micah Halpern." follow him on twitter: @MicahHalpern