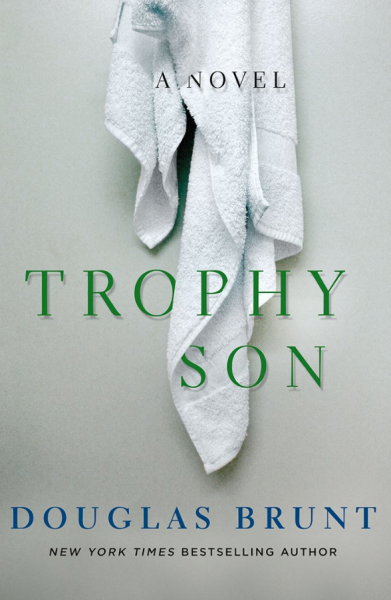 In Franz Kafka's Letter to His Father, the prodigal son's life is permanently scarred by the cruel act of being locked outside on a balcony in the middle of the night by his father for complaining of thirst. His life is thereafter defined and limited by his father's power and his own submissiveness, reality filled with belittling judgments inflicted by a father who has no real sense of the destructiveness of his words and deeds on a son who can never escape them.
Such is the world we encounter in Douglas Brunt's new novel Trophy Son, in which the son, a budding tennis star, is his father's trophy. He is groomed from a young age to perform a high wire tennis act at all costs, with personal growth and development a distant second. His rigorous training and travel schedule is set by his father, and his social life is severely curtailed and controlled.
Who among us cannot relate to the urge to chart our children's course as though we know where their proper harbor should be? But this "Dad," a failed Olympic sprinter himself, goes beyond even the most overbearing of us in steering his "robotic" son Anton. "Life off the court was robotic, single-threaded. I kept that from bothering me by remembering that I have made a deal with myself and I was getting the results I have bargained for in the deal so everything seemed fine."
But really, nothing was fine. By age 19, coach Dad had managed to pilot Anton all the way to the finals of the U.S. Open, muscling him through the predictable psychiatric disabilities of an acquired Obsessive Compulsive Disorder and into a compromised world ruled by drug supplements and performance enhancers.
Brunt's world is a lens through which to view high performance narcissistic overachievers. We see the parallels between the ruthlessness of Wall Street and politics in his previous novels to the winner-take-all world of sports in this one. Sacrifices deeply scar participants and the goal appears to be worth of any sacrifice.
Anton doesn't think so, a refreshing reminder that there is always a choice to be made. Unlike Kafka, he has a chance to escape his father (who has deteriorated to a pathetic heckler) with his humanity intact. The love for a woman, actress Anna Stokke, helps save him, and not in a way that is overly romanticized. We are all too aware that a testosterone supplement/human growth hormone fueled rise to the top in sports would generally have a different ending. From a purely medical perspective, I can tell you that prolonged use of anabolic steroids shrinks the testicles, weakens the bones, the muscles, and the heart, and makes people more anxious and aggressive. Anton appears to have escaped these dangerous effects in time, but how many other aspiring stars have not?
This wise novel explores the themes of sacrifice and maniacal parenting and alerts us to the cost of success. The lessons go well beyond sports. Excessive competition and supplication to another's will erode the soul. We have to become our own people, who we want to be, not who others (or mind and body altering chemicals), train us to become.
Readers of this novel will try to guess if Ana is based on Brunt's famous wife, Megyn Kelly. Readers asked the same question of the protagonist in his last novel The Means, a truth-seeking investigative reporter. I suspect the answer to the autobiographical question here is no, except of course that all novelists infuse their characters with lessons learned from their own lives, in this case a happy one. Nor is Anton really Brunt, except insofar as the author must have gone through a troubled rudderless time in his own adolescence to be able to write about this one so successfully. Someone must have been trying to influence or steer Brunt, who ultimately left a successful career in business to write. A person must discover his ambitions on his own.
A famous novelist once taught me that great art is simply the real world tilted on a slight axis or seen through a tinted lens. This tilt provides access to a greater truth than straight journalism or reported truth can. Ironic, isn't it, to think of truth as residing in fantasy. But at a time in history when journalism itself has frequently deteriorated into a he-said she-said shouting match, the truth of good fiction is welcomed by all. Here we learn about the pitfalls of extreme competition, the soul sucking effects of cheating to gain an advantage and Kafka parenting. We too can choose instead to seek the rewarding life truths of a committed romance and honest relationships.
Marc Siegel, M.D. is a professor of medicine and medical director Doctor Radio at NYU Langone Medical Center. He is a Fox News Medical Correspondent.