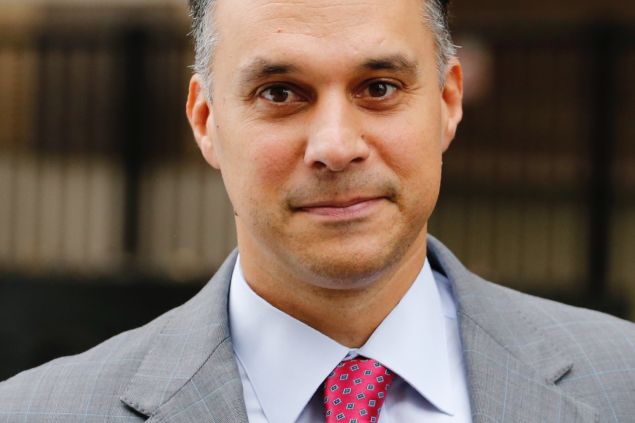 Republican strategist Mike DuHaime said members of his party should not be shy about calling out President Trump for picking a fight with the recently ousted FBI director, James Comey.
DuHaime, a top strategist to Gov. Chris Christie until recently, appeared on a political panel Friday afternoon on MSNBC. The host, Nicolle Wallace, a former communications director to President George W. Bush, asked why Republicans are mostly standing on the sidelines this week as Trump attacks the former FBI director who was leading a probe of the Trump campaign's ties to Russia. He said they should speak up.
In a letter firing Comey this week, the president wrote that he "greatly" appreciated that the FBI chief had informed him "on three separate occasions" that Trump was not under investigation. Dozens of anonymously sourced media reports — and a series of conflicting explanations from the White House on why Trump fired Comey — have cast doubt on what kind of assurances the FBI director gave the president, if any.
Trump took to Twitter on Friday morning to issue a rare warning to Comey, indicating he might have "tapes" of their conversations.
"I don't think a sitting president should be doing that," DuHaime told Wallace. "There was no subtlety in that tweet."
DuHaime, a partner at Mercury Public Affairs and a top strategist on Christie's presidential campaign, said the Comey episode presents "an issue of credibility for the party."
"The continuation of this circus will derail the ability to get things done," he said, potentially sidetracking legislative priorities such as health care, taxes and infrastructure.
"It's a mess of his own creation on this, and he probably went too far on this," he said of Trump.
DuHaime's comments were in stark contrast to what Christie had to say on Thursday. Trump said he was firing Comey for his handling of an investigation into Hillary Clinton's emails last year. The FBI director took the rare step of discussing details of the case publicly on two separate occasions during the heat of the campaign, and Clinton says she would have won without Comey's unusual interference.
"It's not my place to say I agree or disagree," Christie said, according to NJ.com, when asked about Comey's firing. "I think the things he did last summer were a mistake. I think he made a mistake and if he's gonna be held accountable for that mistake by losing his job, that's the decision of his boss to make."
When Christie was running for president, he often name-dropped Comey as a mentor with impeccable judgment. But the governor struck a new tone Thursday.
"I don't think an FBI director has any business, in the end, making announcements on prosecutions, and whether prosecutions go forward," Christie said.
DuHaime said Comey might have been "naive" in the way he handled the Clinton investigation but added he was "certainly respected" as the director of the FBI.
"In order to maintain the credibility of the party, we don't have to stand with the president on every single thing," he said. The shifting explanations from the White House regarding the firing — Trump also tweeted Friday that "it is not possible for my surrogates to stand at podium with perfect accuracy!" — were another issue for DuHaime. "All this starts at the top, and it's up to him to set it straight," he said of Trump.
Wallace introduced DuHaime as a "former" strategist for Christie.