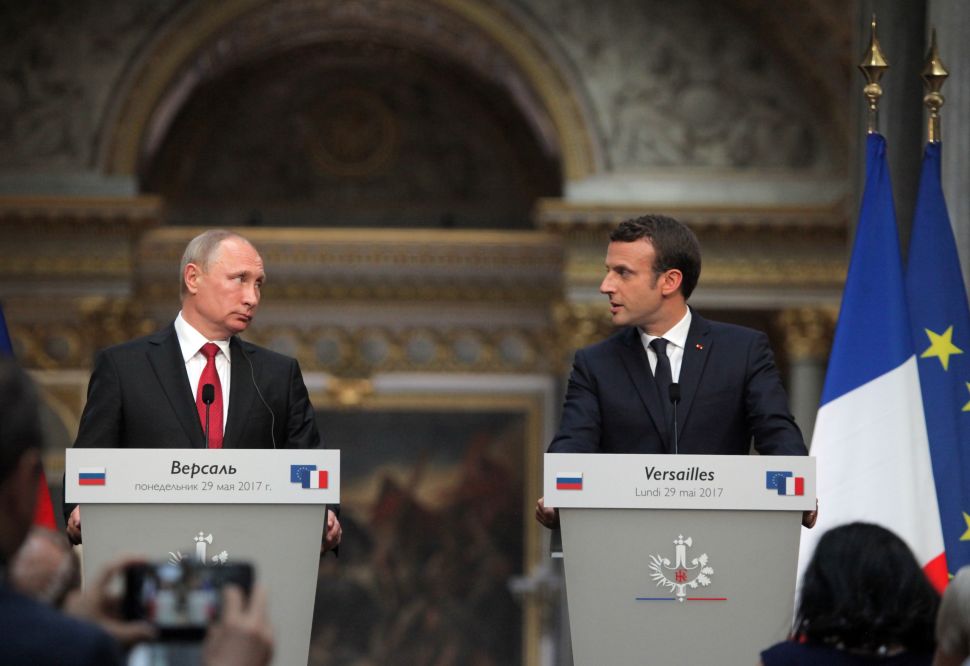 Meeting Vladimir Putin has often served as an unofficial litmus test for the newly-appointed leaders of democratic countries. If you're too chummy with him, as President Donald Trump has been accused of being, then you are reproached for not taking enough of a stand against a man whose human rights record is dubious at best. If you're too hard on him, as German Chancellor Angela Merkel has been accused of being, then you are reproached for creating a tense international situation with a major nuclear power.
But French president Emmanuel Macron, who took office only a couple of weeks ago, seemed to have struck a good balance in his first tête-à-tête with the Russian leader.
The meeting, which took place in Versailles on Monday afternoon, started off with a handshake that was praised for being "unremarkable."
No, but, really, after the infamous white-knuckle clench of Macron and Trump….
…a reasonably normal handshake made people sigh with relief.
Once the handshake was over, Macron's true test began. After all, did this amiable, 7-second handshake mean the French president was going to be soft on a man who appeared to support his far-right opponent, Marine Le-Pen? Was he going to confront him about the fact that his aides had claimed that Russian groups had tried to hack the election in the days before the vote (Moscow denies these claims, obviously)? And what of the dozens of homosexual men who have reportedly been detained and tortured for their sexual orientation in Chechnya? Earlier this month, in a joint press conference in Sochi, Merkel called on Putin to do more for LGBT rights, and he responded by talking about Syria and the American election. Would Macron suffer the same fate?
According to reports, the two spoke for almost three hours about LGBT rights, Syria, and Russia's role in the French election before emerging for a joint press conference.
Macron said that the leaders found common ground in their dedication to fighting the global threat of terrorism, saying, "Our absolute priority is fighting terrorism and the eradication of terrorist groups."
They also appeared to make some progress in the troubling matter of the alleged torture of gay men in Chechnya, Macron stating that Putin promised that he would complete a thorough investigation of these reports and that they had agreed on a "very regular monitoring" of the situation.
When it came to the complicated matter of Syria, the French leader made more of a veiled threat to Russia when he said that there is "a very clear red line to ban any kind of use of chemical weapons" and that "any use of chemical weapons will be retaliated by France."  
His biggest stand, however, came when he matter-of-factly charged Russia's most dominant news outlets as propaganda, saying, "Russia Today @RT_com, Sputnik have not behaved as journalists, but as organs of influence, false propaganda," as Putin stood beside him.
This earned him no shortage of respect on social media.
Putin responded by denying that Russia had any involvement in the presidential election in his typically cagey way, saying, "As for the imaginary intrusion by Russia into elections anywhere–we did not discuss this. And Mr. President did not show any interest in talking about it. As for me—I think there is nothing to talk about."
Despite this clearly awkward exchange, the choice of location—Versailles—indicated that Macron wanted to welcome a friendly relationship with Russia, as he led him around an exhibition that is celebrating the 300th anniversary of Peter the Great's visit to France and the rich history of these two nations.
As such, Macron's first meeting with Putin was firm, but diplomatic. So, you could say he passed the test.