Welcome back to Entertaining AF, our celebrity column from Hollywood reporter Emily Bicks.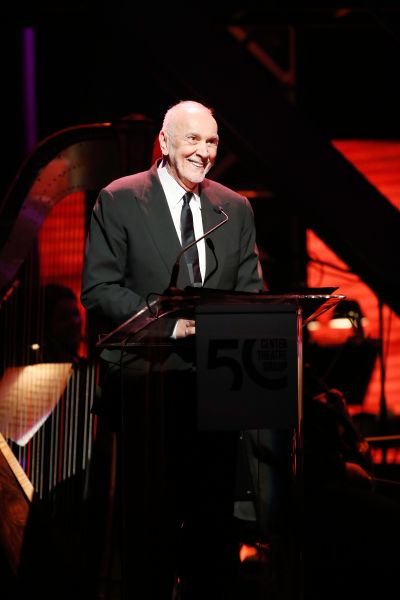 When people say there's nothing like live theater, it's because it's true. And when I say there's nothing like the party Center Theatre Group threw to celebrate their 50th anniversary on Saturday, May 19, it's also a truth. With a star-studded list of performers slated to take the stage, the bar was set high for an inspiring evening. Those in attendance to help highlight the numerous plays and musicals CTG has staged in the past half century, included Matthew Broderick, Annette Benning, Frances McDormand, Tyne Daly, Phylicia Rashad, Alfred Molina, Jimmy Smits, and Jennifer Hudson.
Taking place at the Ahmanson Theatre in downtown Los Angeles, the event kicked off with a VIP outdoor cocktail hour. It was one of those rare, wonderfully warm evenings, the kind of perfect weather that naturally creates a feeling of excitement in the air. When the ushers announced it was almost showtime, everyone beelined to grab one more drink before heading inside to their seats. Man, have I missed being around a theater-loving crowd.
Once inside the Ahmanson, I got confused looking for my seat.
"Is this Row M?" I asked to no one in particular. My eyes were focused on the incredibly long row of people I'd have to step over in order to get to my seat number.
"No, this is K," a familiar voice said.
Looking up, I see that it's Frances freakin' McDormand. Aside from her being one of the most talented actresses of our time, it's well known that she hates industry-related parties, something I think makes her even more endearing. But here she was in an aisle seat, beautiful as ever in a green blouse, her sandy blonde hair neatly blown out. And there I was, standing before her like a lost idiot. I quickly exited her row, trying to shake off my starstruck face. If this Oscar, Tony, and multiple Emmy Award-winning actress came out tonight, then this must be a very special event.
With a live orchestra on stage, and a slew of video montages playing in the background, CTG's goal of the evening was to take a look back on what they've accomplished over the past 50 years and offer a peek at what they aspire to do in the future. Frank Langella, one of the founding members of CTG's acting company, was the first presenter of the evening.
"Saying L.A. can't do theater is about as true as anything the President says," Langella said. He reminisced about the first show's opening night of the Mark Taper Forum, in which he was in the controversial play, The Devils.
"In today's world it would be a Disney movie," Langella said. "But this was 1967, and I was the very first actor to perform sexual intercourse on the Mark Taper Forum stage. The future President Ronald and wife Nancy, shot up out of their seats. And then began the exodus."
The 79-year-old veteran actor recalled how Omar Sharif, Kirk Douglas and Angela Lansbury walked out.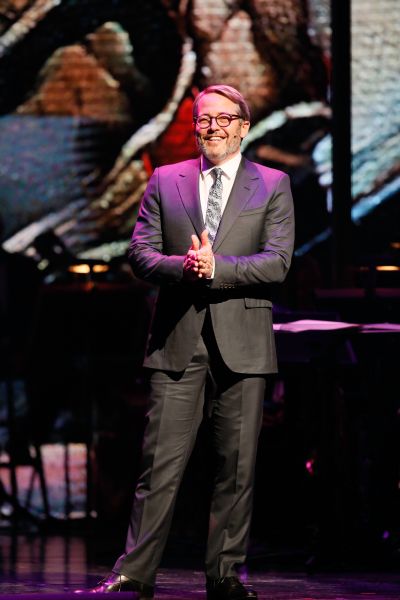 "I played my final scene to a sea of abandoned furniture," the four-time Tony Award winner said. "Except for one person. Sitting in the front row with rapt attention, dressed in gold lamé, Miss Natalie Wood. She was the only person left! I've always loved her for that. The reviews the next day were of course, devastating. My personal review in the L.A. Times, and I quote, not that I know it by heart, 'the young actor Frank Langella lacks weight.' Fifty years later, I refute that review. But nevertheless, here I am."
Edward James Olmos reprised his original role as Luis Valdez from the groundbreaking musical, Zoot Suit, "the first play written, directed, and acted by Latinos," he said. Matthew Broderick, with Tyne Daly and Annette Benning enacted his original role from the play, Brighton Beach Memoirs.
"The experience was a huge boost to my young career," Broderick said. "And I was fortunate enough to win a Tony Award for that performance."
Forever exuding the youthfulness of Ferris Bueller, even with the salt and pepper beard he now sports, Broderick gave credit to the play's "brilliant director, Gene Saks, and of course the magnificent comic imagination of writer, Neil Simon. Neil once said, "all humor is based on hostility. That's why World War II is funny!'"
Benning came onstage again at the end of the show to join Thomas Sadoski, Charlie Hofheimer, and Paul Oakley Stovall in a perform of the final scene of Angels in America, Jimmy Smits spoke aloud a monologue from Children of a Lesser God while Shoshannah Stern performed it in sign language, and singer Merle Dandridge gave the entire audience chills with that insane vocal range of hers while singing "Seasons of Love" from Rent.
McDormand gave a speech presenting Michael Ritchie, CTG's current artistic director. She's been dear friends "with this guy who used to be called Mike," since 1984, when he was the stage manager of a play she did in New York City, Clifford Odets' Awake and Sing! Ritchie then read aloud a gracious thank-you letter from a former graduate of CTG's high school educational program, and when the final performer of the night, Jennifer Hudson, sang "I Know Where I've Been," from NBC's revival of Hairspray Live!, it was the perfect, soul-stirring number to bring the show to a close.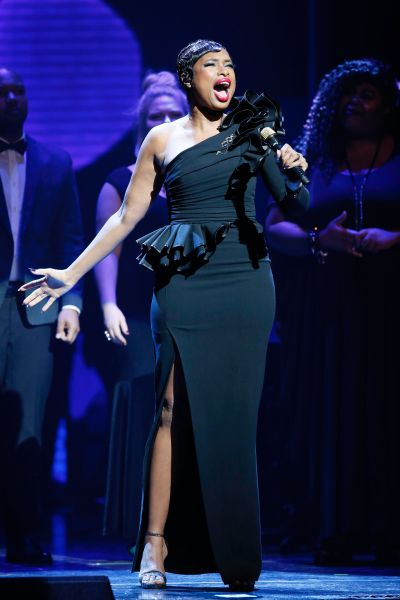 After the audience gave the performers a well-deserved standing ovation, everyone began making their way across the street to Grand Park, where the evening's festivities continued with a fancy schmancy al fresco dinner party. I wasn't exactly sure where to go, for while LA may rival NYC when it comes to theater, in terms of city mapping, it does not. Downtown LA is like a Bermuda Triangle of one-way streets and dead ends. Even with Google maps, one can get lost for hours by taking one wrong turn, and this is coming from someone who's lived in the City of Angels nearly nine years.
I figured I'd just follow the sea of people wearing pink bracelets, the wearable ticket for the evening's after-party, However, before even leaving the theater's front steps, I saw an electric light show taking over the night sky, and could feel the bass emanating from Ozomatli's outdoor show. It was quite a spectacle, even from afar, and I couldn't believe what passersby understandably mistook to be a park-wide EDM party was actually a theater group's anniversary celebration.
The post-party was even more impressive up close, and much more refined. With the band rocking out in front of the huge water fountain which was lit up in purple and green, multiple bars were set up, and five different specialty food stations had celebrity chefs serving out single-bite signature dishes.
This was what I'll call the post-show appetizer hour. A pitstop to sip champagne and grab a few amuse-bouches before heading back towards the outdoor dining room. Following a black through the trees, I stepped out on the other side and actually gasped aloud. If Aladdin and Princess Jasmine were to have a modern day, real-life wedding reception, this would be it.
With a guest list of 800 people, this garden party on crack was elegantly set with fancy silverware, a note tucked inside the napkin detailing the Patina Group's four-course dinner menu, and a personalized nameplate by each wine glass. Grey or red scarves were draped on the back of everyone's chair in case the temperature dropped, and the tables themselves were LED displays. At first, it was the night sky, then Shakespeare quotes would appear, and then pictures from famous musicals and plays. The table's continuous light show was a very entertaining display, so when the lights dimmed at 10:30, and the light show took over the entire city skyline with musical accompaniment, it was an unexpected surprise.
Sitting right across from me was Matthew Bourne, and it took everything inside me not to start fangirling over the famed choreographer. He looked perfectly cool in his suit, matching tie and black, square-rimmed hipster glasses. He ordered the vegetarian dish and we discussed the excitement over the world premiere of his most recent stage adaptation of The Red Shoes.
Dessert was served via multiple stations back near the lit up fountain, where appetizer hour took place, and again, maybe it was the warm night air or the post-show high of seeing so many incredible performances back to back, or perhaps, the fact that each table had its own sommelier and our wine glasses were never empty, the feeling in the air was that of unhindered glee, for theater is something to celebrate. The unique way in which it can put up a mirror to society and nature is inimitable. And CTG's 50 years of taking creative risks, reaching out to local schools and supporting arts education in LA, is nothing short of a remarkable feat, worthy of such a party.
---
This Week's Not-So-Blind Item
From a very reliable source, I heard there's a new hip-hop and athlete crossover couple blossoming. A certain rapper, whose name rhymes with Biggy Bazaela, and an impressively talented New York Giants wide receiver were "getting cozy while hanging out with a group of friends at the Bowlero in Woodland Hills" earlier this week.
She's got a new album coming out soon, while he just signed an extremely lucrative five-year contract with Nike, and created the best sideline meme of the 2016 NFL season after taking his anger out on a practice field-goal net went horribly wrong.
I ship this couple for many reasons. First of all, I love that they were hanging out at a bowling alley deep in the valley instead of one of the super swanky Hollywood places that somehow think it's okay to charge $100 an hour to merely reserve a lane. I also love that they ordered chicken tenders and pigs-in-a-blanket, which are, unequivocally, two of the best bar food options available. Clearly, they have good taste in appetizers.
At 24 and 26 years old, respectively, it sounds like they're just having fun, enjoying each other's company during his off-season. But what these two do have working in their favor, neither of them have kids from prior relationships and coming from the professional sports and music world, that's truly something of note.
---
The Real Reason So Many Rappers Sing about Hennessy
When one thinks of Hennessy, it's impossible not to think of Tupac's eponymous song, or the amount of times, ten to be exact, that his East Coast rival Biggie Smalls made a shout out to the liquor brand in his tracks. The obsession has only continued to grow throughout the years with Ludacris, Nas, 50 Cent, Eminem, Jay-Z, Snoop Dogg, they've all helped keep Hennessy the No.1 most mentioned alcohol in rap music.
I couldn't help but wonder… Why? What is it about this French cognac that it deserves such constant adulation over say Cristal, Patron or Remy Martin? While joining up with Hennessy for their second annual Cognac Pub Crawl through Los Angeles to kick off National Cognac Week on May 22, I got to ask this exact question with the company's U.S. Head of Mixology and Brand Education, Jordan Bushell. I was curious to find out if this constant correlation between rap world and Hennessy is something they embrace or try to shy away from.
"We embrace it completely," Bushell said. "The African-American community has always been a close friend of Hennessy and [vice versa]. It dates back to the early 1900s. William J. Schieffelin was our importer into New York, the Schefflin family has been our importer since 1794, him and Maurice Hennessy were both raised with the belief that all men are created equal.
"Now, it's one thing to say that, and it's quite another to put your money where your mouth is," Bushell continued, ordering the table another round of Blake Porter's Blackberry Sidecar at the tour's last stop, Serafina on Sunset. Made with V.S.O.P Hennessy Privilege, it looked pretty, pink with a lemon wedge, but I was hesitant to drink it. I'm not someone who would ever normally order a cognac drink at a bar, but sitting right next to Bushell, I felt that I had no choice but to suck this one down.
Surprise, surprise. I found the fruity cognac cocktail to be surprisingly delicious and went from wanting to secretly order a glass of wine to knocking back four of those sidecar bad boys. And god bless Hennessy for also providing car service transportation for everyone that participated in the crawl. No one was drinking and driving on this tour.
Getting back on topic, Bushell said, "Schieffelin and Hennessy created a non-profit around 1905 that later merged with several other non-profits, and became known as the Urban League. The Schefflin family were some of the first corporate sponsors of the NAACP, and William J. Schieffelin was a close friend of Booker T. Washington, who founded the Tuskegee College, which not only today is still a great African-American college, it's straight up one of the top universities in the States. So, he'd take prominent businessmen, socialites and politicians on the train with him down to hear Booker speak, and got them donate their time, money and resources to the Institute.
"So when rappers talk about Hennessy, it's because it's a link to their history," Bushell explained. "Hennessy was at the table during a lot of those discussions about Black rights, the Black rights movements and equal rights. So when they're drinking it, it's because their grandfather drank it at that table. And their father drank it. When they sing about it, it's a point of pride. We love it. For us, it's a point of respect."