Welcome back to Entertaining AF, our celebrity column from Hollywood reporter Emily Bicks.
I'm a longtime fan of Free People clothing, so when I was invited to join their Escape retreat, a holistic getaway with an emphasis on yoga, meditation and culinary nutrition in Palm Springs, Ca., I was pumped. For the mere idea of unplugging, taking a break from real life to stay at the Korakia Pensione, "one of the sexiest hotels in America" according to The New York Times, sounded glorious.
Between the beautiful location and flexible itinerary, there was nothing not to like, but I did have a few nagging thoughts. My first worry was that I'm far from being a bohemian flower child. I'll take the healing powers that come from a few glasses of wine over restorative yoga any day. I envisioned being surrounded by a group of elitist hippies that would Hester Prynne me if I admitted aloud how much I love red meat.
Korakia Pensione is like a private Mediterranean Shangri-la just off the main strip in downtown Palm Springs. After making myself at home in my cozy desert cottage, I headed to the main courtyard for our first outdoor yoga class. While the sun set behind the rocky mountains, and everyone got settled on their mats, I took notice of the diverse group of women that surrounded me. The range in ages was great. From the bright-eyed, college freshman to the thirty-something blonde who brought her Mom along as a sweet Mother's Day gift, a total of 14 women had traveled from all over America to take a break from their busy lives, to be right here, right now.
Our yoga guide for the weekend, Nina Endrst, appeared to be the quintessential ethereal yogi. With her tanned luminescent skin, long dark hair that almost reached her hip, and yet somehow never got in her way while demonstrating poses. Being so attuned with her own body, it was easy to see that teaching yoga was Nina's passion, that it was her true calling in life.
Knowing some retreaters were hardcore yogis while others haven't practiced in 20 years, or just took their first class the week prior, Nina never used Sanskrit terminology when guiding class. One pose naturally flowed into another, so even if you've never heard of Adho Mukha Svasana, downward facing dog, or Virabhadrasana, warrior pose, it didn't matter. Nina encouraged everyone to practice with closed eyes, which even though I found that to be incredibly difficult, it also removed the trap of getting distracted by comparative judgment.
Accustomed to more vigorous and physically taxing exercises like SoulCycle or sculpt classes at Hot8Yoga, I was surprised at how exhausted I was afterward, and then not so surprisingly, how starving. Free People brought along The Great Cosmic Kitchen chefs, Sarah Benjamin and Summer Singletary, to cook up healthy meals which were all specifically designed through elemental eating guidelines in order to nourish both the body and soul.
Like the great Ron Swanson of Parks and Rec once said, "I believe you mistakenly have given me food that my food eats." While the numerous plates and bowls filled with bright colored veggies looked delicious to everyone, to me it was like looking towards the ocean for water to drink. I have a crap ton of food allergies, all of which include no nuts, peanut butter, rye bread, bananas, and most unfortunate at this particular moment, all fresh vegetables.
I tried to silently moonwalk out of the dining room as quickly as possible, but the chefs noticed my exit and insisted I write down a list of all my allergies. I told them not to worry about of making me special meals, for I really didn't want to bring any more unnecessary attention to my uniquely obnoxious diet. Even the soup they made that evening was raw, something I still have trouble wrapping my brain around.
I walked towards downtown Palm Springs and found myself an open bar seat at Brickworks Bistro. While sipping on a glass (or two) of Prosecco, I crushed a 10 oz pork chop with a side of creamy risotto. I figured this probably wasn't what most people would consider a restorative meal, but to me, it totally was. Being outside in the warm desert air while eating delicious comfort food, and not having to engage in forced conversation, I found this all to be incredibly restorative.
The next day, Abby pulled me aside after morning yoga and my heart sank. I was in trouble. Well, maybe not "in trouble" but she was about to say that my food allergies were disruptive to the healthy vibes of this Escape and that I was being sent home.
I was way off.
Abby suggested I order in meals from nearby restaurants so that the chefs could plate it for me before group meals. In the morning, instead of going alone to the other side of the resort for breakfast, which I thought I did without anyone noticing, they'd pre-order my selection so it would be waiting for me in the dining room. Honestly, not even my family has gone to such lengths to make sure I was both well nourished and felt included.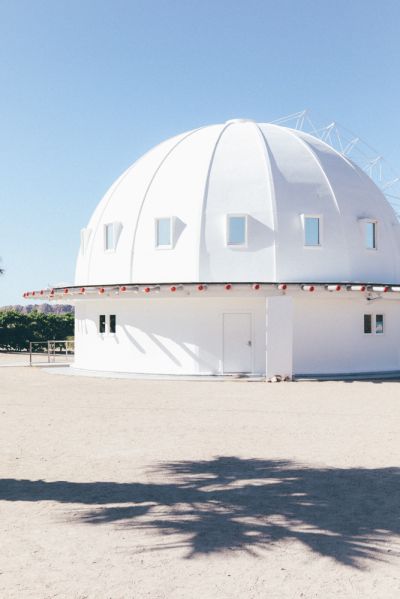 The itinerary on Day 2 mentioned we'd be heading to a sound bath at the Integratron, so I asked if I needed my bathing suit. Thankfully, no one laughed or rolled their eyes at me. My confusion was met with excitement because they all knew I was about to experience something incredible for the very first time.
The Integratron, a spaceship looking building in the middle of the desert, is an incredibly popular destination. People have to book sound baths at the Integratron at least four months in advance to reserve a spot, and it also has absolutely nothing to do with immersing yourself in water. A sound bath is a meditation practice done in a room that is specifically structured to enhance sound vibrations for the body to feel.
I laid down on my mat, closed my eyes, and wondered what the hell would happen. As the drummer made music from a set of bowls, I felt certain parts of my body twitch, which I later found out were signs that I did fall into a relaxed, meditative state. But I was super curious to know what other people experienced. One woman claimed it was life-changing, that it was if she could feel painful thoughts lifting up and out of her body. Others were so tired from the hike earlier that day in Joshua Tree National Park, they napped throughout the entire hour. And then there were a few people in our sound bath, not from our retreat, who were clearly tripping on mushrooms. Based on the amazed expressions frozen on their faces afterward, I can only assume that they all super enjoyed their sound bath.
The rest of trip flew by. Without having to worry about sneaking away for food, no one judging me while I ate a double chicken sandwich with cheese and bacon, I actually felt at ease in a place I've never been before, surrounded people I've never met. On our last day, I laid on my bed for what I thought would be a few minutes rest before the creative writing and Tarot card reading session began, only to wake up and discover I had slept through the entire class.
Even though it was impressed upon us that all activities were optional, I was consumed with guilt that I wasn't being a team player, and would be seen as lazy and selfish. Lamenting to a fellow retreater, a woman from New Jersey with whom a friendship somehow quickly formed over the weekend, I stressed to her how I never nap, how sleeping through the class was totally unintentional.
Brushing aside my dramatics, "You must actually be relaxed," she said. "Getting to the point where you can really let go is exhausting work. Your body needed rest and you listened. That is the purpose of this entire trip, lady."
So, while I'll never able to describe just how the amazing the meals Sarah and Summer made tasted, and getting up for yoga at 7 a.m. will forever be torturous, I found this Free People Escape to be rewarding in so many ways. And if you're wondering why I haven't mentioned any details about Free People clothing, it's because fashion didn't really have a place on this trip. Aside from the branded canvas bag given to each retreater upon arrival, one would never know this getaway was created by Free People.
Of course, there's inherently a commercial aspect to the trip, and trust that I was prepared for this Escape to be a kind of blanket charade to cover up for their parent company's previous misgivings, but Free People's mission with these getaways is truly authentic. They're not just selling the idea that they're a multicultural, unbiased brand, they've actually created an environment for the girl who buys their stuff to understand their goal in a very intimate way, and it's one that has nothing to do with what she's wearing.
Before going on this Escape, I only knew Free People as a brand that sold stylish, bohemian clothing. That's it. I didn't know about their tight-knit blog community, Bldg 25, for which experts are hand-selected from all over the world to contribute inspirational stories or DIY guides. Free People has blossomed into legit lifestyle brand, one for which any woman could get on board with, free from any misgivings.
During our last yoga class, both Kristal and Abby became emotional while discussing how happy they were to see Free People's Escapes come to life. These women live to celebrate other women, and to encourage everyone to embrace their individuality. Mission accomplished, ladies.
---
Fun Random Sidenote:
Upon returning to Los Angeles, I beelined to Stella Barra in Hollywood for their thin-sin pepperoni pizza. While finishing up dinner, who walks in but Bachelor Nation four-peat, Nick Viall. Who was not accompanying him? Fiancee, Vanessa Grimaldi.
Nick awkwardly waited by the front of the restaurant until his "date" arrived, a petite brunette in black pants and a flannel. He was in jeans, white tee, grey hoodie. Clearly, this was a casual meet-up.
They sat across from each other at a high table for two by the windows. Each ordered two glasses of red wine, but something for which I believe is very important to note, they were not sharing a bottle, Nor was there any touchy-feely flirting happening. So aside from feeling like a total stalker, I am happy to say The Bachelor couple of Season 21 is still happening. I'm too cynical to say it's going strong, or that it looks they'll be together forever, but this is longer than I expected them to last. And that's about as positive as I can get for Bachelor Nation fans.