The Democratic establishment has made little effort to mask their contempt for Sen. Bernie Sanders and progressives. Several Democrats—including new DNC CEO Jess O'Connell, Sen. Claire McCaskill and Sen. Kamala Harris—have accused progressives of performing "purity" tests on Democrats in Congress. In an interview with The Los Angeles Times, Congressman Adam Schiff claimed that the progressive wing of Democratic Party was beginning to look the the Tea Party. While the Democratic Party and its leadership remain widely unpopular, several polls cite Sanders as the most popular politician in the country. Rather than embrace his progressive policies that continue to enthuse and mobilize support for Democrats, most Democratic officials have viewed Sanders' popularity with indignation.
On May 16, Politico reported that several Democrats are furious with Sanders over his potential 2020 presidential run given that he has overwhelming support—more so than any other potential contenders for the Democratic presidential nomination.
"The fact that Tom Perez has given Sanders a platform without Sanders genuinely agreeing to work toward 'unity' has made a mockery of the whole process and literally divided the party more than it was before the tour began. It has been a disaster," said Markos Moulitsas, the founder of Daily Kos. "Yes, Perez and company are clearly afraid of Sanders and his followers, but letting Sanders make a mockery of the party doesn't exactly help it build in the long haul." Moulitsas, who recently caught flack for claiming North Carolina residents deserve not to receive Hurricane Matthew relief funds because the state voted for Donald Trump, is part of why the Democratic Party is so out of touch with American voters. He fails to acknowledge that the party made a mockery out of itself by anointing Hillary Clinton as the Democratic nominee in 2016.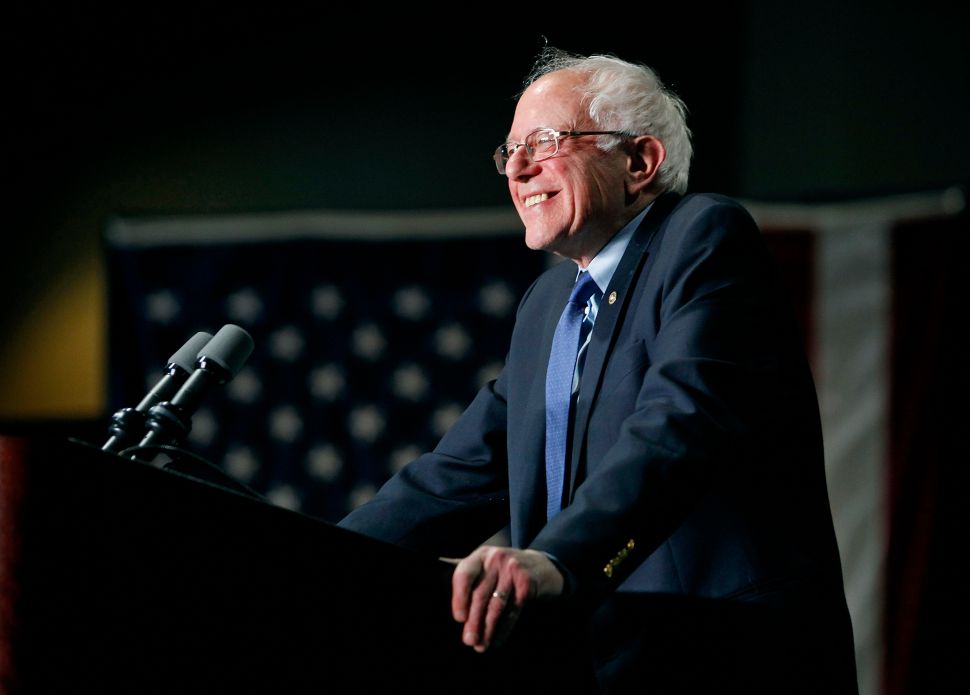 A senior party official who cowardly chose to remain anonymous told Politico, "He's a constant reminder. He allows the healing that needs to take place to not take place." The Democratic establishment continues to ignorethat the rift within the party is due to favoring corporate and wealthy donors over working, middle class and low income Americans. A class action lawsuit against the DNC and Debbie Wasserman Schultz for rigging the Democratic primaries is pending in court, a final effort from progressives to hold the Democratic Party accountable. Democrats have ignored all calls for reform. They have refused to re-enact the ban on DNC donations from lobbyists and PACs, instilled establishment Democrats in leadership positions, and failed to make any reforms to the primary process, such as getting rid of superdelegates. The rift in the party remains because there have been no efforts—besides a symbolic "unity" tour—to try to mend it.
Former DNC Interim Chair Donna Brazile told Politico, "He's not someone who we should go to to build or rebuild or expand our party unless he's willing." Brazile admitted in March 2017 to helping the Clinton campaign cheat before a CNN Town Hall by tipping them off to questions. She also told The Washington Post before the primaries that she would not be neutral in the Democratic primaries and would favor Hillary Clinton. Rather than assume responsibility for creating the rift within the Democratic Party, Brazile continues to blame Sanders and progressives.
Several Sanders supporters expressed their opinions in the Politico article as well, all welcoming a potential Bernie Sanders 2020 run. Whether he runs or not, Bernie Sanders will have unbridled influence over the 2020 Democratic presidential nomination. His supporters will look to him to either take on Trump himself or to rally support for a progressive successor, whether that be Congresswoman Tulsi Gabbard or another up and coming star that Sanders supporters can trust to carry on his political revolution.