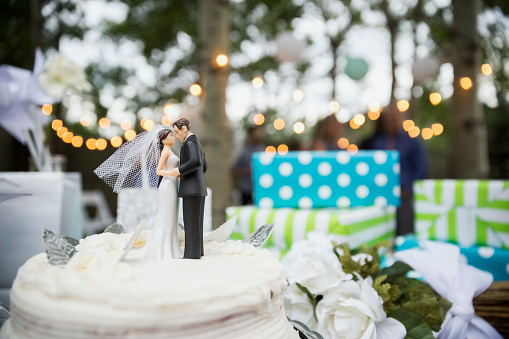 When Meghan Reese, a Boston-based television producer, and her husband celebrated their one-year wedding anniversary, they had not received gifts or even a card from several wedding guests. "It's a very awkward situation. Of course, you don't invite guests with the sole intention of receiving a gift but it's understood the gift is an acknowledgment of the effort the bride and groom spent on entertaining guests, as well as a celebration of their new life together," says Reese.
As a "recession bride," Reese got married at the very beginning of the peak of the recession and understood that times might be hard for some people. "But even a card, a home-cooked dinner, or an offer to dog sit – those simple gestures would have gone a long way," she says. "A simple acknowledgement that there would be no gift would have been a lot more thoughtful than just sweeping the situation under the rug.   And when it's your close family or friends who are stiffing you on the gift, it's hard not to have some hurt feelings considering all the gift giving you may well have done for them in the past."
In an AOL-Lemondrop.com survey about gift-giving, 43% (of 1700 women questioned) had gone to a wedding and neglected to bring a gift or had not sent it within a year. Another survey asked women what they would do if a guest didn't give a wedding gift. Eighty-seven percent said they'd let it go; eleven percent would say nothing, but would de-friend the guest — only 2% would confront the guest.
Etiquette says guests have a year to send a gift — It's THE RULE!
But when Larry David and wife Cheryl (in an early Curb Your Enthusiasm episode) discovered they forgot to give a wedding gift, they tried to make good with an expensive bottle of wine.  It was way too late.
"We got married 14 months ago," says Melanie.  "You can't give a gift after a year, you know that."
"And what happens after a year?" asks Larry.
Melanie:  "You just can't give it.  That's the cut off."
Ed: "It's edict Larry."
Cheryl:  "You guys this is a beautiful bottle of wine…"
Melanie:  "We can't take it!"
Ed:  "It's an afterthought, and it's late!"
Larry:  "We just spent three hundred dollars on this bottle of wine."
Melanie: "I'm sorry.   We can't take the gift after a year!"
One guest made it just down to the wire after Julie Crabill's wedding in Sonoma, California — but Julie gladly accepted the gift after a year.  "We literally got it on our one-year anniversary with a card saying 'I hear you have a year…'" says Crabill.  "Not only did I think this was really cute, but I liked the idea a lot.  It was nice to get a gift on our one-year anniversary, when most of the newness and fanfare had rubbed off."
There are two scenarios to consider when guests come to a wedding without a gift, according to Claudia Copquin, founder and editor of http://www.GettingMarriedonLongIsland.com/www.GettingMarriedonLongIsland.com: Did it get lost in the mail or was someone simply being boorish and didn't send a gift?
"If it's the latter, leave it alone," advises Copquin.  "If someone decides not to send a gift, it's probably for a good reason.  Take the high road and surmise that the guest had a good reason for not giving you a gift."
Etiquette says that gifts are always a guest's choice to give.
"Absolutely true," says Wilmington, Delaware etiquette expert Sue Thompson. "It would be the height of rudeness for a bride and bridegroom to expect a gift.   Keep this in mind: it's considered good etiquette to bring a gift to a wedding. No matter how meager one's finances, a gift is customary, and one does not need to break the bank to bring an appropriate gift, even if it is nothing more than a couple of boxes of lovely note cards with a bow tied around them. Then, both sides customary obligations have been fulfilled."  Thompson adds that it would be the height of etiquette faux pas — not to mention downright rudeness — for a bride or groom to demand a gift or to follow up and see if a guest intends to send a gift.  "Be grateful for the gifts received, be sure to send thank you notes, and move on."
Most guests want to give a couple something meaningful and valuable, but in this down economy, when people are unemployed or dealing with financial set-backs, they just can't afford to give and give for wedding after wedding. Even worse are the requests for cash or vouchers instead, now thankfully dying out as such requests are deemed pretty shameless across the board.
"It is important that couples appreciate that wedding guests often spend hundreds, even thousands, of dollars to attend their weddings on top of having to send a gift from a registry that must include a good mix of items," says Brenda Della Casa, a London-Based writer and digital expert.  "To just fill in vacant, still-left-to-buy low-end options after the close family and friends have had first dibs on a gift list feels unfair. After all, three spatulas and a frying pan does not a good gift make. On top of this is the reality that guests might have multiple weddings to attend.  Some couples make it clear they want cash and most guests are not comfortable handing over $50 or even $100, so they feel trapped. They risk looking cheap and rude.  It's a no win for some."
Whether it is on the day or within the year, a wedding gift, if given with genuine affection and thought for who the couple actually are as people will never go amiss. Simple fact.