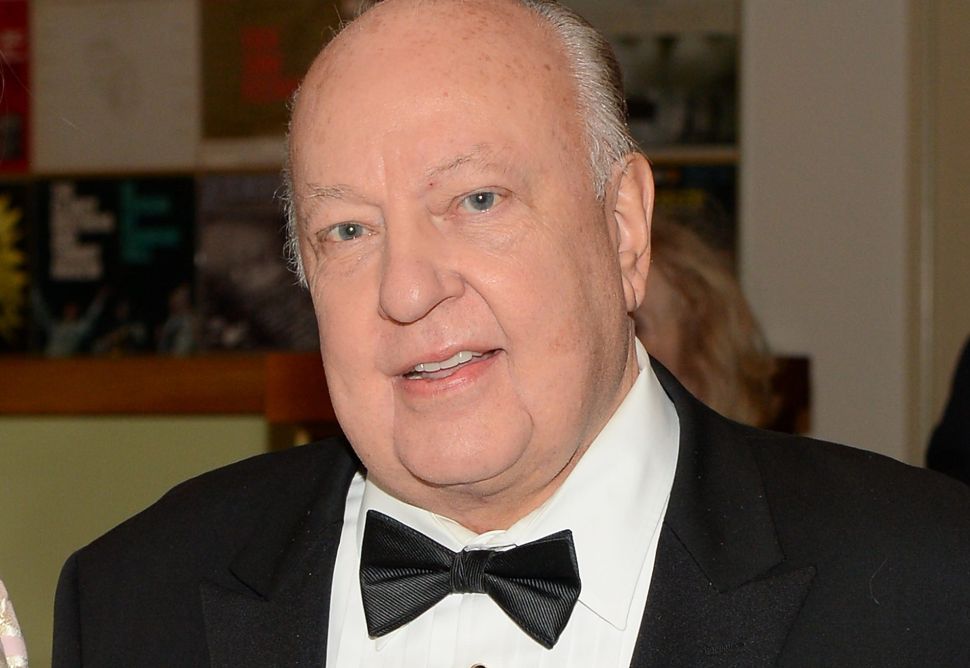 What if the combative Roger Ailes had been a television genius with liberal, progressive, Democratic leanings? How might the right-wing Fox News Channel report his death?
Perhaps Fox would run banner headlines on the lower-third of its television screen asking "questions" like "Was Ailes murdered by his political enemies?" or "Did Ailes commit suicide because of his sexual harassment scandal?"
No cause of death was announced Thursday morning for Ailes, 77, the exiled Fox News emperor who was banished last summer for creating and leading a culture of sexual abuse at Rupert Murdoch's wildly successful propaganda factory.
Shortly after the announcement, Fox aired an interview with prime-time host Sean Hannity, who spoke on a scratchy cell phone connection about the fighting spirit of his former boss, one of the most significant architects of political thinking and television programming in American history.
"There are people that don't like some of us at Fox," Hannity said. "He never cared. He enjoyed the battle."
Ailes certainly did his share of kicking. After the launch of Fox in 1996, Ailes built his brand by pushing an investigation into President Bill Clinton's sexual behavior that led to impeachment. After the terrorism of 9-11 in 2001, Fox was the nation's loudest drum-beater for the reckless and misguided conquest of Iraq by President George W. Bush.
After Barack Obama became President in 2009, Ailes' Fox network pushed the hardest for investigation into Obama's birthplace, a vicious and racist slander promoted by Donald Trump, an Ailes pal who was elected to the White House last November.
It was almost poignant last year when Ailes—out of a job—worked a little while with Trump to prepare him for his campaign debates. More than anyone in America, Ailes was responsible for creating the climate of fear-mongering and resentment that helped Trump win the White House.
"Mr. Ailes became a media guru for Republicans," The New York Times wrote, "prodding voters' lizard–brain centers of emotion and insecurity."
Beginning with Richard M. Nixon—elected in 1968, resigned in 1974—Ailes gained the ears of Republican leaders by stoking the resentful and angry "white backlash" of middle-class and working-class voters who feel their privileged status threatened by African-Americans, Hispanic immigrants and Islamic terrorists from the Middle East.
With slogans like "Fair and Balanced" and "We Report, You Decide," Ailes led a network that mocked traditional journalism. He dressed his female anchors—often blond—in short, sleeveless red dress and he treated them like a personal harem.
David Brock, the political activist who started right-wing and moved to the left, described the brilliance of Ailes in a Washington Post interview.
"Ailes has ushered in the era of post-truth politics," Brock said. "The facts no longer mattered, only what is a politically expedient, sensationalistic, and designed to confirm the preexisting opinions of a large audience."
His fingerprints were all over the devastating commercial for George H.W. Bush in the 1988 campaign that blamed Massachusetts governor Michael Dukakis for a "revolving door" of freed prisoners—quite a few of them black—who got out of jail to rape and murder people. Bush won the election.
Twenty years later, as a guest on Rush Limbaugh's reactionary radio show, the elder Bush thought he was off the air when he asked Limbaugh about their mutual friend.
BUSH: "Do you see our man Ailes at all?"
LIMBAUGH: "Oh, yeah. I saw Roger at Tony Snow's funeral. And a couple of times earlier this summer."
BUSH: "Are we on the radio, are we? . . .  I didn't know that. I'll clean up my act here. I'm glad they told me."
This memory is not without irony. Despite recent health problems, the elder Bush has outlived Ailes. Also living on is Trump, the ultimate product of the paranoid and surly strain in American politics. His legacy will be celebrated, no doubt, this week by Limbaugh on radio and by Fox on TV.
Perhaps the verbose Hannity summed it up best with what could be the Ailes epitaph: "In his mind, being the great chess master that he is, he was thinking 'OK, I'll leave earth first, I'll go to the next life and I'll be prepared to kick your ass in the next life.'"