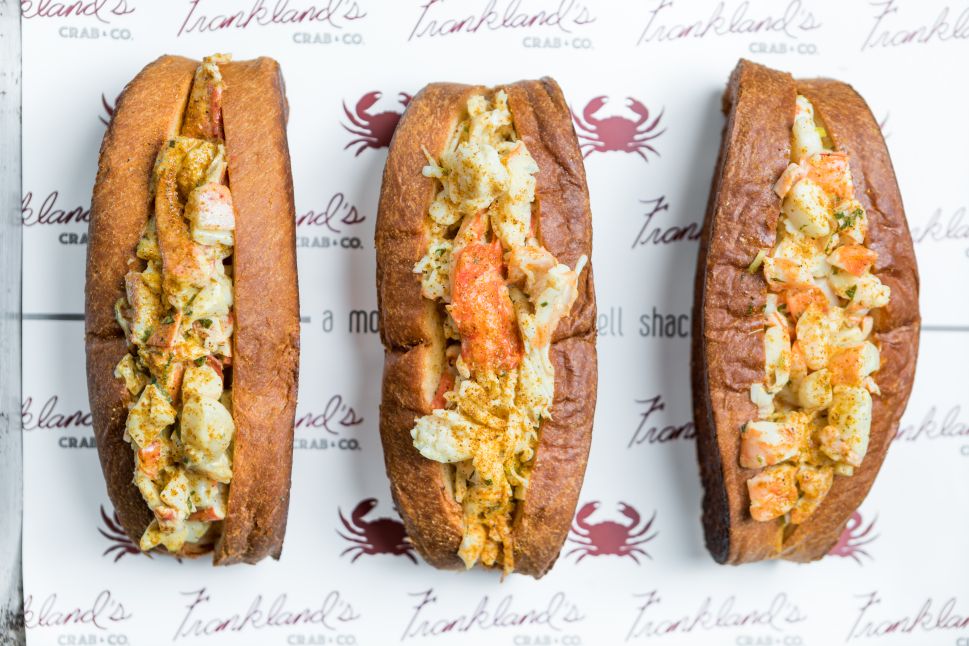 Food can be transporting. That's often the point. So you can now go to a family-friendly Encino mini-mall, up to the second floor (above a Gymboree, a merry-go-round, a toy store, and a place for both children's haircuts and parties), and feel like you're at a seafood shack on the East Coast.
That's because L.A. chef Phillip Frankland Lee, who you might remember as the "do whatever the fuck you want" hot shot on Top Chef,  has opened Frankland's Crab & Co., a casual spot for exemplary chowder, lobster rolls, and fried oysters and clams. Head up to Frankland's Crab & Co. on a 90-degree Valley day, like what we just saw over the weekend, and you might temporarily convince yourself that you're in Maine or at least at Clam Bar in the Hamptons. 
Frankland's Crab & Co., which opened Friday next to Lee's Scratch Bar tasting-menu restaurant and Woodley Proper cocktail bar/gastropub, is a place where you can do whatever the shuck you want. You can enjoy Maine lobster, gulf shrimp and king crab legs by the pound or in rolls. Lee uses wild-caught branzino for his fish and chips. There's corn on the cob with lobster butter. And in keeping with the location's family vibe, there's a kids' menu with crispy chicken bites, grilled cheese and steamed fish. Your children might be just fine with your order of fried seafood, though. The chowder, loaded with clams, lobster, crab, shrimp and bacon, was a big hit with the 3-year-old at my table, too. The chowder's base is made with clams and assorted seafood shells (from mussels, scallops and more).
"We've been saving every shell we had for six months," says Lee, who often showcases a variety of seafood at Scratch Bar, where the menu changes each month.
You're going to be hearing a lot about Frankland's Crab & Co. this summer. Lee is working to opening another outpost of this "modern American shell shack" at Santa Barbara's Montecito Inn in the coming weeks. This is part of Lee's ambitious plan to open four restaurants, including another Scratch Bar, at the hotel this year. He'll also take over room service there.
Back in Encino, Lee, who opened Woodley Proper in April, has all of a sudden gone from having just Scratch Bar to running three restaurants. And he's not done yet. He's got a speakeasy-style space hidden inside Woodley Proper that he plans to debut soon. In Lee's case, doing whatever the fuck you want means working really hard through a sweltering summer.
By the way, if you're looking to cool off after having a meal in Encino this summer, it's worth noting that Magpies Softserve has recently opened in nearby Tarzana. Wanderlust Creamery, which has built a following with flavors like ube malted crunch and sticky rice plus mango, is also in Tarzana. In addition, I can imagine afternoons when my toddlers' feast at Frankland's Crab & Co. is a preview for crushing their favorite brownie sundae at Sonny's Amazing Italian Ices & Cremes nearby in Sherman Oaks. And that's after we eat the housemade ice cream sandwiches that Lee's wife, pastry chef Margarita Kallas-Lee, is serving at Frankland's Crab & Co. For me, doing whatever the fuck you want means having multiple desserts.