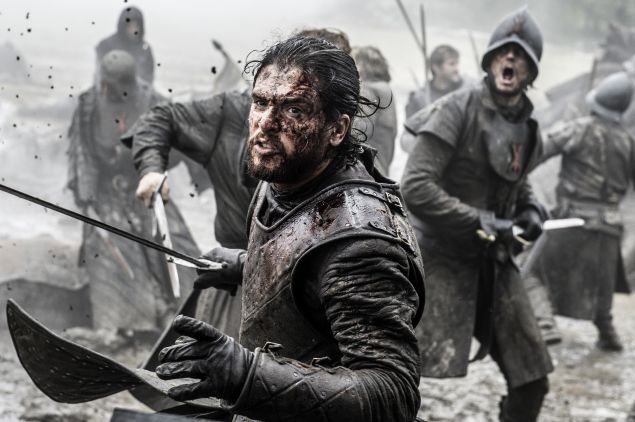 Bury me in Lannister gold and bury me under The Wall because we are never leaving Westeros, folks. EW reports that HBO is currently developing four Game of Thrones spinoffs from separate creative teams, each of which"explores different time periods of George RR Martin's vast and rich universe."
BUT, in an incredibly on-brand twist for the premium network's death-happy fantasy juggernaut, none of the potential spinoffs have been confirmed and HBO is still considering mixing and matchings of the various creative teams. So, basically, we got ourselves our own Battle of the Bastards-style scrum for the honor of helming Game of Thrones' first off-shoot. An important note: Martin himself is involved in two of these projects, which means A) he HAS to be done with the Winds of Winter manuscript, right? and B) these two might have a better chance of being greenlit.
Without further ado, here are your contenders, along with the ideal slice of Martin's A Song of Ice and Fire universe each creator is perfect for:
Max Borenstein
A writer/producer best known for penning modern-day massive creature features Godzilla, and the recent Kong: Skull Island along with Dan Gilroy and Derek Connolly. Ideal project: Aegon "The Conqueror" Targaryen's dragon-fueled takeover of Westeros.
Jane Goldman and George RR Martin
Martin teams up with Goldman, who not only co-wrote the great mutant prequel X-Men: First Class, but is largely responsible for the odd-ball, bonkers spy extravaganza Kingsman, and its sequel The Golden Circle. Ideal Project: The globe-hopping exploits of Braavosi assassins The Faceless Men.
Brian Helgeland
All you need to know about Helgeland is that he wrote and directed 2001's A Knight's Tale, the charming as hell, Heather Ledger-led film about medieval jousting and class structure, making him perfect for…Ideal Project: The Tales of Dunk and Egg.
Carly Wray and George RR Martin
Wray is perhaps best known as a staff writer on the much-missed Mad Men, where she herself penned nine episodes. Ideal Project: Robert Baratheon's rebellion against The Mad King Aerys II Targaryen…with Jon Hamm as a young, hammer-wielding Robert, of course (plus Elisabeth Moss as Lyanna Stark).
HBO also confirmed that current Game of Thrones showrunners David Benioff and D.B. Weiss will not be involved, saying in a statement, "We have kept them up to date on our plans and they will be attached, along with George RR Martin, as executive producers on all projects. We will support them as they take a much-deserved break from writing about Westeros once the final season is complete."