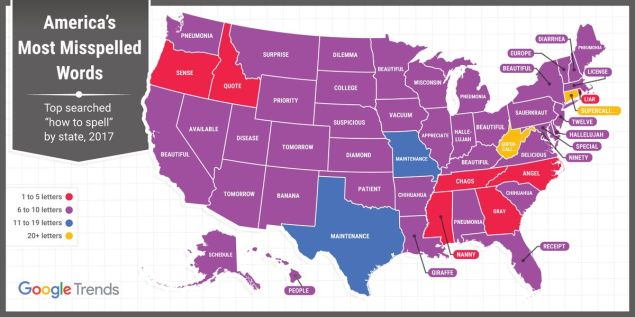 People in New Jersey don't know how to spell "twelve."
That's one of the many insights from Google Trends' new project cataloging "America's most misspelled words." The data visualization is tied to the 90th annual Scripps National Spelling Bee, happening this week in Washington, D.C.
The Google News Lab team combed through the top "how to spell" searches for every state and then presented the data in the form of a U.S. map.
The list is color coded by word length, and the vast majority of states (40 of the 50) struggled with words that were six to 10 letters long.
Among the most interesting findings:
Five states (California, New York, Minnesota, Kentucky and Ohio) have trouble spelling "beautiful."
Anyone in Alabama, Maine, Michigan or Washington who has "pneumonia" apparently has trouble Googling symptoms, since they can't correctly spell the name of the disease.
People in Arizona and Colorado can't spell "tomorrow."
Delaware and Indiana residents must have trouble in church, because they often Google how to spell "hallelujah."
Disturbingly, people in Wisconsin don't know how to spell their own state's name.
Six states struggle with one-to-five-letter words: Oregon ("sense"), Idaho ("quote"), Mississippi ("nanny"), Georgia ("gray"), Tennessee ("chaos") and North Carolina ("angel").
Only two states (Texas and Missouri) struggle with 11-to-19-letter words, and it's the same one in both cases: "maintenance."
And finally, the 20-plus letter club features only Connecticut and West Virginia. Both states apparently watch too much Mary Poppins, because residents Google how to spell "Supercalifragilisticexpialidocious."
Google Trends has made a push in recent weeks to present its data in new ways—last week the company unveiled a Data GIF Maker for news organizations. Maybe next the company can figure out a way to make people more interested in politics than zombies.