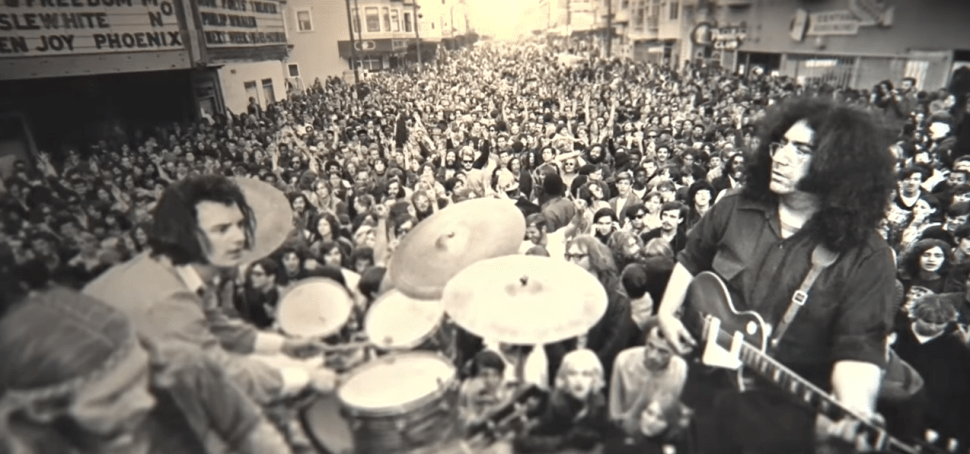 "Music should be holy…not business," Jerry Garcia gently proclaimed. "It's not about success."
Despite the worldwide fame Garcia achieved with the Grateful Dead, as Amir Bar-Lev's new four-hour documentary Long Strange Trip: The Untold Story of the Grateful Dead reveals, it turns out he just wanted to "have fun"; he refused to take anything too seriously, most of all himself.
Throughout his career, Jerry Garcia repeatedly denied his role as the band's leader. The ever-gregarious Garcia was a true spirit who was in it for the music alone. He innately understood the fleeting nature of reality. "In eternity," Garcia imparted, "nothing will be remembered." Perhaps, but for the time being the Grateful Dead's legacy has been well-preserved with Bar-Lev's documentary.
As a boy, Jerry Garcia was obsessed with Frankenstein and rendered some charming drawings of the monster. To illustrate Garcia's obsession, scenes from Frankenstein, The Bride of Frankenstein, and Abbot and Costello Meet Frankenstein are artfully interwoven through-out the film.
The story of Jerry's youth is illustrated with copious photographs as we follow his path from his freewheeling days with folk musician/poet Robert Hunter and Barbara Meier, an early (and future love) who first had faith in him and gave him a guitar, to becoming the world-famous counterculture guitarist/guru. But Garcia's obsession with bluegrass banjo soon drove Barbara away until years later, when she returned once more in the last chapter of Jerry's life when she tried to help him through the ravages of his heroin addiction.
[youtube https://www.youtube.com/watch?v=ULtDqU0SbfA&w=560&h=315]
Surrounding himself with an ad-hoc crew of blues and bluegrass pickers, Garcia's gang soon morphed into a band of electric warriors known as the Warlocks. The music began to jell after Jerry asked the "lunatic classical composer" and "live wire" Phil Lesh, to play bass. At that point, as Lesh puts it, "a whole world just opened up."
With the royalties from his best-selling novel One Flew Over the Cuckoo's Nest (soon to become a popular play and movie) Ken Kesey, who professed that "LSD proves that God has a sense of humor," launched his legendary Acid Tests in hopes of "moving the whole human race ahead a bit."
"People bonded through the psychedelic experience," Kesey imparted.
"The only limitation was my imagination," confessed drummer Bill Kreutzmann.
READ THIS: The Strange Story of Country Joe & the Fish and the Summer of Love
Kreutzmann would meet drummer Mickey Hart at a Count Basie concert and invite him to jam with the band. Bringing exotic drums, odd time signatures and rhythms from various corners of the globe, Hart helped propel the Dead into new, unknown musical territories. The band's young, wide-eyed rhythm guitarist Bob Weir explained that he was forever in search of "the exploding moment."
"Anything can happen," Lesh concurred, claiming that the Acid Tests taught him to always remain "open," no matter what comes.
On the other hand, Kreutzmann frequently found himself lost in the jam, confessing there were moments when he'd wonder, "What song is it?"
An interview with Joe Smith, the former president of Warner Brothers Records (home to Frank Sinatra and Dean Martin), perfectly illustrates the enormous chasm that existed between the Dead and their "establishment" L.A.-based record company.
Smith, who claimed the most "far-out artist on the label" at the time was Trini Lopez, explained that Warner Brothers, "Needed a rock band."
Smith signed the Dead after sending his talent scouts north to San Francisco to check them out. But Smith soon learned to watch what he drank whenever he was in the band's company, who were famous for dosing people with acid (including Hugh Hefner and his posse of perky Playmates, whose coffee they spiked when the band appeared on their TV show Playboy After Dark in 1969). Smith, desperate to break even on his investment, recalled begging the band, "Is it possible we could have a single?" while the Dead ate up costly studio time experimenting with new sounds. In return, the Dead "drove [Smith and Warner Bros.] mad" after they "graded [and returned] their complaint letters."
Following the Beatles' historical appearance on The Ed Sullivan Show on February 9, 1964, American kids screamed their heads off at anybody with an electric guitar, pudding-bowl haircut and British accent. While the Rolling Stones and the Animals understandably generating real excitement with their revved-up renditions of American R&B numbers, teeny-boppers and dorks like Gerry & the Pacemakers, Herman's Hermits and Freddie & the Dreamers managed to incite hysteria with a winning grin or a shake of their mop-top hairdos. But the Deadheads' obsession and devotion to their band went far beyond such fleeting flashes of exhilaration.
"There was no distinction, no distance between the band and their audience," the band's in-house publicist, official biographer and author Dennis McNally offers, trying to explain the phenomenon. While both the Beach Boys and the Doors exemplified different aspects of the Californian lifestyle, neither band, beloved as they were, ever inspired such fierce dedication from their fans as the Dead.
Interviews with the band's rough and tumble roadies recall how the band's one-for-all spirit permeated their extended family or "dysfunctional family," as John Perry Barlow, lyricist with Bob Weir, clarifies. By and large Barlow considered the Dead "a swaggering macho lot."
That was certainly true of the band's whisky-swilling, blues-growling, harmonica-wailing front-man Ron McKernan (a.k.a. Pig Pen) who on March 8, 1973, joined the growing, exclusive 27 Club, following the path to oblivion forged by Robert Johnson, and more recently followed by Jimi Hendrix, Janis Joplin and Jim Morrison.
Long Strange Trip takes plenty of fun and informative detours along the way, focusing on details like the Dead's enormous sound system, "The Wall of Sound," a.k.a. "The Voice of God, the biggest P.A. anyone had ever seen or heard." Designed by Owsley "Bear" Stanley, the mad professor who fueled the Acid Tests with his potent homemade LSD, you allegedly could hear the Dead's sound system for a mile away. "The Wall of Sound" reportedly needed a caravan of three trucks to haul all the gear, and took hours to neatly stack the speakers for each concert.
As the Dead were primarily a live band, their early albums, as good as they were, often seemed like an afterthought, or more like a morass of thoughts. The band's experimental approach to recording led Bob Weir to record "heavy air," as he referred to the smog surrounding downtown L.A. to compare its aural qualities to the more relaxed atmosphere found at the beach.
But with their fifth album, 1970s Workingman's Dead, the band began reeling in their wilder tendencies and started "painting simple pictures," as Garcia explains. It was also the first time they were "prepared before entering the studio." Whether inspired by the lilting harmonies of Crosby, Stills and Nash, or Jefferson Airplane interwoven choruses, Garcia, Weir and Lesh began concentrating more on their vocals and created a sound they described as "Californian C&W."
More focus and discipline turned out be a good thing. With its acoustic guitars and gentle harmonies, both Workingman's Dead and its immediate follow-up American Beauty were the band's (along with their fans') "way out of the psychedelic fog," as road manager Sam Cutler points out.
And just in case you were under the illusion that it was all one big party, Donna Godchaux, the Dead's vocalist for much of the '70s, clarifies, "The drug scene was unbearable…fraught with weirdness. Nobody wanted to be in charge."
"Has success spoiled the Dead?" Garcia asks rhetorically. "Yeah," he says with a laugh.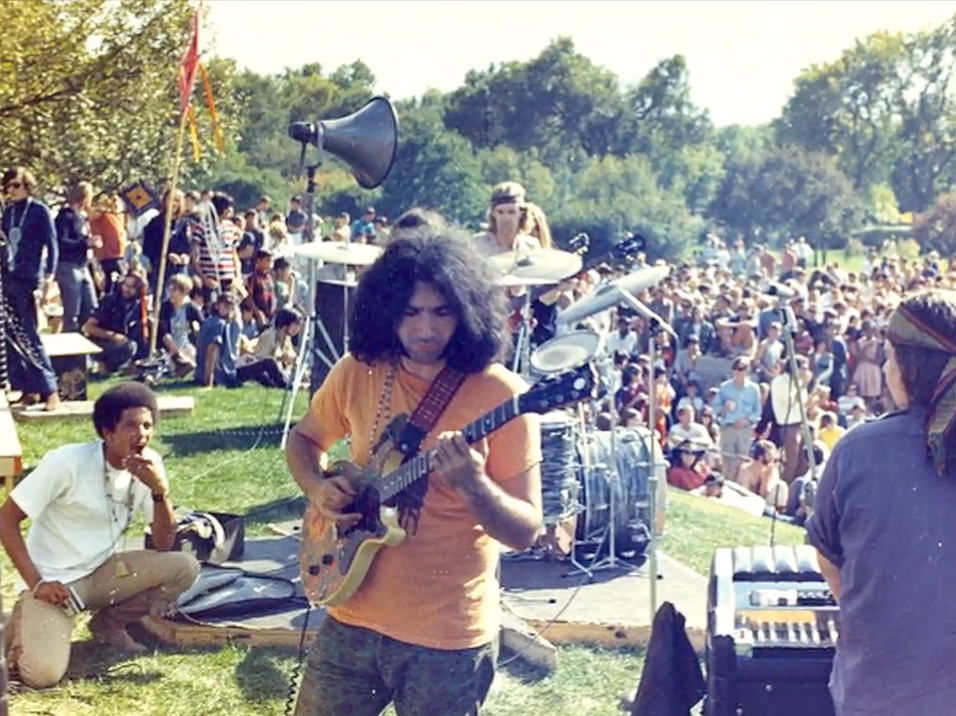 Fame and drug addiction eventually become a burden too heavy for him to endure. By the end of his life, the giggling guru was driven into seclusion. Like Elvis, we see Garcia as a lonely tragic figure, ensconced in his hotel room while scores of employees and millions of fans continue depending on him to fulfill whatever they derived out of him being "Jerry."
"Jerry suffered a longtime under the weight of this behemoth," Barbara Meier says.
Whatever sins of omission the director has committed over the course of this four-hour odyssey are minor. He doesn't delve into the dreaded "curse" of playing keys for the Dead. While we learn of the tragic death of Keith Godchaux, T.C. (Tom Constanten) the Dead's keyboardist during their psychedelic heyday, who was something of an outsider with his no-drug policy and involvement in scientology, is hardly mentioned, and Brent Mydland, who was with the band for 11 years is only briefly visited. On the other hand, Amir Bar-Lev managed to wangle a brief interview with the elusive Robert Hunter!
Although never a tie-dyed-in-the-wool Dead-head myself, after the four-hour Long Strange Trip I have a much greater appreciation for the band. I didn't exactly drink the Kool-Aid, but I must admit I enjoyed the long, cool, refreshing sip.
Long Strange Trip premieres in New York at the IFC Center and in Los Angeles, at the Laemmle Monica Film Center on May 26 and then moves to Amazon Prime on June 2. I recommend seeing it in a theater—a small screen and speakers won't do the film, or the Dead, justice.