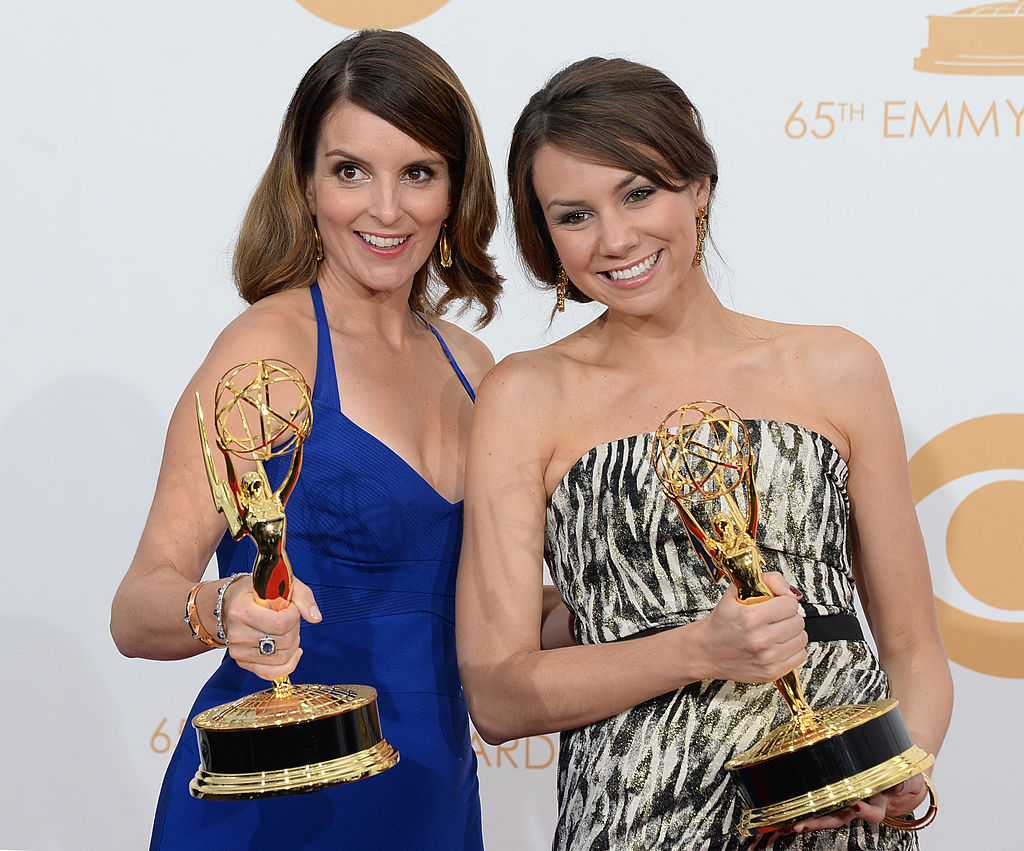 There's a fairly universal fantasy among recent college graduates who want to become television writers:  less than a year after graduation, you get noticed by a massively successful comedy icon, like the longtime head writer at Saturday Night Live, who hires you to work on what would become an iconic and long-running network comedy show. You move up the ranks, eventually winning an Emmy for your writing before you fly to L.A. to write for and eventually co-star in another beloved comedy from a female comedy icon. Finally, when you make your own show, it becomes an instant critical success, renewed for a second season just weeks after its initial premiere.
Tracey Wigfield might be the only writer for whom all of the above has actually occurred. Since graduating college, Wigfield has been on a steady upward trajectory behind the scenes of some of the funniest comedies on TV, from 30 Rock to The Mindy Project to, ultimately, her own project, Great News on NBC, produced by Tina Fey and Robert Carlock.
Great News follows a producer at a cable news show whose overbearing mother gets an internship at her station and, like 30 Rock, it's built on whip-smart jokes ("He wrote in a Peace Sign for President. What if it had won? Who would write the laws?") and lightning speed cultural references ("That's because in the movies the villains all have British accents. Even the Nazis. How is that fair?"). Wigfield, who guest-starred on The Mindy Project as a love interest to both Dr. Prentice and Dr. Reed, also appears occasionally on Great News as doomsday-ready meteorologist Beth, rounding out the cast of lovable misfits led by Briga Heelan.
In a world of gritty reboots, Great News doesn't shy away from existing as an unhyphenated comedy. It's the first NBC comedy, perhaps since 30 Rock, that manages to be unpretentious, uncondescending, and, here's the kicker, actually funny. (Calling your show Great News is also a gift to the lazy headline writers of the world, and those of us who need a lead into their Q&A introduction's final paragraph). Great news: Wigfield talked to us about learning how to write comedy, how Mindy Kaling didn't actually set her up with her husband, and why Great News won't exactly be covering Trump.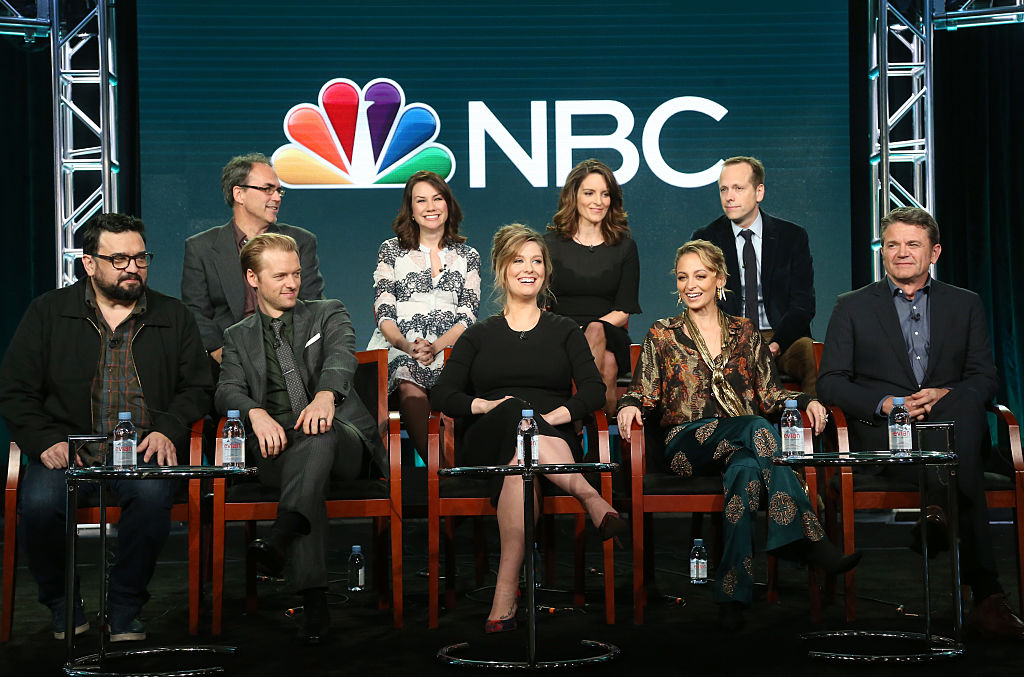 Observer: I read that Tina Fey hired you at 30 Rock when you were 23? Is that right?
Wigfield: That's right. I think it was like, two weeks before my 24th birthday so it's not as impressive as that sounds. But I was hired as a writer's assistant on 30 Rock. So I started Season 2as a writer's assistant, and then was script coordinator, which is also an assistant job season 3, and then I was a staff writer season four, and then moved up the ranks as writer five, six, seven and then wrote the finale with [Fey] the last season. So it was obviously a very lucky opportunity that I got that I got to grow a ton in while I was there.
That is literally the wannabe-TV-writer dream!
I know. I'm nervous for the other shoe to drop now. I got very lucky early on. That's the thing—it's so hard to get those writer's assistant jobs anyway, because there are so many hopefuls trying to get into the business, and so to get an assistant job like that, where you can sit in the room and listen to the writers and really learn from them, to get a job from that on a show that sucks and is cancelled after nine episodes is sort of a lucky break, that to get it on a show that is as awesome as 30 Rock and where it was such a strong room, I really feel like I got very lucky in that regard.
What would you say you learned at 30 Rock? 
Kind of everything of how to write comedy television. Because I went to Boston College, and it was a liberal arts school, so I was an English and a theater major and so I took creative writing classes and some playwriting classes, but I never went to film school or graduate school. So it was really like a graduate school for me in comedy writing. I just absorbed, like a sponge, so much. I was able to sit in the room while the writers were breaking episodes and really watch how that process happens. When I started working as an assistant there I had never even tried to write a spec script or anything. So I kind of learned everything I know from them.
What was it like working for Tina Fey as opposed to working for Mindy Kaling?
Both experiences were great, and I love both women a lot; they both have been incredibly kind—I don't even want to say in Mindy's case, "mentor" to me because she's a close friend—but they have been great mentors and inspirations to me, and with Tina, when I met her I was a shy, terrified, 23-year-old, so it was great to have someone like that be the boss because she's a very capable and calm and in-control leader, because she'd been a boss for such a long time—she was the head writer of SNL for years before she even created 30 Rock, so it was cool to work for her, especially when I was just starting out because she's very collaborative because she comes from an improv background and she's really good at listening to all of the voices in the room and I remember multiple times when I would pitch something kind of quietly and no one would hear me and she would be like, "Wait, say that again, that's good," and repeat back what I said and obviously make it better and make it more usable. She's very good at nurturing young, quieter writers.
I loved working with Mindy because when I came to Mindy, I was at different point in my career where I was a little higher up, so Mindy trusted me to do a lot of things that I had previously not been trusted to do at 30 Rock, because I think starting as an assistant, Robert and Tina trusted me to a point, but even when I was a writer and producer on the show, I would be covering set, and I would often be sent with an older writer babysitter to make sure I wasn't screwing anything up—and because I was in my mid-twenties. But by the time I got to Mindy, she really trusted me to do a lot of higher level jobs, and I was higher level on that show—watching set, and editing, and pitching episodes, and running the writer's room—so I got a lot more experience running a show than I did on 30 Rock.
Was there anything that surprised you when you were running your own show? 
It was very hard—but I guess that wasn't a surprise. Everyone says it will be very challenging and I think I was nervous going into it. I always kind of thought that looks really hard when everything is on your shoulders and you're the last word about what vision gets made. But I think what surprised me is it is tiring, and just so much stuff is required of you—you need to be in five places at once all the time, so it was exhausting, but once the production office opened and we hired other writers and had a crew of 200 people working on the show, it was very humbling and inspiring to realize that all of these people are working for you and working to make sure your vision of this show is the show that we're making. ANd all of these people are putting in all of this time and energy and spending time away from their family based on the choices you make and how good you are at allocating resources and being on top of what has to be done. I had never had people working for me, and it gave me a sense of responsibility that I have to be present, and on it, and do a good job because it's not just me whose time I'm wasting, it's 200 people's.
So you've said that the character Carol in Good News is loosely based on your mom…
I would say aggressively based on my mom.
Is she flattered or insulted? 
She is flattered—I'm actually at her house in New Jersey. I live in L.A. but I'm at her house right now because I had to come to the East Coast to do some press stuff. I think she's flattered. She has a good sense of humor and I think she was so tuned into my career and my aspirations and wanted them to come true as much or more than I even did that I think she is number one, so excited that I got a show on the air which is so hard to do, and that it's being well-received that I think that is sort of the paramount excitement. And also, I think it's a little flattering that it's about her. Because it is a flattering portrayal; the character of Carol—she's annoying at times, but it's written with a lot of love from me.
So cable news and the way people talk about cable news has changed a lot recently, let's say, since November… 
[Laughs] Has it? What happened then!
Has any of that affected the way you approach the show?
It hasn't this season because by November we had finished shooting, so we were already editing by the time the election happened. Exactly like you said, it's changed so much, I really, when I pitched this show and came up with the idea for this show, literally two years ago, the landscape of cable news was a little different. It was more like CNN was reporting on the Malaysian plane crash with no new information for three weeks at a time, and it just felt like less of a "thing" than it is now. So in the first season we don't talk about the current political landscape or Donald Trump because we couldn't, because we had finished shooting by then, and even in season two, I think the ways we talk about cable news, we'll try to hopefully write stories that poke fun at the state of news and how people get their news, but I don't imagine the show will ever become the Donald Trump Show. We both are not able to make jokes about current events at the pace current events are happening at, and I also think we wouldn't want to; it's a comedy show. My point in making the show is, yes, to make smart commentary about the news, but number one it's to make a show that makes people laugh. I think there's enough places you can hear about Donald Trump on television if you really want to.
I heard that Mindy Kaling brought you together with your husband?
Well, it was her show. She's not like a matchmaker by trade. SO I started writing at the Mindy Project in the middle of season one, and my husband Adam was a writer on the show the first season, so we worked together for three months because he left after the first season. SO we met on the show, but we didn't date while we working on the show. Mindy gave a toast at our wedding and the gist of it was, "I wish the writers were working harder on making my show better as opposed to falling in love."
What advice would you give to 23-year-olds who want to break into TV?
There are two paths that you need to be cultivating while you're trying to become a writer, and one is the networking, hustling, getting coffee with people, bugging your old internship boss, asking your mom's cousin's friend who used to work at Viacom if they know anyone who's looking for a writer's assistant. A percentage of your success in this business is just that, because I think a lot of the jobs that are out there go to people who know someone who knows someone. But at the same time you're doing that, you need to be writing, and getting better at writing so that when an opportunity comes along and somebody says, "Okay, here's your shot," you have a script to hand to them. You don't want to be caught with your pants down, that you've been networking and then realize when someone asks for your script, "Oh shoot, I never wrote one." So you need to be doing both those things at the same time, and the good news is, the second thing, you can do today—you don't need anything other than a computer to start writing and getting better at it.