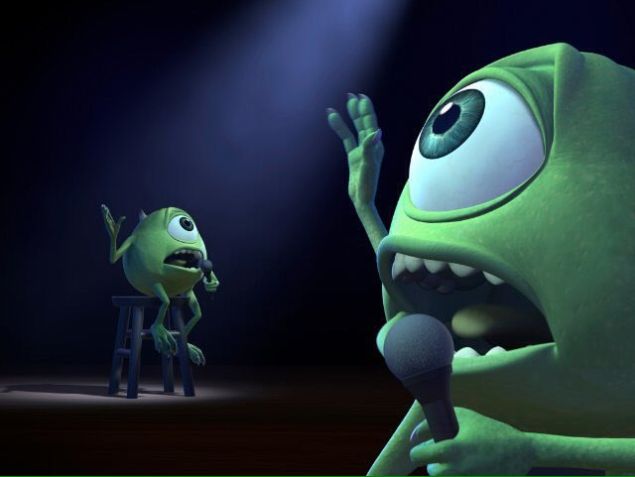 Even if some of its lyrics are a little bit annoying (at least to one Observer writer), there's no denying that the Broadway megahit Hamilton is still a pop culture phenomenon, especially online. While the viral #Ham4Ham shows may be over, there's no shortage of great Hamilton content, largely thanks to parody accounts.
There are Twitter accounts devoted to combining Hamilton with everything from basketball memes to pictures of goats. But the funniest Hamilton parody account mashes up the 10 dollar founding father with…Pixar.
Hamilton as Mike features lyrics from the Broadway hit juxtaposed with screengrabs from the beloved animated film Monsters, Inc. The account has over 32,000 followers (including Hamilton creator Lin-Manuel Miranda himself), all of whom love the account's perfect mix of Aaron Burr and Mike Wazowski:
The account was the brainchild of Beth Black, a 19-year-old from Fresno, California. One night when she couldn't sleep, Black decided to live tweet herself listening to Hamilton on her personal account. After tweeting three Mike Wazowski photos in a row, she decided to give the whole musical the Monsters, Inc treatment with the "Hamilton as Mike" account
Once Miranda retweeted one of her creations, the site took off.
"I have honestly no idea why it works so well," Black told the Observer. "Mike Wazowski has been a sort of memeable character for a while, and any picture of him is automatically hilarious."
Add the popularity of Hamilton, and you have a winner.
"(The show) doesn't exclude anyone, which makes people more keen to enjoy it, especially people my age," Black said. "My generation loves memes, and so every opportunity we have, we are going to make them."
Just goes to show that Miranda's lyrics are so good they can apply to any situation, real or fictional.