Pied Piper's Richard Hendricks has been building a new internet on the fourth season of HBO's Silicon Valley. It's a distributed internet, one where the data people generate gets copied and re-copied across all the computers, cell phones and servers that make up today's worldwide web. It would make for a more resilient network, one where Google could turn out to be the next Enron, suddenly powering off all its servers, and no one would lose their photos, documents or videos.
Hendricks can do it thanks to his impossibly powerful algorithm, which makes data weightless (or close enough). It appears that Hendricks' creation can store information at about a hundredth of the size of a typical file today, so tiny that when he tried to distribute it as an app users believed it had deleted their files. Using that same unbelievable compression, Hendricks wants to triple and quadruple save all the data across the internet, improving performance, preventing censorship and preserving the internet's treasures.
It sounds nice, but data probably won't be weightless for a while. Nevertheless, a New York company may have another way to meet most of Pied Piper's goals: Blockstack uses encryption to secure data in the cloud and blockchains to keep track of where it all belongs.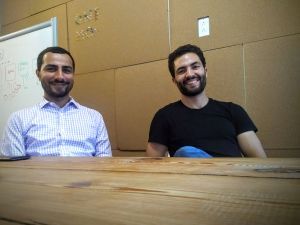 "I would say half of what they're describing is in our territory," CEO Ryan Shea said of Hendricks' latest venture on the show, in a phone call with the Observer "and then half of it involves mesh networking—and is not what we're really covering."
We previously explained how Blockstack is building a new approach to the internet that would put users back in control. This week at the Consensus 2017 conference in New York, its founders revealed that it is releasing an alpha version of its browser for developers. Read more and navigate to the Github page via the company's blog.
"We are hoping that people will build decentralized equivalents of existing apps, but we're also hoping that people will build things they simply couldn't build before," Shea said. This would mean that there could be Blockstack versions of Twitter, Ebay and Facebook. Investors have already expressed interest to Blockstack in funding teams building decentralized versions of existing services.
Shea and his co-founder Muneeb Ali emphasized that it should be easy for developers to catch up with mainstream sites' functionality, because their new architecture takes a lot of the work out of setting up a new site.
For example, a great deal of time and effort goes into how a website should authenticate users, how to log them in and how to protect that data. On the Blockstack internet, users authenticate to the internet itself. They can then log onto any site that recognizes that sign-on. This saves entrepreneurs a lot of work, and it completely flips the script of how the internet works.
The card catalog metaphor
Here's a very simplified way to think about it: Imagine the internet is row up on row of data kept inside those old fashioned card catalogs that we once used to find books in libraries—big cabinets with lots of tiny little drawers. On the old internet, you visited different cabinets and filled out cards about yourself, and you stored those cards in each cabinet you visited. You could lock other people out of your drawer in a catalog, but you couldn't put that data in anyone else's card catalog. In other words, you can quit a service, but you lose the records you created there when you do.
Card catalog cabinets.
Just try quitting Twitter but backing up all your old posts to Facebook first. It's not going to happen. When people quit a social network, they lose all the posts they created on that service. It's like burning a diary (except Zuck still has a copy).
In Blockstack's approach, people control their own cabinet of tiny drawers, not companies. The services have to come to the person's cabinet, and the person can let them have access to as many or as few of their drawers as they want. Even if a person uses a service to create new data, they still keep that data in their personal cabinet, so a person can also revoke one service's access to a drawer without losing the data inside.
Users won't have to adopt a new browser, either. "We have actually figured out a solution where we can update their existing browser," Ali said. Which means that internet users will be able to browse the Blockstack web and the existing internet from the same browser. Linux and iOS will come first, with a version for Windows coming last. When we last spoke, the team thought it would have to start as a standalone browser that could only access the new net, so this is a big step forward in user experience.
If past seasons of Silicon Valley are any indication, Hendricks will take his idea of a decentralized internet right up to the cusp of widespread acceptance, and then it will all come crashing down. A few months after that, people reading this now may be copying their resumes into a decentralized version of LinkedIn, hoping to score jobs at one of the new companies putting together services built on the real thing.