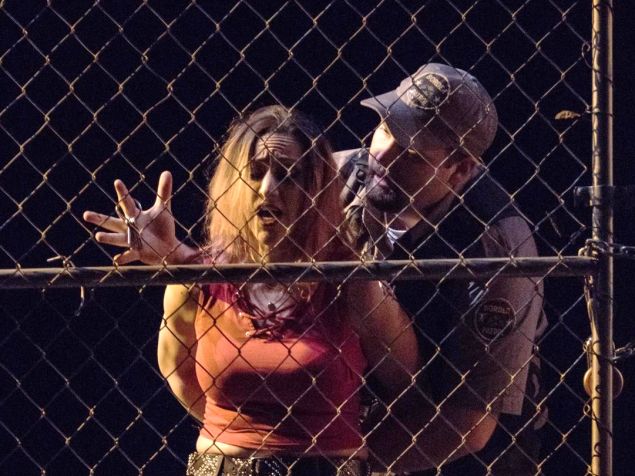 Opera aficionados are at heart gamblers, dreaming of overwhelming jackpots more than abundant enough to wipe out a lifetime of small losses. But what they mostly do—if they're lucky—is break even, which is what audiences did Sunday afternoon at the closing performances of Heartbeat Opera.
The company is yet another of the mini-troupes presenting opera in unusual arrangements and intimate venues here and there in the Greater New York area. Heartbeat's specific niche, as defined in its mission, is to create a "visceral" experience and to "bring opera into the 21st century."
If the current season at the Baruch Performing Arts Center fell somewhat short of those ambitious goals, it did craft a smart and thought-provoking crowd-pleaser with a 90-minute adaptation of Bizet's Carmen. Heartbeat's version melded the hit tunes of the original opera with contemporary dialogue, as performed by a vigorous cast of five singer-actors and a deliberately rough-edged band that included a jazz saxophone and drum kit.
Louisa Proske's production focused on an intimidating chain-link fence, an apt symbol for the gulf in values between the bourgeois soldier Don José and the transgressive Carmen, here a heroin smuggler. Even the musical edition seemed devised to provoke, omitting the celebrated "Habanera" from the opening scene of the show, only to have it show up as a sort of encore sung by the freshly murdered Carmen.
In the title role, Sishel Claverie displayed not only the requisite audacity (she sang and danced on the roof of a rickety guard tower) but also a pungent, throbbing mezzo reeking of sin. Opposite her, Brent Reilly Turner deserves kudos for herding a huge, unruly tenor through the difficult role of José with nary a crack.
If Butterfly, performed earlier that afternoon, lacked Carmen's vigor, that was perhaps because of the cerebral framing story imposed on the sentimental tale by director Ethan Heard. The tearjerker's unwittingly racist and sexist assumptions about Japanese culture were presented as ponderings of a biracial child trying to understand why his parents divorced, and, in a broader sense, exactly where he fits into that culture.
This approach seemed to work best in some fragments of the first act of the opera that were presented as a sort of flashback in between the two parts of Puccini's second act. Not only Butterfly but also everyone involved, including the American Pinkerton, performed mincing, puppet-like gestures, presumably a commentary on the "authentic" Japonaiserie movement style often imposed on traditional performances of this opera.
But this ended up a Butterfly without a Butterfly, with the title character reduced to a series of critiques of Western stereotypes. It didn't help that Banlingyu Ban, in the daunting title role, sounded stiff and, in higher phrases, pitchy. The soprano's vocal shortcomings contrasted with the firmly lyrical singing of her Pinkerton, tenor Mackenzie Whitney, and especially the honeyed and exquisitely musical performance of baritone Matthew Singer as the befuddled Sharpless.
But what really held the whole show together was an astonishing performance by the child actor Noah Spagnola. Onstage throughout the piece's 90 minute duration, he observed and occasionally participated in the opera's action with a quiet concentration and engagement that would do credit to a Met Tristan or Elektra.
The daring and unorthodox nature of Spagnola's participation in this opera, in fact, was the most encouraging element of Heartbeat's entire project. There are kernels of greatness in this company; now all that is left is to see how well they will sprout.