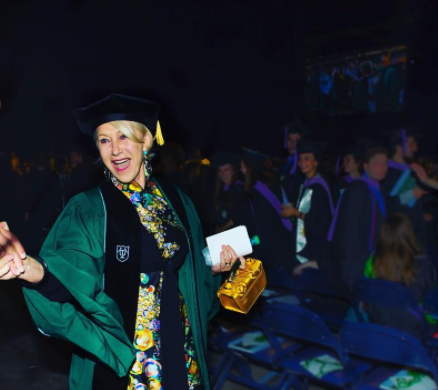 At Tulane University, commencement isn't excruciatingly boring. When I graduated from the New Orleans school in 2012, students met at a downtown bar at sunrise for mimosas, brought them into the Super Dome and proceeded to listen to Trombone Shorty while forming a second line and wearing Mardi Gras beads that professors passed out. There were also tiny umbrellas distributed, a bar inside the Dome to procure more mimosas and sparklers to top it all off, and to hide the crying of a few thousand frightened 20-somethings.
In the years since, the university hasn't disappointed in May—especially for their 2017 commencement, featuring the somehow ageless Dame Helen Mirren. The ageless actress, along with Jennifer Lopez and Gwen Stefani must all be drinking from the same Tuck's Everlasting spring (or have the same plastic surgeon). For this entirely original commencement speech, Dame Mirren eschewed the typical graduation truisms for talk about tattoo and Hell's Angels.
[youtube https://www.youtube.com/watch?v=ntg-A1EqaNs&w=640&h=360]
In her keynote address, Dame Mirren touched on feminism, politics and Internet trolls, who should "go outside and…weed the garden," instead of lurking online.
The Tony, Emmy and Academy award winner shared her five pieces of advice for a happy life, including "don't be in a rush to get married" (definitely a disappointment to the southern mothers in the audience) and "treat people just like people." Her line "no matter what sex you are, be a feminist," received a round of applause from the audience. She continued her feminist manifesto by adding, "In every country and culture that I have visited, from Sweden to Uganda, from Singapore to Mali, it is clear that when women are given respect, and the ability and freedom to pursue their personal dreams and ambitions, life improves for everyone," sounding very much like Hillary Clinton.
She offered some stock phrases, saying "don't be afraid of fear" and "don't overcomplicate things," but sometimes overwhelmed graduates need a few reassuring platitudes as they contemplate paying their own bar tabs and searching for employment (both terrifying feats). She admitted "I got my tattoo when only Hell's Angels and convicted felons have them," in the early '70s, "full of bad fashion." There was no talk of two roads diverging or the inevitability of change.
Other popular Tulane commencement speakers over the years included New Orleanian Ellen DeGeneres, Anderson Cooper, President Clinton and the Dalai Lama. Inexplicably, the 2012 speaker was Lisa P. Jackson, formerly the Administrator of the EPA; she now works at Apple.
The next time you're forced to sit through a seemingly endless graduation, full of cliches and crying, think back to Dame Mirren's advice—and don't overcomplicate things.