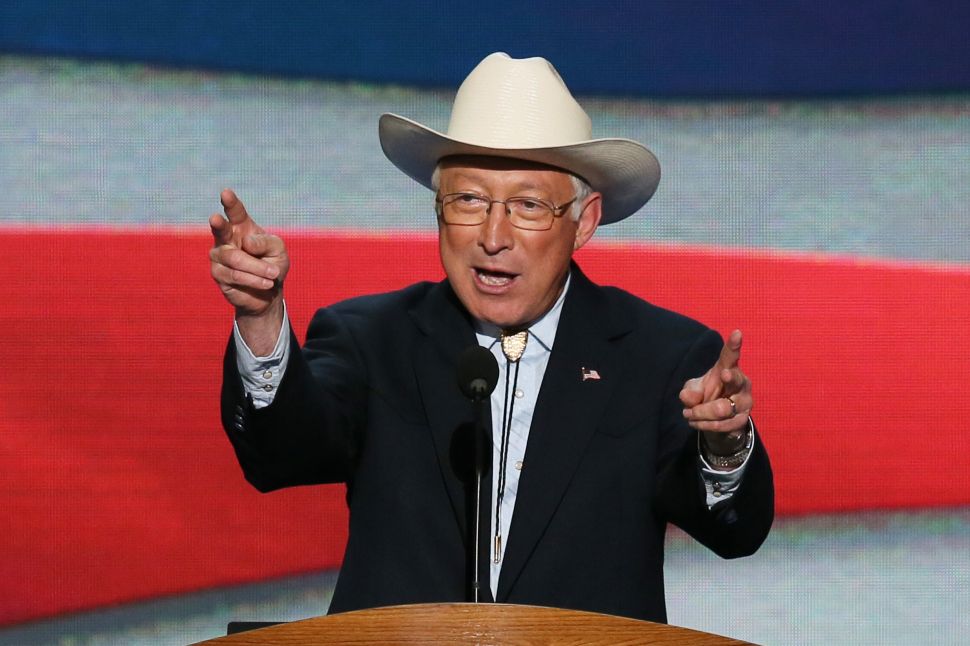 Former U.S. Secretary of the Interior Ken Salazar was briefly considered as Hillary Clinton's potential running mate. After the Clinton campaign opted for Sen. Tim Kaine, Salazar was appointed as chair of Clinton's transition team in August 2016. The Intercept reported at the time that Salazar was a major advocate for the oil and gas industry, favored the Trans Pacific Partnership, the Keystone XL pipeline, and has argued in favor of fracking and against environmental regulations. He would have led the team in charge of nearly 4,000 presidential appointments.
Now that the Clinton White House never came to be, Salazar is running public relations for the oil industry. According to documents and emails obtained by IBTimes and MapLight, Salazar is working on behalf of Anadarko, Colorado's largest oil and gas producer, after a deadly explosion of one of its wells on April 17 has put the company in a politically compromised position. Salazar, working through the law firm Wilmer Hale, is not formally registered as a lobbyist for the company.
IBT and MapLight reported, "On April 26, authorities investigating the Firestone blast confirmed they were looking at an Anadarko well near the home that exploded. That day, Anadarko General Counsel Amanda McMillan contacted Hickenlooper Chief Legal Counsel Jacki Melmed about the situation. 'I understand that you've spoken with Ken Salazar, who suggested that I reach out and connect with you,' McMillan wrote in an email."
Colorado Gov. John Hickenlooper, who has been floated as a potential 2020 Democratic presidential candidate, also has close ties to the oil industry, noted the IBTimes/MapLight report. Anadarko successfully lobbied to stop a bill that would have forced the company to disclose to homeowners how close they live to oil and gas lines, a bill that Hickenlooper has been on the fence in opposing. "Jacque Montgomery, a spokeswoman for Hickenlooper, told IBT/MapLight that Salazar 'identified himself as Anadarko's counsel.' She said Salazar was alerting the office that the company would be issuing a news release to explain the actions it had taken after the explosion."
The report went on to cite several instances that Salazar made regulatory decisions while serving as secretary of the interior that benefited Anadarko, including waiving rules in 2010 on one of the company's offshore drilling projects—despite their partial ownership of the well that caused the Deepwater Horizon disaster. The company directly quotes Salazar in its public relations propaganda asserting that fracking poses no environmental issues.
Salazar's constant involvement in lobbying for corporations that he was once in charge of regulating poses grave ethics concerns and reveals loopholes that enable the revolving door of government officials and lobbyists within both political parties. There is no incentive for lawmakers to enact meaningful ethics rules to close the revolving door unless both parties take a stand against these violations. Instead, they turn a blind eye, exploit them for personal profit, or grant waivers to effectively render rules meaningless.