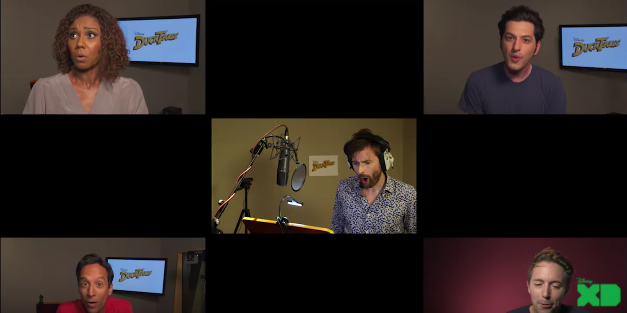 According to Deadline, American founding father Lin-Manuel Miranda will be joining the DisneyXD reboot of DuckTales, which just confirms my thesis that all of their casting decisions are based on people that I, Dana Schwartz, would like to go to brunch with.
Just watch this video. Unfortunately, Lin-Manuel Miranda wasn't cast in time to join the gang as they sang the famous DuckTales theme, but the video is still good enough that I've rewatched it about seven thousand times since last December when it was released.
Just TRY to tell me you don't want to go on adventures with Ben Schwartz. Pretend for a second you don't want to take Danny Pudi home to meet your parents. And then Beck Bennett appears and my DuckTales related fantasies are no longer rated G. Just look at the way the little swoop of hair falls, slightly sweaty, over his forehead, and the way he dances at 0:34. Dance with me, Beck. Leave the Launchpad McQuack scarf on.
By the time David Tennant appears at 0:45 I'm completely Eliza Hamilton helpless. That patterned shirt, that Scottish accent, that adorable singing…. Why must you taunt me by creating a kids show with such a charming and attractive cast? Is this how furries begin? What is going to happen to me. Somebody, please help.