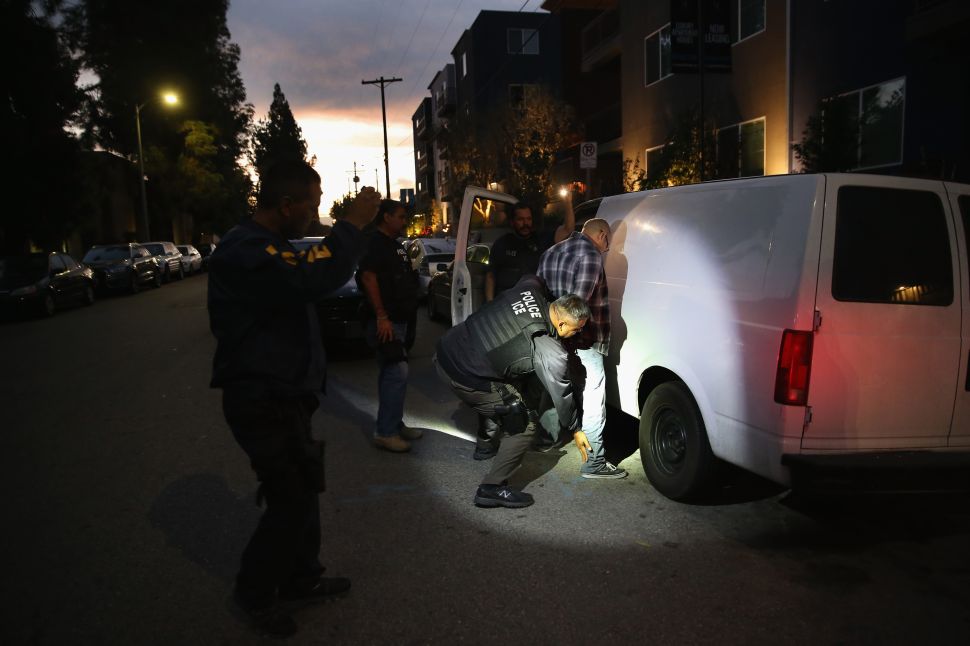 There's a lot to dislike about President Donald Trump's immigration policies—the wall plan, the deportations and the staggering cost, to name a few. But as arrests rise, one aspect of immigration enforcement that is often overlooked is the the use of overreaching surveillance and tracking.
Under the Trump administration, the feds have used controversial tools to sniff out immigrants. Stingray cell site simulators are particularly concerning. The Stingray is the most popular variety of IMSI (International Mobile Subscriber Identity) catchers created by Harris Corporation, a defense contractor, and it's intended for use in overseas military investigations. Though Stingrays have made headlines in the past for being used in domestic criminal investigations, there were no known cases of the federal government using them to find illegal immigrants—until recently.
Stingrays trick nearby cell phones into sharing signals, including location information, by posing as cell towers. According to the Electronic Frontier Foundation (EFF), once the phone is tricked, it shares data with the cell site simulator every seven to 15 seconds, regardless of if the phone is in use or not. This allows law enforcement officials to follow a suspect. Some of the more sophisticated cell site simulators go one step further by allowing police to eavesdrop on conversations and record them. Department of Justice documents direct law enforcement to use these tools strictly to obtain the metadata and not actually listen to the contents of a conversation, but they fail to recognize that even metadata can track your every move.
Cell site simulators were initially justified more than a decade ago with the oft-invoked excuse of national security. Some people alleged that simulators were necessary to help intelligence and law enforcement officials track down terrorists. However, as the Cato Institute pointed out, the technology has been predominantly deployed by domestic law enforcement. EFF reports that cell site simulators are often used for tracking individuals who have nothing to do with a terror investigation. The NYPD has used cell site simulators to investigate murders, rapes and other crimes, and police in Maryland used the method to hunt down a suspect who stole $60 worth of food. As the Trump administration hones in on immigrants, this is only going to get worse.
The Detroit News reports that in March, Immigrations and Customs Enforcement (ICE) and the Federal Bureau of Investigation (FBI) agents used a Stingray to track down a Salvadoran immigrant who has been in the country illegally off-and-on since 2005. The cell site simulator targeted the location of Rudy Carcamo-Carranza, a 23-year-old whose only non-immigration crime was a hit-and-run accident last year. While a hit-and-run accident is a serious crime, it doesn't necessitate a manhunt using dramatic surveillance methods. FBI agents received his cell phone number after requesting access to his Facebook page from the company and then using that information to find him. When ICE and FBI officials found him, they deported him.
The circumstances that led the FBI and ICE to pursue the twice-deported Carcamo-Carranza are vague at best. According to the warrant for his arrest, his immigration charges were the impetus for pursuing him. The applying agent, Jeremy R. McCullough, mentioned in the request for the warrant that he works for the FBI's Violent Gang Task Force, but he never mentions any gang affiliation or violence from Carcamo-Carranza.
While federal law enforcement had a warrant for Carcamo-Carranza, the use of Stingrays is particularly troubling because they collect information from more phones than just the specified target. If the FBI and ICE plan to continue using this tool to track immigrants, plenty of unsuspecting Americans will be caught up in the process.
ICE officials have not formally declared that they'll be using Stingrays more, but it sounds like they plan to. An ICE spokesman told The Detroit News that Stingrays are "invaluable" to national security operations, adding that ICE officials "use a broad range of lawful investigative techniques in the apprehension of criminal suspects." This type of non answer leaves one concerned with ICE's possible plans to use Stingrays more frequently in immigration contexts.
In February, a bill, titled "The Cell Location Privacy Act of 2017," was introduced by Congressman Jason Chaffetz. If passed, the bill would outlaw the use of cell site simulators except in circumstances where a warrant is obtained, an emergency is declared, or the surveillance is in accordance with the Foreign Intelligence Surveillance Act. This bill still gives federal law enforcement officials too much discretion to pursue immigrants, if they can receive a warrant or invoke an "emergency," such as determining there is an "immediate danger of death or serious physical injury to any person."
If the Trump administration is planning to use this tool in its quest to rid the nation of illegal immigrants, law-abiding immigrants and native-born Americans will have their whereabouts and intimate conversations caught up in a dragnet-style search that tramples on Fourth Amendment.
Dan King is an advocate for Young Voices and a journalist residing in New York's Adirondacks. He writes about free speech, civil liberties and LGBT issues. He can be found on Twitter @Kinger_Editor.