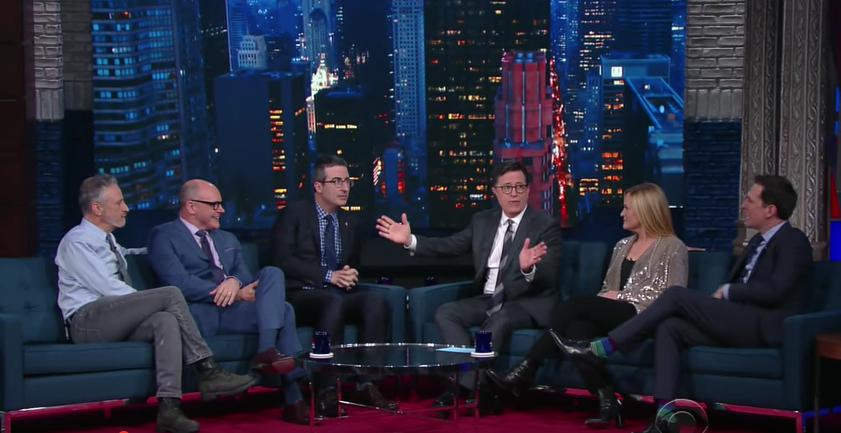 I can't be the only one who hears some outrageous Donald Trump news (*cough, cough* firing James Comey) and thinks, "God, I wish Jon Stewart were here covering this." It's not that I think Stewart affects policy in any meaningful way—he's largely preaching to my liberal coastal elitist choir, but it did help to process outrageous and terrifying news when people as funny as Stewart and his golden-era correspondents were there taking us through it, as outraged as the rest of us and making us laugh for a few minutes.
Well, my prayer was answered—sort of. Last night, Jon Stewart was on the Late Show which, as you know is currently hosted by his protege, Stephen Colbert. A bit more than a guest, Stewart took a break from living on his farm somewhere to join Colbert as something of a special co-host, starring in multiple bits and interview segments that cumulated with a group interview joined by Daily Show alums Rob Cordrey, Samantha Bee, Ed Helms, and John Oliver (and John Oliver portraying Steve Carrel). The show's cold open also included a golden cameo from current Daily Show host Trevor Noah mocking President Trump's big shiny red desk button he pushes to have someone bring him a Coke.
The show felt like a high school reunion, or when the cast of one of your favorite shows comes back together for a bit at the Emmy's or something. It was all nostalgia and funny in-jokes, with Jon Stewart presiding as the Papa Smurf of the bunch, pulling a Letterman with a white beard and an above-it-all wisdom.
For anyone who missed Jon Stewart and his merry band of globe-trotting correspondents, last night's interview was must-see TV, especially the two–part final interview that made it feel as though sometimes the old gang might miss the show as much as we do.