Welcome to our TV Fashion column, where TV Ate My Wardrobe's Emma Fraser discusses the trends in television apparel. This week: An interview with I'm Dying Up Here's costume designer, Christie Wittenborn.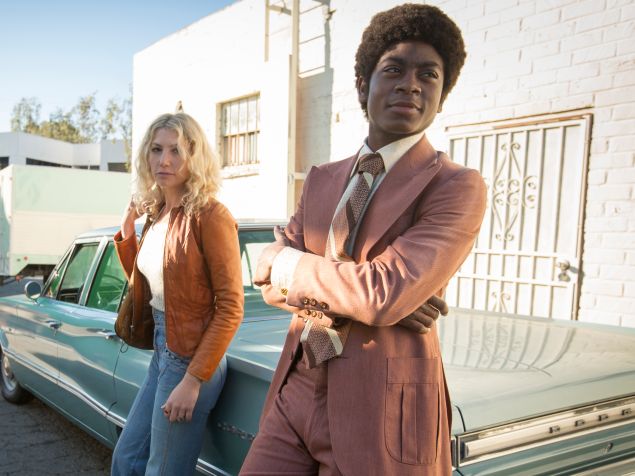 The 1970s has been having quite the style renaissance over the last few years with the fashion world looking back to this period of bold print, denim and flared silhouettes. Both Mad Men and Masters of Sex ended their runs as this new decade begins and the recently cancelled The Get Down was fully immersed in late '70s culture in the Bronx.
Enter I'm Dying Up Here and Showtime's new drama – starting Sunday, June 4 – is set in 1970s Los Angeles and is based on William Knoedelseder book of the same name. Featuring a strong ensemble cast such as Oscar winning actress Melissa Leo, Ari Graynor, Michael Angarano, RJ Cyler, Jake Lacy, Al Madrigal, Dylan Baker and Sebastian Stan, I'm Dying Up Here will explore the stand-up comedy scene of this time. A highly competitive environment that saw a guest slot on Johnny Carson's Tonight Show as a potential career-maker and this new show looks set to deliver on the laughs, heartbreak and sartorial inspiration.
I recently spoke to IDUH costume designer Christie Wittenborn about what it is like to dress a large cast in 1970s garb, the West Coast, real life influences and challenges when using vintage. Wittenborn is currently working on season 5 of Ray Donovan and I spoke to her on the phone while she took a break from one Showtime series to talk about another. Wittenborn worked on both the IDUH pilot (which was shot two years ago) and the series, which completed principal shooting back in November.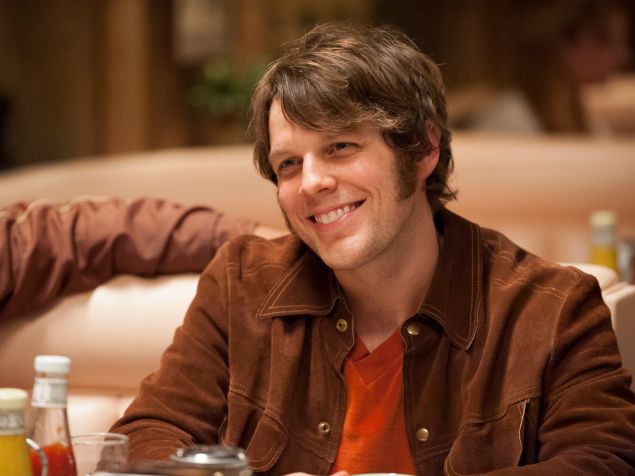 This is a bit of a switch-up for Wittenborn as recent projects such as Showtime's Ray Donovan and House of Lies and features including We Are Your Friends and the forthcoming Woodshock are contemporary in setting. So one of the first things I wanted to know was whether her approach alters with a different time setting. The answer was both yes and no with Wittenborn explaining that "It's all about defining the character and breaking down the character. So all those elements are still there. With period it's the challenge of keeping in line with the period."
There is also the real life factor as this show is based on a book detailing real events, but all of the IDUH characters are fictional with the exception of Johnny Carson (who Dylan Baker is portraying). What this means is there is more scope for playing with the way a character dresses as this isn't a case of scrolling through archives and recreating exact outfits that specific people wore.
Johnny Carson is his own entity of course and Wittenborn is fully aware of his legacy telling me "That is somebody you can't get away from. Johnny is Johnny." And not only that, but he also had his own suit line at this time – something I was unaware of until Wittenborn told me – which as a late night host is quite possibly the best product tie-in. While they didn't get an actual suit from Johnny Carson Apparel, they did get a close match to the patterns he wore. As with a lot of period set TV projects, the costumes are a mix of vintage and builds because there isn't always quite the right thing available.
As was the case for Melissa Leo's character Goldie. Goldie is the owner of the comedy club – called Goldie's – and she decides who goes up on stage, making her the person to impress. Because of this factor Wittenborn mentions that they did a lot of builds for her "because she had a very interesting, innovative look about her." Goldie's costuming includes a lot of metallics to match her name and also because the '70s. Part of this is also due to the lighting of this environment and to emphasize her position with Wittenborn adding "in the club that's where I used a lot more pattern, a lot more texture and a lot of shine because it's quite dark in there. And I would be very mindful of that and especially with her making sure she had that texture and shine to standout from the rest."
Goldie is not the only woman in this male-dominated environment and Ari Graynor plays Cassie; a performer who is trying to get her big break alongside the many other hopefuls we will meet along the way. The time period of course helped inform how Wittenborn would address this divide and I asked if she was mindful of making them standout because of their gender:
"They stand out on their own because they're very strong female characters. But I was definitely mindful of that and very mindful in the early '70s of women really taking control of their lives and experimenting with a lot of things like fashion and strength and not downplaying their femininity."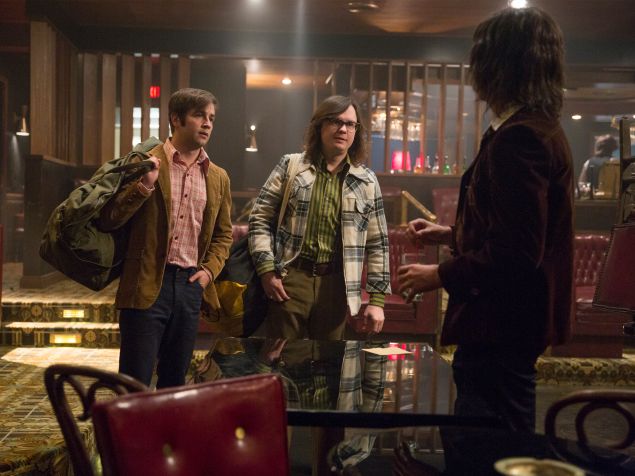 With Cassie keep an eye out for plenty of denims; flared and high-waisted paired with statement tees that are playful or ironic such as "Town Drugs" and a sweater with a question mark embroidered on it. I am already very aware that Cassie will be a character who will feed into my love of '70s fashion as this also happens to be my favorite style decade. Wittenborn is also a fan, telling me that it is her "soft spot" and we discussed the many things you could do with patterns during this time with Wittenborn telling me "There's patterns that only exist in that time. You'll never see that pattern again. It's like "Oh, why don't they do this pattern anymore?" Because it is insane. It's insanely good for that period of time."
We also talked about the current runway trends that owe a lot to this period "A lot of the bell sleeves that you're seeing now on the runway, that was happening early '70s. With Goldie's costumes, all her sleeves were really exaggerated and bell."
It isn't just a case of one style fits all and Wittenborn notes that "Early '70s in California is completely different from the East Coast. It just has a different vibe. With period and I think with '70s people tend to think of it in all in one stroke. But everything is so different." We returned to this idea later on and while I hesitated in calling Los Angeles another character in IDUH because this is a cliché in itself, Wittenborn points to how much was going on and that it "was a very interesting time in L.A."
One thing I picked up on is the rock star like atmosphere and because it is one of my favorite films, it is hard to not think of Almost Famous when looking at characters who desire to break into a competitive and creative industry like this one during this time. For Jake Lacy's character Nick, Wittenborn did look to musicians from the period as "He definitely has that persona and really all comedians around that time were a little bit of a rock star. I did look to a lot of musical influences for him." Those influences include The Band and particularly Levon Helm, Robbie Robertson and Rick Danko; "a mesh of all three of those guys" adds Wittenborn.
As most of the characters are struggling to make a living through comedy this is reflected in their limited wardrobe. This doesn't apply to all and Sebastian Stan's character Clay has experienced a degree of success, which is reflected in the leather jacket he wears as "In the early '70s getting a leather jacket was a big deal. That was a big expense as well."
Rounding out our conversation with something I find fascinating and that is how actors respond to differences in clothing shapes even from a period that is not that far removed from the one we are currently in. As with my conversation with The Americans costume designer Katie Irish, it is the waist line which raises the most eyebrows as well as the unforgiving fit:
"I think they were alarmed by how tight everything is. Every fitting I would start with "Okay guys, its '70, its '73 everything is tight." Especially on the women. The women back then were using pliers to zip up their pants. Everything was tight. When you look at some '70s clothes you think "who would this fit today?" And it's because everybody was all about wearing things tight, showing their body, embracing that silhouette. Men included. Men's suits were tight. Everything was form fitting."
This was particularly noticeable when the cast would arrive in sweatpants "and have to put on a pair of pants that were quite revealing." Revealing pants that also have a habit of breaking and the costume department had "to reinforce the zippers because those zippers would bust. They didn't have any shelf life."
It wasn't just the zippers that were unreliable and while mentioning no names, Wittenborn did share a wardrobe malfunction story that took place mid-scene "We did have pants bust on this actor in a scene. They were all in Goldie's office and he was such a champ because we heard them rip and they ripped quite loud and he did the whole scene without flinching." The perils of working with vintage and the penchant for all things tight during this period.  
I'm Dying Up Here premieres on Sunday, June 4 at 10 ET/PT on Showtime.