"Imagined Dialogue For" is our series by the hilarious and talented Chris Scott—of Reviews of Movies I Haven't Seen fame. Next up? Chris takes a stab at guessing what happens in Guy Ritchie's medieval origin story, King Arthur: Legend of the Sword.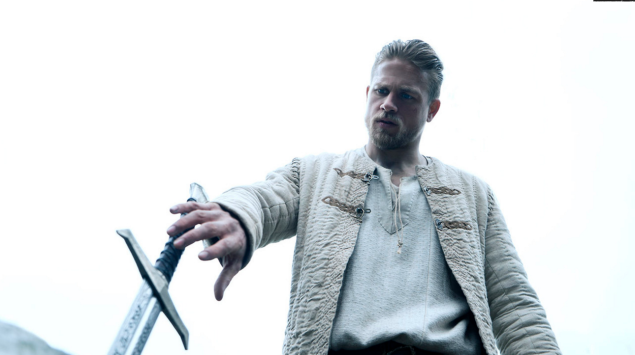 EXT. DAY
KING ARTHUR: We have to find Excalibur before my uncle does!
SIR BEDIVERE: I don't know if we'll have enough time!
ARTHUR: We have to! We cannot fail.
BEDIVERE: I completely agree. You know what else cannot fail?
ARTHUR: What's that?
BEDIVERE: This movie.
ARTHUR: Man, you got that right.
BEDIVERE: People want this. The public wants this.
ARTHUR: You're damn right they do.
BEDIVERE: In the year 2017, with everything that's going on, people want another King Arthur movie.
ARTHUR: It's the number one thing that people want, in my opinion.
BEDIVERE: The two dozen movies about Camelot and King Arthur that already exist aren't nearly enough.
ARTHUR: Throw all of them in the garbage, where they belong.
BEDIVERE: Take every King Arthur movie that already exists and put them at the bottom of the Grand Canyon and fill the entire Grand Canyon with cement and then level all of it with an atomic bomb. This is the only King Arthur movie that anyone will ever need.
///////////////////////////////////
EXT. DAY
ARTHUR: Only I have the power to wield Excalibur responsibly.
BEDIVERE: It is so necessary that it not fall into the wrong hands.
ARTHUR: You know what else is necessary?
BEDIVERE: I'm pretty sure I do, but why don't you go ahead and say it anyway.
ARTHUR: What else is necessary is this movie.
BEDIVERE: Boom!
ARTHUR: It's important — no, imperative — that this movie was made and that it now exists.
BEDIVERE: That's a beautiful way to put it.
ARTHUR: You're damn right it is.
BEDIVERE: If this movie didn't exist I would move to a shack in the mountains and whittle a little drum out of a tree stump and literally just spend the rest of my days playing this drum until my hands fell off or I died of starvation. I'm 100% serious.
ARTHUR: I know you are.
BEDIVERE: Seriously.
ARTHUR: I know!
BEDIVERE: I'm not kidding.
ARTHUR: I know you're not man. I feel the same way.
///////////////////////////////////
EXT. DAY
BEDIVERE: According to legend, he who wields Excalibur will reign over Camelot and be overwhelmed with all the wealthy and riches he can imagine.
ARTHUR: Speaking of wealth and riches…
BEDIVERE: Here it comes.
ARTHUR: Haha, you know where I'm going with this.
BEDIVERE: Damn straight I do.
ARTHUR: How much money do you think this bad boy is gonna pull in on opening weekend?
BEDIVERE: Well it'll definitely clear $100 million domestically, without question. On account of how many people want to see this and the very solid thinking that went into spending an incredible amount of resources to make this movie that everyone wants.
ARTHUR: I'm gonna just throw out $120 million opening weekend. At least.
BEDIVERE: At least! $130 million would not shock me in the slightest. Like my reaction when I wake up Monday morning to see King Arthur has made $130 million in the span of 48 hours will just be a shrug, essentially.
ARTHUR: Yep, same here.
BEDIVERE: How many more of these movies should we make?
ARTHUR: Ten. Just to be safe. But probably at least thirty.
BEDIVERE: Yup!