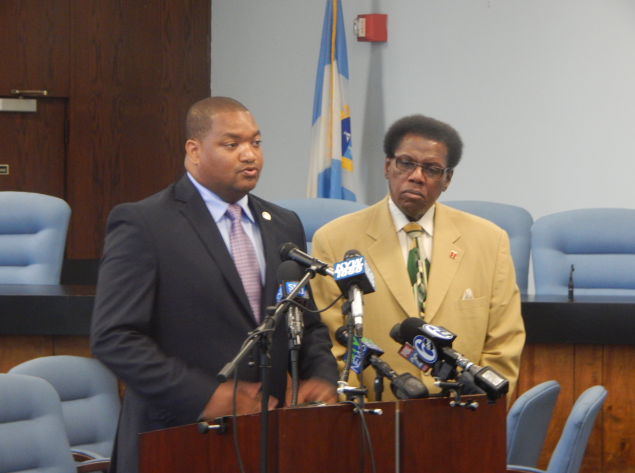 The state takeover of Atlantic City's finances is looming over this year's mayoral race and has dominated the bitter primary battle between two hopefuls on the city council.
Mayor Don Guardian, the resort's first Republican mayor since the 1990s, will face a challenge from either City Council President Marty Small or Councilman Frank Gilliam, who are vying for the Democratic nomination.
Gilliam beat Small in the race for the municipal and county Democratic lines. Small said the reason was simple: He took a high-profile role last year opposing the state takeover, which had the backing of Gov. Chris Christie and of Senate President Steve Sweeney and his powerful coalition of South Jersey Democrats.
Both the primary and the general election will be fiercely competitive, especially if onetime allies Small and Guardian end up running against each other. The two were the city's public faces during the run-up to the takeover, which gave the state sweeping powers to sell off city assets and break union contracts.
"From the state takeover, the county party has been upset with me because of my fight," Small said. "So in essence, all of my hard work and dedication to the Democratic Party went out the window and I was punished for fighting for Atlantic City."
Gilliam opposed Guardian and Small's approach during the debate over the takeover, and said he still believes the two have not presented a viable plan to dig the city out of its financial hole without state intervention. 
A return to home rule could be in the cards for Atlantic City next year. Phil Murphy, the front-runner for the Democratic nomination for governor, has pledged an end to the takeover. But that could put a municipal bankruptcy filing back on the table.
"You have to be able to create policies and put together things that benefit the city and its citizens to make sure that we live to see another day," Gilliam said.
Guardian, the city's first openly gay mayor, promises to be a tough foe for either Democrat because of the goodwill he built up as the takeover's most outspoken critic and his claim to a rising municipal credit rating as well as a wave of new construction.
Montclair State University political science professor Brigid Harrison said she doesn't believe Gilliam's city and county lines will make him the inevitable nominee, though they will be an asset in a gubernatorial year with greater turnout.
"The reality is that most primary voters are party loyalists, and so the party line matters." Harrison said. "Having the party line means that those party line voters will be mobilized to vote and that clearly works to Gilliam's advantage.
"I think that if it's Gilliam against Guardian then it's a very, very competitive election," Harrison added.
The Democratic primary will be held on June 6, with the general election on November 7.