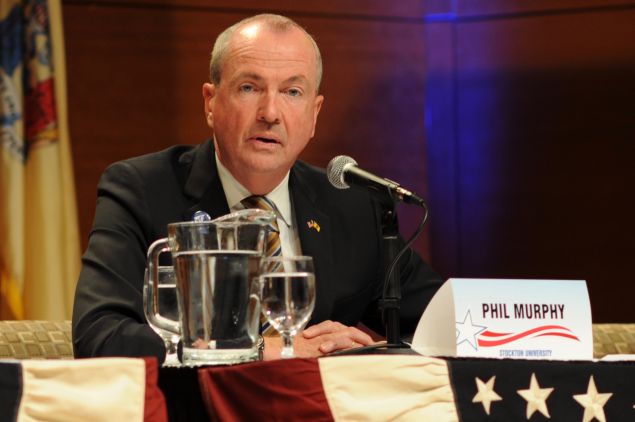 After dropping $20 million on the Democratic primary for governor, Phil Murphy announced Wednesday that if he wins, he would limit his spending in the general election to $13.8 million and apply for public matching funds.
Candidates for governor who participate in New Jersey's public financing program get $2 in matching funds for every $1 they raise. But as a condition, their spending is capped by law at $13.8 million in the general election.
Murphy, the front-runner for the Democratic nomination, declined to take matching funds for the primary and has blown well past the $6.4 million spending cap he would have faced.
The former U.S. ambassador to Germany, Murphy has locked down support from all 21 Democratic county committees in New Jersey, which comes with the coveted county line, or top ballot position, in the primary set for Tuesday.
But he has drawn sustained attacks for months over his 23-year stint as a top Goldman Sachs executive and for his lavish spending on TV ads, campaign infrastructure and the generous donations he made to Democratic county committees before getting their endorsements.
As of May 23, Murphy had spent $20.1 million on his campaign, 10 times as much as the next-biggest spender, Lt. Gov. Kim Guadagno, according to a report released Wednesday by the Election Law Enforcement Commission.
Murphy's spending was 2.5 times what all the other candidates on both sides of the aisle had dropped on the primary race combined. And that was before Murphy announced a new TV ad on Wednesday. An analysis of ELEC data and a complaint submitted by another Democratic candidate, Jim Johnson, showed that Murphy has self-funded the lion's share of his spending, or $16.9 million.
Democratic and Republican rivals had called on Murphy to agree to spending caps, but Murphy had declined their invitations. "I'm not a believer in a cap," he told reporters on May 4 after an unrelated news conference.
But his campaign announced a change of plans after ELEC released its report Wednesday.
"Should he be successful on Tuesday, Phil will be participating in the gubernatorial matching funds program," Murphy campaign spokesman Derek Roseman said, declining to comment further.
Democrats and Republicans pounced.
"Phil Murphy's politically motivated flip-flop won't fool New Jersey voters," Johnson said in a statement. "Murphy has brazenly tried to buy this election, spending a record $20 million dollars, including over $15 million of his own money. He's repeatedly ignored my calls for a spending cap and ethics reform, and has continued to completely disregard the corrosive impact money has on our politics."
Murphy's announcement gives Guadagno, the Republican front-runner, a chance at leveling the playing field in the general should she and Murphy both win Tuesday's primaries.
"After Murphy spent $20 million of his Goldman Sachs fortune to buy off the Democratic Party, the county chairs and political insiders, we welcome the news that Murphy has decided to accept the lieutenant governor's challenge and put away his checkbook," Guadagno campaign spokesman Ricky Diaz said in a statement. "Kim Guadagno will have the resources to beat Phil Murphy, whose plans to raise taxes are wildly out of touch with hardworking New Jersey families."
Assemblyman John Wisniewski (D-Middlesex), who is also vying for the nomination, adopted a different line of attack. That Murphy has spent a colossal sum without locking down a majority of the party's voters is a sign of financial ineptitude, Wisniewski said.
The most recent public poll showed Murphy with 34 percent support from likely Democratic voters, the most in that race, although 33 percent remained undecided. Wisniewski said Murphy's campaign was "bankrupt," but it actually had the most cash on hand as of May 23, $1 million.
"It should send shivers down the backs of the political establishment that Phil is now taking public finances," Wisniewski said in a statement. "How will he manage the smaller amount of money in the summer and fall when he hasn't been able to galvanize the support of the majority of Democrats given that he is spending over $20 million?"
Supporters have stressed that Murphy, on the issues, has run a lefty campaign promising a $15 minimum wage, a plan to lower higher education costs, a vow to fully fund New Jersey's schools and its pension system for public workers, repeated admissions that he would raise taxes on high earners and close loopholes that benefit Wall Street, and measures to guarantee equal pay for men and women in similar jobs, among other issues.
And he didn't grow up with money, former Vice President Joe Biden said at a Murphy rally on Sunday.
"We come from essentially a similar neighborhood," Biden said. "We came from the same basic roots. I suspect almost all of you in this room did."
ELEC Executive Director Jeff Brindle said Wednesday that at $28 million total spending as of May 23, the gubernatorial primary could become the most expensive in state history.