More often than not, living in Brooklyn can make you feel outright cynical about the music business. For all of your friends slinging in the trenches, booking and promoting their own shows, playing gigs every week to near-empty rooms, there seems to be a band of much younger kids that comes out of nowhere, snagging the coveted opening spots for rising bands and rendering the whole grind futile.
So when a band called Hoops from Bloomington, Ind., was opening for Chicago's Whitney at their packed Baby's All Right show last year, my eyebrows raised. Cool, monosyllabic name? Check. Dream-pop vibes? Copy.
Dream-pop legends Slowdive release their first record in 22 years today, and could never have predicted that a whole generation would find their own lo-fi path to creating similar sounds. But Hoops are proof that solid songwriting and chemistry amongst longtime friends are enough to stand above mere genre affectations, and after a few minutes, such genre labels soon fall off the bone.
Hoops also have a release out today that's worth celebrating—their debut LP,  Routines—honoring the sounds they love while infusing their music with an audible sense of urgency beyond the limitations of a four track.
Hoops' opening set for Whitney really blew me away. You seldom hear a band sound so fully-formed this early in the game, already on that second or third album stride after just a few short, fuzzy EPs.
Maybe it's the fact that they've all played together, in some form or another, since middle school. Maybe it's the fact that they actually work their asses off, already touring the world before their first full-length even dropped. Maybe it's the fact that all of the band's three core members write and have an equal say in the composition of the songs. Either way, the band has earned their rapid ascension, and Routines solidifies their place as one of the most promising new acts worth keeping up with.
The Observer caught up with core Hoops dudes Drew Auscherman, Kevin Krauter and Keagan Beresford on their last visit to Brooklyn, when they had a lot to say about outdated rockstar lifestyles, playin' toss, and the importance of treating your band like a job, cracking jokes and finishing each other's sentences all the while.
[youtube https://www.youtube.com/watch?v=7wl1IAO56jM]
You recorded your first LP for Fat Possum not to far from here in Greenpoint, right?
Drew: Yeah. It was weird because half was gentrified, and half was the Polish population. All the places we went were either bodegas or Polish-owned restaurants, people who seemed like they'd been in the neighborhood a long time.
Kevin: It was chill, nice to get away from the hyper-hipster stuff.
Keagan: And we were also working with Jarvis Taveniere, and he knows his way around, knows the chill spots.
He of Woods fame. The Woodsman!
Drew: Yeah. Love you, Jarvis.
He's kind of this behind-the-scenes link between so much great music. Quilt, John Andrews and The Yawns, EZTV, Widowspeak…Jarvis has produced or engineered all of them, and kind of unknowingly positioned himself at the heart of this back-to-the-land musician community, too. How does it feel to be part of that?
Kevin: It was really fun to work with Jarvis, and really different. The way we've always worked in the past was very different from just going into the studio and working with all of this equipment that we didn't even know where to start with.
Drew: I think Jarvis recognized that we were young and had never done this sort of thing before, so he was a good guide, patient with us. Thinking back on it now, I wouldn't have wanted to work with anybody else. The record took a long time and we had to re-do a lot of things, but he was the person to have this experience with.
Kevin: He pushed us a lot, and took the reigns. He would just keep us moving when we would get lazy or distracted.
Keagan: It was easy to get bogged down on one thing that we wanted to get right, and he would be the one to crack the whip and say, "O.K., let's move on and come back to it later," shit like that.
You guys brought back some old songs, one from Tape 2 and one from Tape 3.
Drew: We spent a lot of time figuring out the order and sequencing of the songs, making sure the feel of each song made sense going after one another.
Keagan: Those were just favorite songs of ours. We didn't feel like we did them justice with the tapes, because those were just done on four tracks and released [in] really limited [capacities], put on YouTube or whatever.
Drew: "On Top" and "All My Life" are two of my favorite songs that we've had the chance to perform. We just thought they deserved better treatment than just being on a four track. "All My Life" is still one of my favorite songs, and I just wanted to have that on our first proper release because I'm proud of it.
That song in particular reminds me of the Montreal band TOPS.
Kevin: You don't say? [Laughs]
I loved Silly Kissers.
Drew: I've never listened to them! I know it's Sean Savage and TOPS.
Kevin: I've heard a few songs of theirs.
You guys know TOPS?
[All nod]
Keagan: They're our favorite.
Kevin: Huge influence.
Drew: Yuge!
[youtube https://www.youtube.com/watch?v=euqA09OW0Uc]
The dream-pop genre seems so ubiquitous now, and everyone has their own angle for how they approach it. I feel like you guys have that same almost French Canadian sense of romanticism about your music.
Kevin: We're pretty particular, more so about the sounds then the songs themselves.
Drew: We're songwriters, though.
Kevin: We like writing songs, but production is a very important thing.
Keagan: Writing songs is the easy part. It's so simple to just lay out a chord progression and write a couple of melodies.
Drew: Cheeky melodies, cheeky lyrics.
Keagan: And then to find lyrics that work for it. The really hard part is all the in-between spaces. Making all your textures work together. Production is definitely the more laborious part of it.
Drew: We're big on atmosphere. Pull quote!
"We're big on atmosphere. Pull quote!"—Drew
What of that atmosphere do you attribute to Jarvis? I mean, you already had your sound before, and I know Drew started this project as more of a noisey and ambient thing. What did that trajectory look like up to now?
Kevin: I feel like a lot of the atmosphere happening on this record came about during the later process of production, when we went back home and worked on most of the album ourselves. It didn't really feel like we had the means to do that in the studio with Jarvis, just because we have a specific way of achieving those sounds that we want.
You have your own process as a band?
Kevin: Yeah.
Keagan: But that being said, Jarvis also had a lot of ideas for production cues. For the song "On Letting Go," his idea was to record live drums and then sample the live drum clip, then make a song out of that. So it sounds kind of sampled.
[bandcamp width=100% height=120 album=2120121840 size=large bgcol=ffffff linkcol=0687f5 tracklist=false artwork=small track=2399505911]
Kevin: Same thing for "Worry", the last track.
Keagan: Or he would say, "Hey, why don't we try a synth drone right here," and that would be the thing that makes the atmosphere. Little things like that, because he hears the songs differently than we do.
Drew: Yeah, that was definitely nice, having an outside ear in there.
You guys eschew the standard themes that poppy, dreamy music falls back on of nature, long walks and beaches. Instead you turn inward and get a little sappy. There's something to be said for three dudes from America's heartland willing to get a little lovesick.
Kevin: Cheeky.
Drew: Sometimes you get a little emo vibe from our records.
Kevin: We get a little emo sometimes!
Keagan: I don't wanna say that word, don't put that in there!
Kevin: As long as we retract it.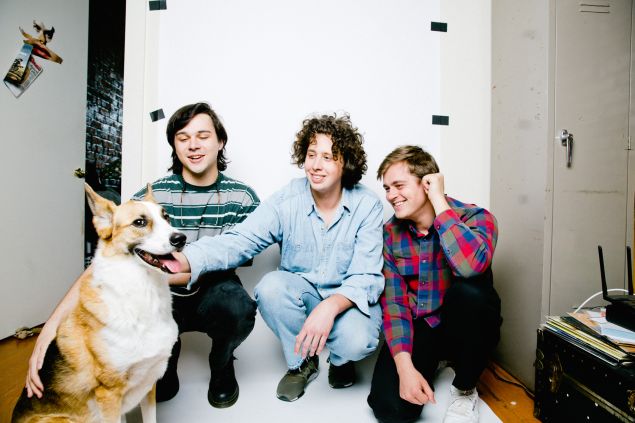 Bands just pop up out of nowhere now, and it kind of pisses me off because I see hardworking bands without the means that have to stay local. But I saw you all last year with Whitney, and you'd toured so much before this debut LP was even announced. 
Kevin: We've playing together for a long time, so playing live is just something we've always been the most comfortable with, I think. Even when we started this band—we were all playing together through middle school and high school, then we took a break when we first went to college, and started playing together again. It was really natural, just because we're on the same wavelength in a lot of ways.
How did you get on that same wavelength? Was it a trip, was it love at first sight, was it college girlfriends?
Drew: We all went to South America and did Ayahuasca together…no, I don't know.
Kevin: We all just grew up in a very similar environment, we all lived like five miles away from each other in suburban Indianapolis, where we're from originally.
Keagan: We were all also bad at sports, so we learned to play instruments instead.
Kevin: And we all have a similar sense of humor, which extends pretty far past joking around. We get this sentiment we wanna go for in a lot of ways.
Even in your name, people automatically think of basketball, but it's actually this garden hoop in this greenhouse that you worked in, Drew?
Drew: It's called a Polytunnel. You want to see a picture?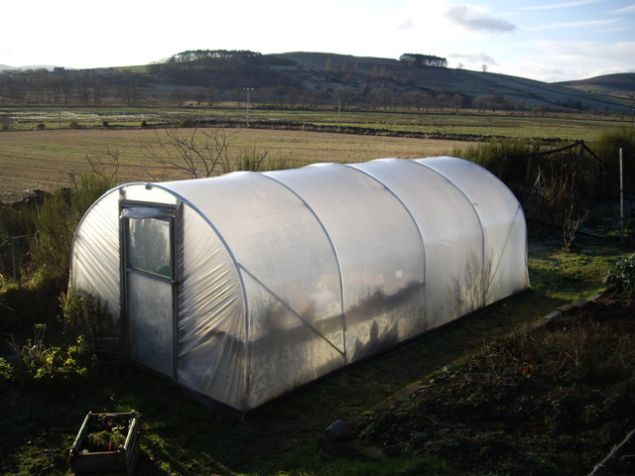 Sure! That speaks to your sense of humor, too, that you're fucking with people a little bit.
Drew: I love fucking with people.
There's an art to it, and pop music is the perfect place for it. Is the cover of the album supposed to mean anything, a hoop with a heart?
Keagan: That's just a shape. Our friend who did the album artwork just xeroxes shapes over different color gradients.
Kevin: Her name's Jenna, she's from Bloomington, and for a long time she did a lot of show fliers and shit. She lives in Spain now.
Drew: I'm really into her art. I used to play in a band with her.
Kevin: There's a good artist in every city. You don't have to go to New York to find a New York artist to do your album art. There's people in Bloomington who are just as good, who we're friends with, and we'd be much more stoked to have our work done by.
"Partying hard is old-fashioned."—Kevin
What did you learn from your first headlining tours?
Kevin: People aren't always gonna show up! [All laugh]
Keagan: We also learned to take care of ourselves a little better on tour.
Kevin: No big lesson, just don't be an idiot.
Drew: Get some sleep.
Kevin: Yeah, get some sleep, don't party too hard. Not that we ever really do.
Drew: Eat as much good food as you can, food that won't wreck your stomach. I'm thankful we're not hard partiers.
Kevin: Partying really hard is old-fashioned.
Drew: Yeah, old rock and roll.
Keagan: It's not…fun!
Drew: Yeah, it's bad for you.
Bands used to tour to promote a record, now they make a record to tour. And you're on the road so much that you can't make that life sustainable. Bands have to do a lot more now, too. You've got to be at least present enough to help promote your own shit, even with a publicist. Keep your network of friends and community alive, be present with people and make them happy. 
Keagan: I treat it like a job because it is a job. You know? Obviously it's a lot more lax than working a day job, but if you're in bad shape and you do a shitty soundcheck, you're gonna play a shitty show because you didn't make provisions to do good.
Kevin: Yeah, I think that's something each of us, and Mark and Jack, who tour with us, are all pretty cognizant of. You've gotta be responsible in any small way that you can be, because it's gonna help everyone and it's gonna help you in the long run.
So you have these two touring dudes, I wonder what it's like translating your songs for them to play.
Drew: It's pretty easy. Jack, our touring guitarist, is my roommate. And I play drums in his band, so it's already pretty easy. We used to practice at my house, and he knows how the songs are. Mark just started touring with us a month ago, SXSW was his first time touring with us.
Did you guys do the eight-shows-a-day grind?
Kevin: Nine shows the whole week!
Drew: So it wasn't terrible.
Kevin: There were two days when we had three shows a day, and they were pretty insane.
Bands get pretty excited about playing SXSW until they actually go through it.
Keagan: Yeah, all the bands we talked to were just like, "Yeah, played a lot of shows, wasn't really worth it. It was just really stressful." Logistically, that shit sucks. But we met a lot of cool people, became friends with some musicians we hadn't met before.
Kevin: That's the cool part. And we had an Airbnb with a grill and a cool backyard. So we grilled out, played a lot of football. We just have a football that we toss around. Just playin' toss.
Much more punk than shooting up in the Stubbs bathroom. "Breakin' the rules this time." 
[youtube https://www.youtube.com/watch?v=SjDHqdcvv-A]
Kevin: There's a similar tongue-in-cheek-ness. A lot of our friends in punk bands are just funny people, and don't take it too seriously. Because when punk people take punk too seriously it's just fuckin' lame. And when that shit happens in indie music it's just fuckin' boring!
Drew: When you meet a really cool, really serious band…
Kevin: Fuckin' Father John Misty!
Drew: Although I don't know how serious he takes himself.
Kevin: But even on tour, there are people you meet along the way who have a really high idea of themselves. It's really boring.
"We don't have any illusions that what we're doing is super important for people."—Keagan
Maybe it's all about openness. It's important to take your music seriously when you're playing it out and touring, but staying open when you're making it is hard when you go in with a hyper-serious, narrow vision. 
Kevin: It's the 21st century, nothing's sacred anymore. You're not foolin' anyone!
Keagan: We don't have any illusions that what we're doing is super important for people.
Drew: Rock and roll will save the world!
Keagan: We wanna make something that's good to listen to and you might relate to a bit. I'm just glad we have a sense of humor about our music. Self-awareness in music, especially nowadays, goes a long way.
Kevin: You can make a real ass of yourself if you don't have that self-awareness.
Keagan: Yeah, like you mentioned, we wanted it to be a little cheesy going into it. We're not actually out here, putting our hearts on our sleeve, writing sad, shitty lyrics.
Kevin: It's just relationship shit, not something to write a big, epic tome about! Just be honest, be real about things.
Drew: We're big fans of sincerity.
What's the next move?
Drew: I'm about to move in with my parents pretty soon, and they live with their parents.
Keagan: We're gonna go to the desert, dude.
[All laugh]
Kevin: My parents have a pool, so we're just gonna kick it in the pool, write some songs. We've got a couple of songs demoed.
Drew: Two really, really good songs.
Keagan: I'll just demo shit all the time, so we'll be working on shit in our free time, send it to the group and say, "Hey, does this sound like a Hoops song?" Consensus is, and we just move on from there. A lot of writing. Since we're doing it gradually, as opposed to two two-week sessions like before, it's so much more relaxed. We have time to savor the songs and know what we wanna do with them. That's crucial.