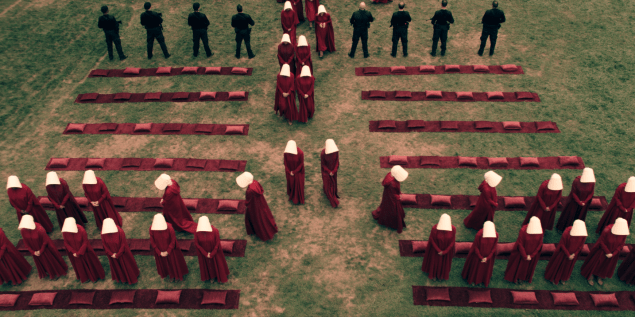 Welcome back to tvDownload's social media column — written for the people and by the people, like some kind of millennials' Pravda. It's where you can come to find out what the internet is saying about your favorite shows, and to see what new stuff might be worth checking out. You do want to fit in with the rest of us, don't you, comrade?
Everyone's still talking about The Handmaid's Tale and all its dystopian realness — and now they're drawing and painting about it too.
https://www.instagram.com/p/BTywN5eAII-/
Oh, poor Rory Gilmore!
https://www.instagram.com/p/BT1tLFCF4nM
The Animaid's Tale…
https://www.instagram.com/p/BTz8ulrjABK
https://www.instagram.com/p/BTwqSUlAVsI
Look at this dope tattoo!
Want to be reminded of how terrifying everything is all the time? We recommend the Handmaid merch. Which, incidentally, is often handmade.
Here's some scary baby cosplay!
At least this here nightmare is just a doll.
The beloved USA show Psych is getting its own TV movie come December, and people are, ahem, quite psyched. Good thing there were plenty of gifs available for the celebration.
This isn't very nice!
Okay, this is bit little nicer at least.
I Love Dick is the new Jill Soloway show currently streaming on Amazon. The consensus seems to be that it's weird and great.
https://www.instagram.com/p/BUAth7lAgQ6
Folks binged-watched this one like crazy.
Kathryn Hahn forever!
This is looking to be an important piece of TV. Soloway does it again!
https://www.instagram.com/p/BUBOatyhHK6