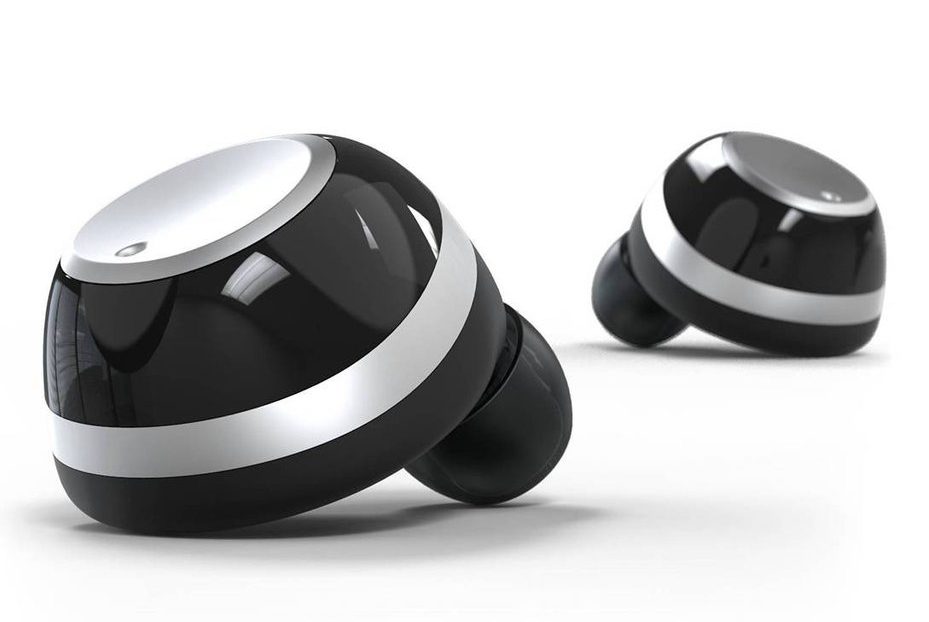 Modern hearing aids are miniaturized marvels that, in addition to amplifying sound, stream music, wirelessly connect to phone calls and can be tuned to suppress background noise and enhance conversations in a variety of environments.
That description also fits IQBuds ($299), from an Australian company called Nuheara. But don't call them hearing aids.
Prescription hearing aids are regulated medical devices that can cost thousands of dollars, are tuned by professional audiologists and can carry a certain social stigma. IQBuds, in contrast, cost $300. Moreover, despite the assistive technology built into them, the stigma is missing; completely wireless Bluetooth headphones are cool.
They're part of an emerging category of devices, dubbed "hearables," that combine traditional headphone functions with more advanced technologies, like fitness tracking and audio enhancement. It's a trend to watch, particularly at a time when an estimated 15 percent of U.S. adults suffer from some form of hearing loss.
After using the IQBuds in a number of different environments over the last couple weeks, I came away with mixed feelings. On the one hand, they pack an impressive amount of functionality into a tiny package, and I found them useful in noisy environments even though my hearing is fine. But I also encountered issues with them in performing one of the most basic tasks of any headphones: listening to music. More about that later.
Many of the "wireless" headphones that have increasingly flooded the market since the iPhone 7 did away with the traditional headphone jack aren't really wireless; the two earpieces are connected to each other by a wire that runs behind the neck.
Not so IQBuds. Each unit is independent of the other, putting them in the same category as Apple's AirPods and similar offerings from companies like Bragi and Jabra, which are cheaper but lack the the IQBuds' advanced sound-processing technologies.
Although I often find in-ear phones ill-fitting, uncomfortable or both, these were generally easy to wear: the selection of included silicon ear-tips allowed me to use them for hours at a time with no issues, and they felt secure even during gym workouts.
The buds consume very little power and, like many of their competitors, come in a case that doubles as a charging station. The company says one charge provides up to four hours of streaming or eight hours of noise reduction, while the case provides three more charges, making for up to 16 hours of playback. (By comparison, AirPods provide five-plus hours of use on a charge and 24 hours with a fully charged case, but lack the hearing-assistance features.)
You control the buds by a series of taps on one or the other unit. A tap to the left ear, for instance, starts or stops music playback or answers a phone call; double-tapping the right ear summons Siri or the Google Assistant, depending on what kind of phone you're using.
You can "tune" the buds through Nuheara's companion iOS and Android apps, not only to adjust your preferred volume for music and phone calls but also to establish settings for various environments where you want to make use of their assistive features.
In a noisy restaurant, for example, the IQBuds can suppress ambient noise while amplifying the voice of someone sitting across from you. The experience takes some getting used to; I found it took me a while to judge the volume of my own voice, among other things. But the more I used the buds, the less I noticed such issues, and they definitely made conversations easier.
Phone calls were a mixed bag, but generally OK. Unlike AirPods, there's no dangly piece to make you look extra dorky for wearing them—but that also means there's no microphone hanging down to help pick up your voice. While one caller complained my voice was too faint, most said the sound quality on my calls was adequate, if a little thin. On my end, I could hear them just fine.
Now, about music …
First of all, while Nuheara advertises the IQBuds as "noise-canceling," don't expect church-like solitude from them. I actually found that a benefit: Using them while walking down the street, I was aware enough of surrounding noises to keep myself alert, while still able to enjoy my music. My subjective impression was that midrange tones were crisp but the bass was a little less pronounced than with AirPods, but you may have a different opinion.
Far and away the biggest problem, however, was that music playback would cut in and out unless I was holding my phone as I walked. Have it in my hand, and everything was great. Stick it in my pocket—or even drop my arm to my side—and I was apt to encounter skips. The skipping was only evident during music playback; phone calls and the hearing-assistance features were unaffected.
To make sure the problem wasn't just with my iPhone 7 Plus, I also paired the IQBuds with my iPad Pro; same issue. Nuheara says it is aware of the problem, which it said doesn't affect all users, and that it's working to address it through a firmware update and eventual changes to the hardware.
If all you're looking for are wireless headphones, there are much better solutions at much cheaper prices. AirPods, for example, are half the price and have a rock-solid Bluetooth connection.
But if you're one of those millions who could use a little hearing assist from time to time, IQBuds might be worth a try. Just make sure you're buying from someplace with a good return policy.
Rich Jaroslovsky is an Observer technology columnist and vice president of SmartNews Inc. in San Francisco. Reach him at richj@observer.com or @RichJaro on Twitter.