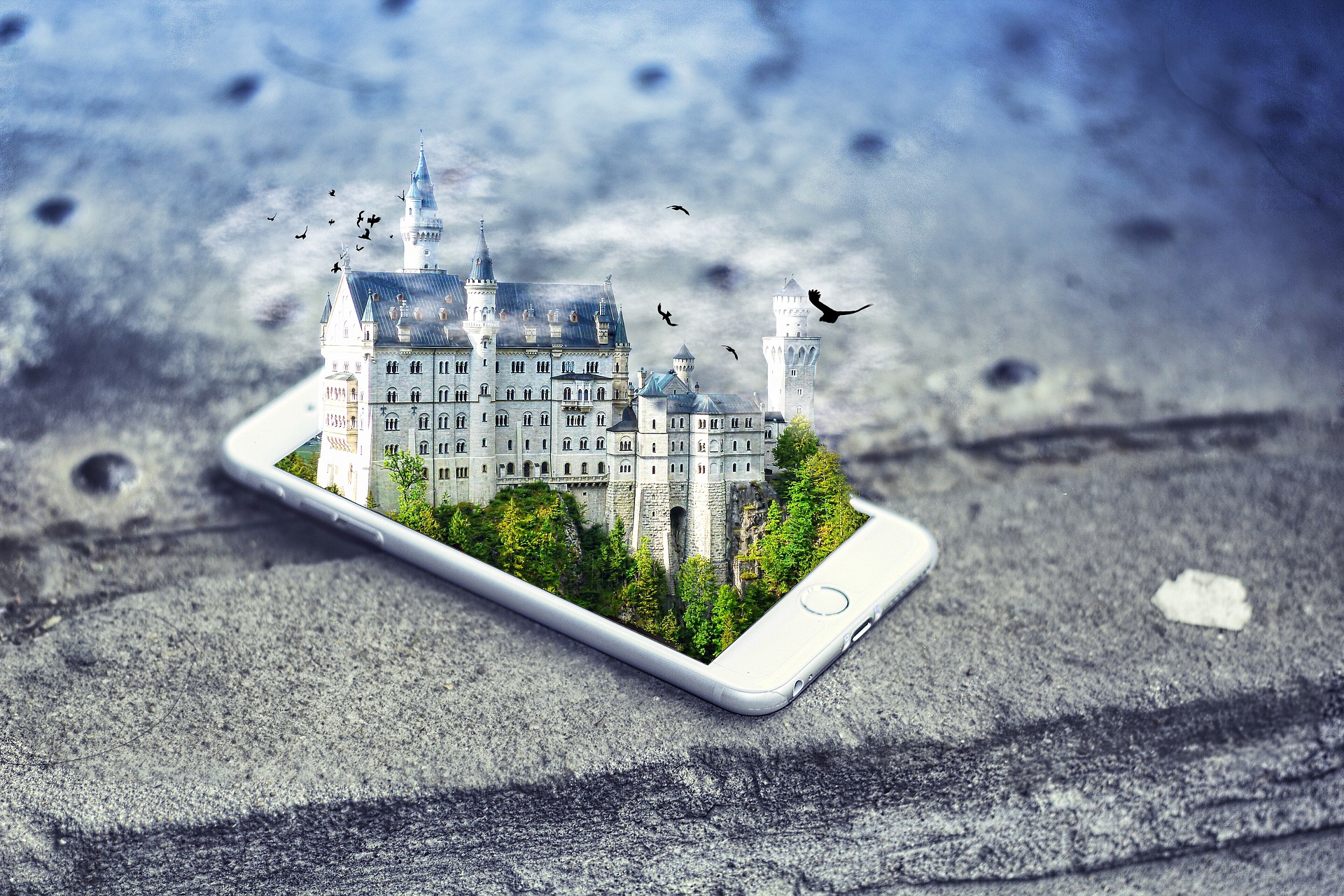 Super Bowl LI was full of a lot of things: an unprecedented overtime win, a full 30 single-game records set, and a spectral canine selling beer. But above and beyond all of these achievements — quite literally, in fact — was Lady Gaga, jumping from the stadium roof as hundreds of blinking lights formed an American flag across the sky.
Sure, the stunt was prerecorded, and Gaga's actual halftime jump was from a somewhat more reasonable distance. But the lights behind her? They represented an incredible feat all their own.
Three hundred flying drones from Intel's Shooting Star drone system ascended skyward, carrying out a shifting display that both broke the traditional vertical limits of such events (jet flyovers are disconnected from the stage due to their height) and showcased the synchrony and precision that such systems can bring to performances.
And that's just the beginning for these devices: Future versions may leverage a proprietary mesh network developed by Intel, through which each drone communicates spatial awareness peer to peer instead of solely through central command, allowing for even more control and automation.
If you ask the average person what names come to mind when he considers technology, chances are he'll respond with answers like Facebook, Twitter, Snapchat, and others. These are successful artifacts of the age of connection. Never before have we felt so connected to other people and locations in our world.
Despite that connection, however, it's still mediated through simple 2D user interfaces — flat webpages that, in some ways, haven't budged much for decades.
All that has started to change. We're on the precipice of the age of immersion.
Whereas connection fulfills our social selves through text, sound, and images, it fails to truly embed us in a rich 3D topography of sights and sounds — one we can explore just as we do in the real world.
And this distinction matters, because as breathtaking as the cinematography of films like the "Lord of the Rings" trilogy can be, there's nothing quite like feeling present in a real space, with sensory inputs breaking through the traditional flat wall of a screen that for a century has been the mainstay for immersive media.
Computer, sensor, and controller technology is growing clever enough to allow companies to find ways to break down that barrier — from devices in the real world to virtual images inches from our eyes.
Intel's drones served as just a drop in the ocean of possibilities. Full concerts, too, are already taking on new dimensions due to technology that's not only immersive, but also connective. In December, the band Thievery Corporation, in collaboration with Live Nation and NextVR, made a live concert available as a VR experience. Using VR for concerts will give millions of fans at home a way to see the show from various angles, have "backstage" experiences, and feel far more participatory than a video could ever allow.
For some, though, there may be a downside. Remember, "fan" is short for "fanatic," and by amping up the sense of presence, obsession with performers may be heightened, and concert experiences might be so compelling that it could be problematic.
Of course, it's not just pop divas and rock bands benefiting: Virtual technology is already enhancing stagecraft in the most classical playhouse in the English-speaking world. Last fall, Gregory Doran, the artistic director for the Royal Shakespeare Company, was so enchanted by an immersive theater experience — a whale that appears to exit the screen and glide over the audience — that he contacted the engineer, Intel, to bring that magic to a November production of "The Tempest." In it, Ariel appears to morph from human to sprite form and then fly throughout the theater.
Even traditional 2D art like painting is benefiting from this new enhanced immersion. In March at The Armory Show in New York, virtual and augmented reality allowed for new impressions of traditional art. Online art destination Artsy and Microsoft collaborated to allow curators and potential buyers to "preview" the art in their own homes or other environments (or view the art in a virtual reality scene from another time) to understand more about its context, history, and creator.
Museums continued through the spring to incorporate immersive experiences, such as Ian Cheng's Oculus Rift-based exhibit at MoMA PS1 or Jordan Wolfson's VR work featured at the Whitney Biennial.
Immersive technology is a natural for home exploration of traditional arts. One can globe-trot from the comfort of the living room, sampling artists from Bangladesh, Chile, and Russia on a leisurely Sunday afternoon on the couch.
So, what's next for the advancement of technology and the arts?
Immersive technology is still taking its first steps. As with other waves of tech, when costs come down, VR events for large audiences will become more common. Right now, multinationals like Citigroup have the resources to underwrite it, but that will change.
Drone shows like Gaga's will become much more commonplace and commercialized within the next year. The moment you can put a logo in the sky, the demand will be intense. In fact, in February, Miami Beach tried — and failed — to ban floating billboards because beachgoers could not relax on vacation without seeing a logo floating by. Drones, hyper-mobile by nature, can take this kind of intrusive distraction to new heights. Expect some pushback from communities and sensible regulation for drones to enhance our life, not clutter it.
In the next 10 years to 15 years, immersive technology will become affordable enough for all kinds of artists or other communicators to reach their audiences — even church congregations or K-12 classrooms. VR and AR will allow enhancement of the religious experience, not just by increasing observation and access, but also by increasing participation. Congregants could take sacraments from afar, yet feel connected in a highly captivating milieu that reinforces the sense of the sacred. Teachers, too, will use it for everything from anatomy labs to touring the wonders of the world.
For now, probably the quickest, most accessible route to the age of immersion is through small devices: smartphones and VR headsets.
Smartphones such as the future iPhone 8 may include more camera-based AR capabilities. AR would allow a person to move her camera around her home to see how new art would look or bring existing art to life with overlays and contextual information.
Full-featured VR headsets will become wireless very soon and eventually be able to operate on their own or with smartphones further down the road, no longer requiring the processing power of a PC. This will enable larger audiences to experience VR, as having to plug into a PC nearly prevents that. Pseudo-VR solutions don't require a PC currently, but they don't allow the immersive experience of full-featured VR like Oculus Rift or HTC Vive.
Further, an exciting twist is developing in the world of small device immersion: VR will not just be about viewing, but also creating. Google's Tilt Brush is a great example, allowing painters to create in 3D.
To complete the circle, the age of immersion must loop back around to include connection. That is where the real synergy will occur. So VR will ultimately have a powerful social aspect. To start, think of VR-based chat rooms like the newly released Rec Room. Some are calling it the killer app of VR. Imagine being able to conduct a Q&A with your favorite artist after a show using VR avatars.
The age of immersion will continue what began with the internet — a revolution in connection and experience in real time — bringing fundamental changes to how we interact with the products of our creative imagination.
For now, whether dancing in sync with a flotilla of drones or exploring the paintings of Guatemala, VR and AR will elevate our communal experiences and artistic energies to new levels.
Gideon Kimbrell is a software engineer and entrepreneur. He is co-founder/CEO of InList.com, the premier app for booking reservations at the most exclusive nightlife, charity, and entertainment events in major locations around the world. He can be reached on LinkedIn and Twitter.