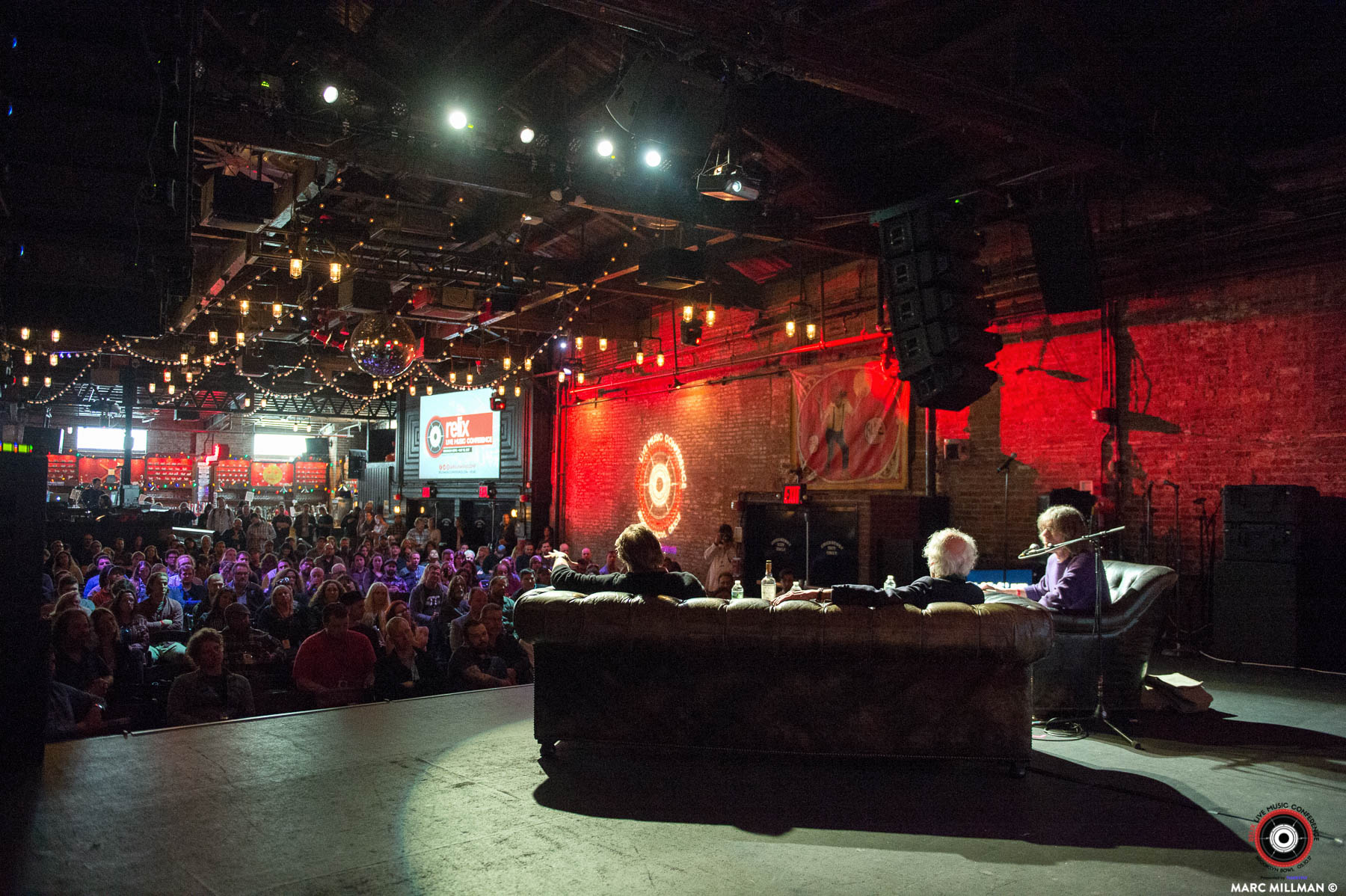 Those loyal Observer Music readers who've chewed on our self-righteous, self-immolating muckraking pieces about the rotten core of the music business infrastructure might assume we'd never cover an industry conference or networking event with anything but pure spite.
Those in the business of crafting preordained publicity prophecies for their clients, fortifying an artist's story with their creative visions to disguise otherwise usual, ubiquitous music from sounding merely "meh," have only so much to teach us, and most of that is about what not to do. Yesterday's Relix Live Music Conference at Brooklyn Bowl was not rife with those kind of folks.
The inaugural day of panel discussions and Blue Ribbon-catered schmoozing, hosted by Peter Shapiro's Relix Magazine at his venue Brooklyn Bowl, included not just live event industry mainstays from his Dayglo Ventures properties (such as Relix, Brooklyn Bowl, Lock'n Festival, etc.), but a who's who of forward-thinking talent buyers, agents, publicists, and managers. Brad Tucker, Pete Shapiro's right hand guy at Dayglo, served as producer for the conference.
"The Relix Live Music Conference is a continuation of what we've been doing for over 40 years, covering live music," wrote Tucker in the program, explaining how he went from interning at Relix to eventually producing shows at venues like the Bowl and The Capitol Theatre. "Relix started as a Grateful Dead newsletter in 1974 and we now feature some of the biggest acts in music. The speakers today represent people at all points in their careers…the best outcome is that everyone can leave here today and use this as a continuation on their path."
The majority of panelists and speakers being big in the jam-heavy scene distinguished them from the boiler-plate industry experts, informing their approach to questions about promotion and profits from a fan-first perspective. This meant that they were always considering best-practice strategies and campaigns with respect to their artists' respective audiences.
The profane, bold-faced pull-quote takeaway: caring about your audience and being kind to them is the best way to do business.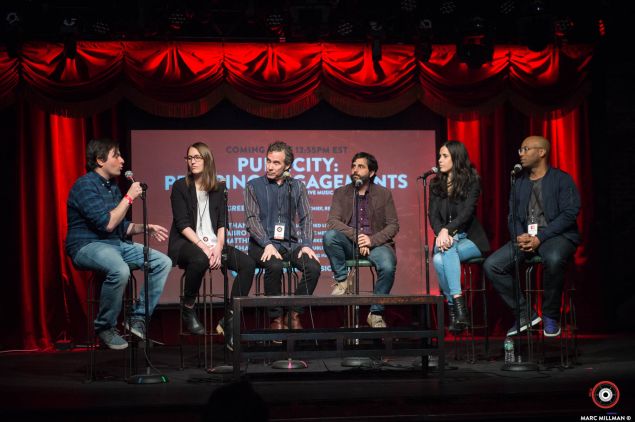 "I think it's important to see the difference between publicity and PR—publicity is getting listings, getting unpaid media to pick up your story, and PR is crafting that story," said Emma Matthieson, the director of marketing at Dayglo Ventures, during the publicity panel moderated by Relix editor-in-chief Mike Greenhaus.
"It's coming up with a message—what is Lock'n's story, what is Brooklyn Bowl's story? We spend a lot of time thinking through that, and building a brand that has core values that mean something to us and that the community can feel. When there are so many festivals, it's not really enough to just have a good lineup anymore. What makes people go to your festival and call it your home?"
Big Hassle Media founder Ken Weinstein agreed that good publicists craft those stories, but he added that, similar to the way music festivals have become flush with the same acts and the same experiential, sponsored booths, a festival tells a good story by sussing out what's unique about the specific place or artist, not pulling it out of thin air.
"Each one of these festivals are celebrating their local region, and that's the narrative, that's what makes each one of those things special."—Ken Weinstein
"Festivals are last bastion [against] the mall-ification of America, where you could get on an airplane, get into your rental car and listen to the same Sirius XM station you listen to at home," said Weinstein. "You could go into a P.F. Changs whether you're in Minnesota or Tuscaloosa, it doesn't feel any different. What's very special about what all these great festivals like Lock'n, Bonnaroo, Outside Lands are doing is very regionalized, they're kind of the last bastion of local color. Each one of these festivals are celebrating their local region, and that's the narrative, that's what makes each one of those things special."
Because less labels pay bands for PR, the publicists are often left budgeting with managers to help orchestrate campaigns that require creative thinking to help artists tell their story between releases and festival appearances. "So while there's publicity, there's other elements we're creating," said Shorefire PR vice president Rebecca Shapiro, "whether its content creation, brand partnerships, or pitching special showcases for our artists when they're in town for press days."
"We're in a time now where it's a single-song world…how many songs has Drake dropped this year?" asked Red Light Management manager and EVP Jonathan Azu. "It seems to me like full-length albums and tours are somewhat easier things to do, because there's a little bit of long lead that goes into that. The harder thing to do is strategize how to stay relevant and consistent at breaking the clutter on a weekly, bi-weekly basis. Just staying in the mix, because it moves so fast."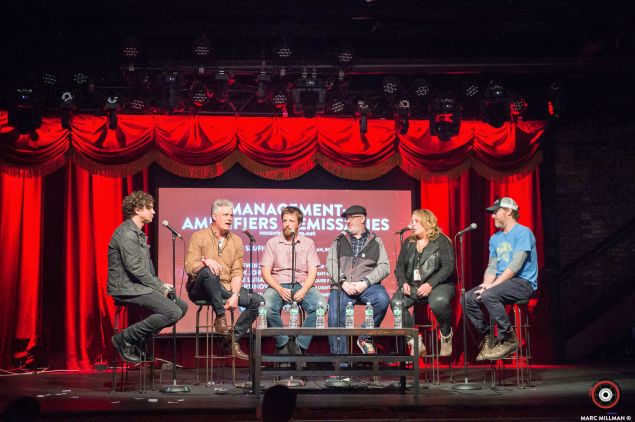 In trying to figure out solutions to this, publicists often fail to exercise tact or subtlety. But everyone onstage worked within a sphere of the live-music industry that also functions as an eco-system, meaning they understand how keeping their clients relevant shouldn't bleed their fans dry, but instead leverage their excitement and engagement.
This became clear during the panel on managing artists, led by Rocks Off Concert Cruises founder and promoter Jake Szufnarowski, who explained how all band managers onstage were lifers, working with their clients through it all, in good times and bad. "They've kept their artist in the public light, touring, and not just with their own names—they've done creative side projects, built festivals around their artists, so many different unique things," he said.
For Umphrey's McGee manager Vince Iwinski, that engagement with fans could be as simple as structuring a fourth set for UM's UMbowl residencies, allowing fans to pick the set in a "choose your own adventure" style move. "To make a career in this business you've got to keep people guessing, keep people engaged, and if they stop paying attention you don't have a career anymore," he said. "If the fans get bored, the bands get bored, and we're selling insurance."
"If the fans get bored, the bands get bored, and we're selling insurance."—Vince Iwinski
For Phish and Ween manager Patrick Jordan of Red Light Management, keeping things interesting stemmed from being a fan first. He worked with Arron Freeman after he'd abandoned the Gene Ween monicker to get sober, when he was barely a name anymore, because he was a Ween fan. Phish covered Ween often, and put their music in front of a much larger audience. Once Jordan helped convince Freeman he could do a better Gene Ween than ever now that he was sober, the demand was there. "Trey always says, 'They can send me a check whenever they want,' " he joked.
Stef Scamardo, founder of Hard Head Management and manager to Warren Haynes, Govt. Mule, Soulive, Eric Krasno and all related sonic side-projects could only possibly do a serviceable job at even keeping track of all the work her clients have hands in by forming personal relationships with them, and understanding who their fans are. She's still pushing Haynes to work with hard rockers Metallica as Muletallica, because she realizes that his fans will follow him through anything, be it bluegrass or symphonic arrangements.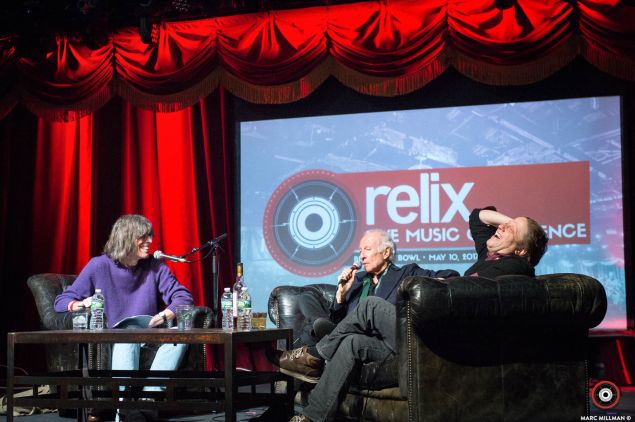 The Keynote Address had longtime Rolling Stone writer David Fricke moderating Pete Shapiro in conversation his old friend and mentor Ron Delsener, a legend of New York live music for over 50 years who first started booking Central Park's Wollman Rink concerts in the '60s, booked The Beatles at Forrest Hills Tennis Stadium in Queens, Bowie and other countless gargantuan venues from Radio City to MSG. Shapiro recalled his first-ever concert, Madonna with the Beastie Boys opening in '85, was a Delsener event.
Live Nation bought Delsener's company in the '80s and made him chairman of the New York market, which he still oversees. From the the glory days until now, he said, you could only be a promoter if you cared about what you were doing. As a financial window, real estate was a much more sound investment.
"You could lose $150,000 to $200,000 on a show, which I did with David Lee Roth once when he went solo at the Garden," said Delsener. "He invited me to his dressing room with a big grin, said, 'Sit down, have a drink. We just lost $240,000.' But if you win, and you win sometimes, you make five, 10, 20 thousand bucks. We're the bank, that's why you see with LiveNation, AEG, billionaires getting into the business. In those days I had to borrow 3,500 bucks to get started, and I had a sponsor, Rheingold Beer. You gambled every night."
"We're beggars and caterers—we beg for the act and we cater to them."—Ron Delsener
Today, Delsener says live music is a seller's market. "Acts want 110 percent of the gross, to cut into your ancillary income. It's like the movie business. The promoter makes the money on the popcorn and the bar out front. We're beggars and caterers—we beg for the act and we cater to them."
Shapiro agreed that this is much easier to do as a fan, and that being a fan with secure income to invest in a venue like Brooklyn Bowl gave him the community center to host a more symbiotic exchange between the promoter, the artist and their audience.
"Young people, where do you connect with them—the school, the church, the library or the nightclub?" asked Shapiro. "With other revenue streams, we could bring the ticket prices down. Food, bowling…there's other stuff, and having other stuff you're able to get walkup." He explained that walkup, which refers to people who buy a ticket to a show at the door, is essential for a band that wants to engage new fans and allow for new discoveries. "When we first opened we learned there were threshold differences between 15 bucks on a weekend and 20. Now we know at 20 they'll walk in, at 25 they won't."
Shapiro's decisions about the Bowl, Lock'n, The Capitol Theatre, and everything else echo a similar sentiment—be good to the fans and the fans will be good to you. Before several secondary-market resellers and scalpers bought up all the tickets to his Fare Thee Well shows, they tried to strike a deal with Shapiro—sell us large quantities of tickets directly and we'll cut you a piece of the profits from our markup. Shapiro politely declined, fully cognizant of the impact that precedent would set.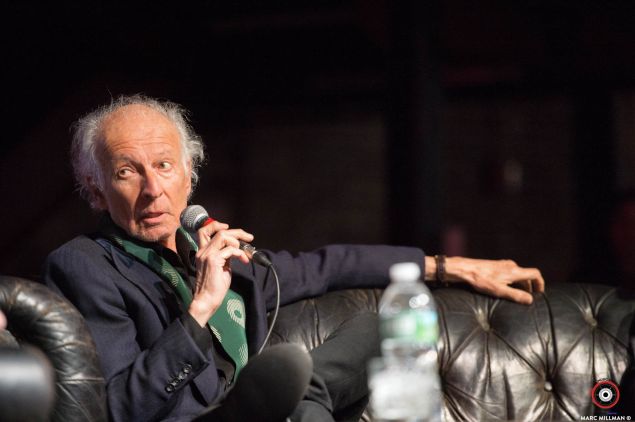 Delsener remembered the first time ticket prices exceeded $100—at a Diana Ross Radio City show in the early '70s. "Those prices hurt the person that wants to go both nights, or the fan who wants to go to three, four shows," he said. "That means you can't see a big show like that every night, you have to save up for the show. And it hurts every time I hear that."
After the industry talk subdued, Fricke asked them what band they'd always wanted to book but never could. Delsener said Elvis without taking a beat, citing his possessive lifetime manager, Colonel Tom Parker, as part of the reason Elvis alluded him. Shapiro didn't need to say Led Zeppelin, but when Fricke asked him if their name began with an "L" he solemnly nodded before pouring another drink.
Not to be left out of the superfan reminiscing, Fricke answered their question as to the best show he'd ever seen. It was 1968 at JFK Stadium, the tickets were $1 and Pink Floyd was at the bottom of the bill. "It was a five-act show, I still have my ticket stub. It was, in descending order: The Who, Procol Harum, The Troggs, a band called Mandala from Canada, and then Pink Floyd on their first tour with David Gilmour…Floyd comes out, it's all about Saucerful of Secrets, 'Astronomy Domine,' they're just blowin' my tiny little mind. Mandala comes out, there's a lighting storm, the guitarist was electrocuted, that was the end of the show."