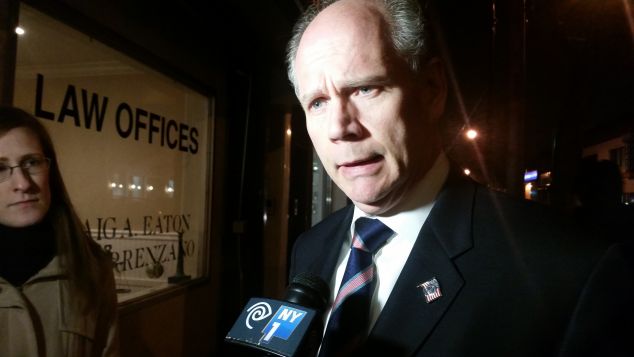 Staten Island Congressman Daniel Donovan, the lone Republican representing New York City on the Hill, simultaneously defended President Donald Trump's right to terminate Federal Bureau of Investigation Director James Comey and acknowledged the poor optics given the ongoing probe into Russian interference in last year's election—and asserted the solution is to appoint somebody like ex-NYPD Commissioner Raymond Kelly as Comey's successor.
Donovan issued a statement this afternoon that noted keeping or relieving the head of the FBI is entirely a matter of presidential discretion, and that echoed a popular GOP talking point that former President Bill Clinton summarily fired then-Director William Session in 1993. He also cited the White House's formal reasoning for removing Comey: his public handling of the investigation into Hillary Clinton's use of a private email server at the State Department, although Trump had previously praised Comey.
Nonetheless, the centrist Republican alluded to suspicions that Comey's firing was tied to ongoing inquiries into the contacts between numerous Trump aides and confidantes and Kremlin agents.
"The controversy surrounding Director Comey's comments about Secretary Clinton's e-mails has caused many to lose confidence in his ability to lead the Bureau," said Donovan. "I understand that the timing of the President's decision raises natural questions about impartiality, and those questions must be answered."
Clinton sacked his FBI director amid a tax fraud scandal and evidence he had obtained improper reimbursements for personal expenses. The New York Times reported that U.S. Attorney General Jeff Sessions, forced to recuse himself from the Russia probe because of his failure to disclose campaign season meetings with Moscow's ambassador to the U.S., charged the Justice Department with generating a pretext for dismissing Comey.
Donovan alluded to his previous career as Staten Island's district attorney, and emphasized the need for an unbiased, untainted figure to replace Comey at the FBI—and asserted Kelly fits the bill. But he stopped well short of calling for an independent prosecutor and an independent commission to investigate evidence that senior Trump campaign officials colluded with Russian strongman Vladimir Putin's agents in infiltrating and exposing internal correspondence from Hillary Clinton's campaign and the Democratic National Committee.
Numerous intelligence agencies, including the FBI, have concluded the aim of this cyber warfare campaign was to weigh on Clinton's fortunes and to bolster Trump's.
"As a former prosecutor, I believe that a public servant with unimpeachable credentials and a career of independence—somebody like Ray Kelly—serving as FBI director is critical to affirming the public's trust," he said. "In the meantime, the FBI should continue its work unimpeded, and the House and Senate Intelligence Committees will continue their investigations. I fully support them."
Former Mayor Rudolph Giuliani, New Jersey Gov. Chris Christie, Wisconsin Sheriff David Clarke and South Carolina Congressman Trey Gowdy—all Republicans, all Trump backers—are among the other possible candidates rumored to be under consideration to lead the federal law enforcement agency in Comey's stead. Kelly is a former Democrat and current registered independent who served in the Department of the Treasury under Clinton, and as police commissioner first under Democratic Mayor David Dinkins, and then under Republican-turned-independent Mayor Michael Bloomberg.
Trump ran up his highest margin statewide in last year's New York primary in Donovan's district, and won it in the November election, redeeming it after former President Barack Obama carried the area points in 2012. Nonetheless, the seat is regarded as among the most competitive in the nation, with a five-to-three Democratic enrollment advantage and a large population of union members.
Donovan has taken steps to distance himself from Trump and his fellow congressional Republicans in recent months, such as twice opposing the American Healthcare Act, the GOP plan to repeal and replace Obamacare.
Manhattan Congressman Carolyn Maloney also lauded Kelly's credentials to run the FBI earlier today. She, along with a host of her fellow Democrats, also demanded a special prosecutor and bipartisan panel to study the Putin question.