January Olds started making skin care products when she was just a kid. Growing up in Orange County, Calif., she had an unusually strong interest in sun protection and masks in a quest to solve her skin discoloration issues. Olds, now 38 and a trained aesthetician, then logged years in the industry— first, with beauty monolith Clarins, then with spa brand Epicuren. It was at the latter that Olds traveled the world and learned how to run a global skin care business.
Olds speaks of Epicuren's team in glowing terms, noting that their willingness to let her get her hands dirty working on different aspects of the brand was instrumental in her future as a skin care founder. Her experience empowered Olds to go her own way and fix what she saw as broken in the skin care industry.
"During that time, I realized what was really missing on the market," Olds told the Observer. "The skin care industry has failed us with 'quick-fix' products," she says, calling mass market regimens "not only expensive, but ineffective." 
There's also this: For every adventurous young woman who wants to experiment with 20-product Asian skin care routines and every hyped "miracle" potion on the market, there are hundreds more who just want a simple, fast routine. These women tend to have packed schedules and little patience for chasing empty promises of eternal youth. So Olds created a streamlined regimen of multi-tasking products. "As I've gotten older, I like to use less on my face," she says. "So each product has to serve about three different purposes, and that's really clear throughout my line."
There's another reason for her approach: "I also like wearing less makeup, so my skin really needs to be on-point." Rather than slapping the proverbial paint on a crumbling wall, Olds is determined to have the strongest, smoothest structure she can.
Which brings us to another glaring issue Olds was dying to tackle: the beauty industry's widespread neglect of skin's vital stratum barrier. This outermost layer of the epidermis protects underlying skin from dehydration, infection and irritation. It's key to giving skin its resilience and plumpness. And, Olds says, "It's more fragile than we think." She uses an analogy likening the stratum layer to plastic shrink-wrap. "It will protect you, but you don't want to go poking holes in it, stretching it or burning it. Many popular skin care products actually destroy the stratum barrier, as do harsh treatments."
Thus, January Labs was born, quickly becoming the little skin care startup that could. Olds soon connected with a passionate base of consumers who had been crying out for a simple, sophisticated approach to preventative and reparative skin care. It helps that January Labs is affordable, too. "I think good, quality, clean skin care should be readily available to everyone," Olds says. "That's why we keep the products at an accessible price."
That includes her hotly anticipated entry into the acid category: January Labs Daily Brightening Tonic ($28). With three percent lactic acid content, wiping down with this post-cleanse solution helps slough away old skin cells and fight free radical damage, all while imparting hydration and calm.(January Labs Retexturizing Night Cream ($74) has the highest lactic acid content available without a prescription, nine percent.) I have used it at least once a day since early April and will stock up again without hesitation. It gives slightly more kick than any of the standard acids out there, with a reassuring tingle—rather than a burning sensation—that tells you it's working. 
This most recent release also reflects Olds' dedication to helping people build and protect their essential stratum barrier. Daily Brightening Tonic works in tandem with one of January Labs' first products: Restorative Tonic Mist ($24). Olds is never without a bottle of it within arm's reach, and she spritzes a light veil over her face repeatedly throughout the day. "You're creating not only a layer of protection, but also strengthening the skin barrier," she says. "This allows for better absorption of other products by keeping the skin hydrated all day." The Restorative Tonic Mist can be used to set makeup right after application, and hourly misting replenishes makeup's water content, which evaporates from skin as the day goes on. Dehydrated, dry skin will find this especially comforting.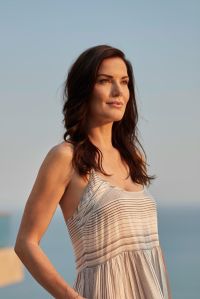 Not that Olds obsesses about classifying products that way. "Buying skin care based on a particular skin type is very antiquated," she says. "If you're working with ingredients that serve a purpose and do not cause any skin conditions, the products will have a broad spectrum of benefits for a wide range of skin types." 
Another out-of-date practice Olds wants to eliminate? "Scrubbing the face with physical exfoliants needs to stop," Olds says of granular scrubs. "It's another damaging thing for the skin barrier, and the damage it does cannot be seen until later. We're talking microscopic scratches on the surface of the skin that eventually do show. Just like sun damage, it has a lasting, visible downside. I'm a big proponent of doing less with more actives." Hence the lactic acid in the Daily Brightening Tonic, a gentler yet efficacious chemical exfoliator. 
This ethos aligns with a common theme for January Labs: Keep it simple. On that note, Olds says she has no desire to go down the road of excessively costly presentation and marketing. All January Labs packaging is airtight, preserving the integrity of the ingredients without being flashy. "I know what everything costs," Olds says. "It's like a spreadsheet in my head. And I know how much of an amazing ingredient I could buy to put in my products with the kind of money other brands spend on fancy bottles. I'd rather buy ingredients."
Besides, she says, "Women are not dummies. They know they are often paying more for all this excessive packaging and elaborate marketing than they are for the product." But Olds has the utmost respect for a handful of other skin care founders and what they've created, citing Tricia Timble's Suntegrity, April Gargiulo's Vintner's Daughter, and Josh Rosebrook's eponymous line among her favorites. "I generally never look at other brands for inspiration. I like to stay in my own lane," Olds says. But of these fellow founders, she is clear: "We all help each other out. There is room for all of us."
Jackie Danicki created one of the first and most popular beauty blogs in 2004, and has consulted some of the world's most iconic brands on digital content strategy and innovation. Jackie blogs at http://burnedoutbeauty.com, and you can find her on Twitter, Instagram, and Snapchat as @burnedoutbeauty.