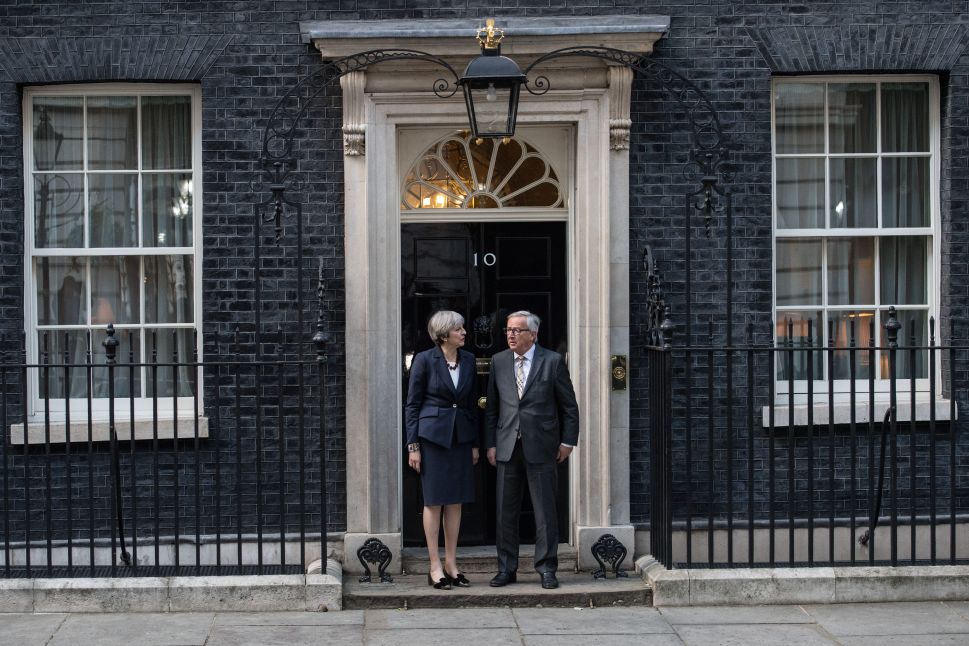 The first week of the Battle of Brexit has ended with Theresa May on top and President Jean-Claude Juncker drowning his sorrows in Geneva. Not bad for the first few days of what we expect to be a two year battle to death.
Just over a week ago, Juncker leaked details of a private dinner in which he is said to have told May that "Brexit could never be a success."
The spin employed in the leak represented a fundamental misunderstanding of the British: The implication was that the British would love Brussels if only they hadn't been lied to by the media.
Of course, this is rubbish. The English, who are 87 percent of the U.K. population, have objected to every big, undemocratic government ever visited upon them. Most leaders who have been as undemocratic and high taxing as Juncker have met a far more sticky end than he is likely to.
But, as reported last week, Juncker needs to either keep Britain in the E.U. or keep the contributions rolling in. The U.K. is one of only two major contributors to the Brussels government—all of Juncker's pork barrel handouts to other E.U. states rely on both Britain and Germany.
The leak was effectively a threat that the U.K. would not get the trade deal London wants unless Juncker gets $150 billion. With little explanation, the figure has increased from the $100 billion he was demanding just two weeks ago.
The threat was clearly music to the ears of the increasingly confident British prime minister. May stood outside Downing Street and accused Juncker of trying to affect the general election result.
The allegation was a nuclear bomb that backed up her narrative that Britain needs "strong, stable leadership" in the face of Brussel's threats. Once again, she repeated that she is willing to walk away from the negotiations altogether.
Although Juncker does not care about a trade deal, his member states do. They are watching Detroit's eyes on the British car market and the new world wine producers think about the U.K. champagne market.
Juncker just walked into the trap laid by the British: They are driving a wedge between what Brussels wants and what E.U. member states need. Almost immediately, Donald Tusk, the lead representative of E.U. member state governments in Brussels, had slapped down "both sides." He told a press conference, "These negotiations are difficult enough as they are. If we start arguing before they even begin, they will become impossible."
Tusk continued, "The stakes are too high to let our emotions get out of hand. Because at stake are the daily lives and interests of millions of people on both sides of the Channel. We must keep in mind that in order to succeed today we need discretion, moderation, mutual respect and a maximum of good will."
We all know what he means. You can almost hear him whisper, "For god's sake, Jean-Claude, don't lose us access to the U.K. market; they are our biggest export." Some European businesses even call Britain "treasure island" because of the appalling balance of trade the U.K. has with the E.U.
Any trade tariffs put on British companies to export to Europe would be roughly half what E.U. companies pay to access treasure island. Europe cannot possibly cut the U.K. off without causing a recession that would further destabilize the faltering euro.
So, Juncker's first week of battle ended with a slap from Donald Tusk and member states in outrage. His only option was to do what he does best:  hit the bottle. The Sun reported that he ended the week drunk at a peace conference in Geneva.
The report said Juncker was "very visably p***ed… He was bumping around into things and going up to junior members of staff for conversations. It was odd behavior and a little bit embarrassing for everyone."
Juncker also told reporters he is no longer going to speak English in protest of his treatment. May must be quaking in her stilettos.
Andre Walker is a lobby correspondent covering the work of the British Parliament and prime minister. Before studying journalism at the University of London he worked as a political staffer for 15 years. You can follow him on Twitter @andrejpwalker