When you tell people that Are You Experienced, the iconic debut LP from The Jimi Hendrix Experience, is turning 50 this year, the news is generally met with genuine disbelief.
How is it possible for music that still sounds so futuristic to be a half-century old?
That's the conundrum at the heart of seeing the Summer of Love hit its golden anniversary in 2017—especially in the context of Jimi Hendrix, a former Army paratrooper and guitar-for-hire on the R&B Chitlin circuit who left for England in 1966 and returned to America a transformed man who had just unlocked the inner secrets of his upside down Fender Stratocaster.
When Jimi Hendrix released Are You Experienced on May 12, 1967 his debut album hit like a pipe bomb.
The scattershot of its shrapnel has since influenced generations of aspiring guitarists, songwriters and musicians of all stripes to think far beyond the confines of the three-minute pop song while rewiring its very concept all at the same time.
Hendrix was only in this dimension for a short while. He died on September 18, 1970 at age 27 in a London hotel just two and a half years after releasing his debut album. But the heights he reached on Are You Experienced are timeless.
READ THIS: How Paul McCartney Saved Classic Rock From Extinction
Hendrix's catalog continues to accredit every year; his everlasting spirit is still helping young musicians overcome the shyness and anxiety of their mortal vessels and unleash the dragon that exists in the heart of anyone who ever clicked on an amplifier.
Are You Experienced was the Seattle-born guitarist's first statement on the sonic mysticism he learned overseas with his powerhouse English rhythm section in Noel Redding on bass and Mitch Mitchell on drums, and the inventive production of former Animals bassist Chas Chandler, who had managed Hendrix and was responsible for his excursion into the belly of the British Invasion. Not to mention a hotshot engineer from South Africa named Eddie Kramer, who went on to work on all of Hendrix's albums and continues to help oversee his catalog to this day.
Together, what these five men created inside London's Olympic Studios in late 1966 to early 1967 was a new language of the rock 'n' roll idiom—a dialect that gave the electric guitar a renewed sense of importance, urgency and danger within the construct of the classic pop song.
Hearing such tunes as "Purple Haze," "Fire," Foxy Lady," "Hey Joe," "The Wind Cries Mary" and "Third Stone from the Sun" for the very first time felt like breathing in a new molecule of air, enhancing one's perception of what blues-based rock music could sound like without a net. Five decades later, there are still Easter eggs to be found between its blasts of soulful reverb.
The expert panel of music makers we've assembled below to speak about how this landmark LP sent them on their respective paths speaks volumes to the vast expansiveness of the lives Hendrix has touched over the last 50 years. We can only imagine the music that'll continue to reverberate from his genius another 50 years from today.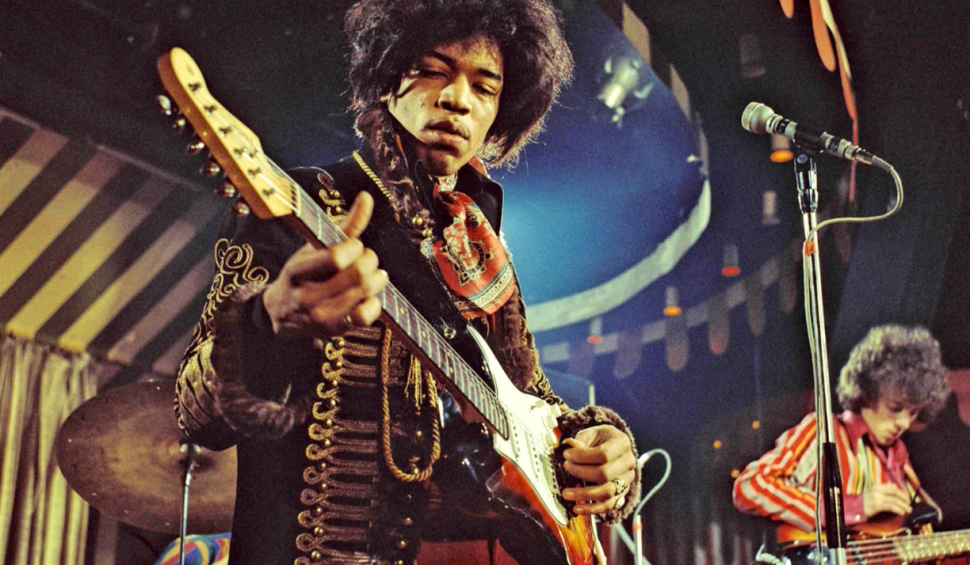 Kevin Eubanks, jazz and fusion guitarist, former leader of the Tonight Show Band for Jay Leno's The Tonight Show
At heart, Jimi Hendrix was a rhythm 'n' blues guy that came up during a time period in this country that could only produce someone like him. All the elements of society would be fused into the magic he created on that guitar. There was an energy in there which needed to come out.
What Jimi wanted to do with feedback and such was re-create the sounds he experienced when he was a paratrooper, and when he was up in the air and they opened up that hatch and all the air started coming in through the plane door. He said that he was trying to mimic the energy of that moment, when you're about to jump out of a plane. He would start associating these sounds he was making on the guitar with the sounds of jumping out of an airplane.
There's a quote from a Janis Ian song that, to me, epitomizes Jimi. This tune called "Stars," where she's like, "Stars, they come and go/They come fast or slow/They go like the last light of the sun, all in a blaze/And all you see is glory."
Those words could be under a picture of Jimi Hendrix.
Ross Friedman, The Dictators/Manowar/Ross the Boss
It was the summer of '67. I was 13 years old and had just started playing guitar for about a year. And I found myself up in New Hampshire at a sleepaway camp. I was a dish boy or something. That summer, music just exploded with Cream, The Doors, Jefferson Airplane, The Grateful Dead. It was insane; all sorts of music going down. But when Are You Experienced by The Jimi Hendrix Experience came around, I heard guitar playing like I never heard in my life.
I had originally started as an all-blues guitar player, and then I heard Jimi Hendrix for the first time and it absolutely changed my life. And Jimi, being a blues-based guitarist, I could figure out where he came from. And Are You Experienced, it was an amazing collection of songs. He was not only an amazing guitar player, but a tremendous lyricist in his own right. I believe he set the guitar on a new course with his effects, with the sounds he made and his ability to thrust the guitar into the present as the first instrument in rock. He made the guitar a weapon.
The songs were amazing. His textures were amazing. His voicings. You listen to it now and it's still unbelievably innovative. Prince took everything he knew from Jimi Hendrix, and everybody continues to borrow from him. And for me, Are You Experienced changed my life. I'm a product of a lot of bands, especially the high energy shit like the MC5 and early J. Geils. But I was definitely a blues guitar player first, and there's no mistaking Jimi Hendrix's influence on me and a whole generation of guitarists.
[youtube https://www.youtube.com/watch?v=_PVjcIO4MT4?list=PL94gOvpr5yt1ub98TNxjXS7j89NlCFgmf&w=560&h=315]
Dave Davies, The Kinks
"The Wind Cries Mary" is cool and "Hey Joe" is a great track. Inspirational stuff. I met Jimi Hendrix once on a plane flight to Sweden for a TV show. The airline sat us together coincidentally. He was a great guy, very polite and courteous. Jimi loved "You Really Got Me" and told me he thought it was a landmark record. He was a unique and inspirational guitar player and will always be an influence for young musicians.
Jimi Hendrix was a devotee of Bob Dylan. He'd once enraged his girlfriend in his hard-up New York days by spending their grocery money on a copy of Highway 61 Revisited. "The Wind Cries Mary" is a soulful song—always struck me as like a tender Bob Dylan ballad in electric drag—so I wanted to perform it as if it was something off Another Side Of Bob Dylan. Jonathan Demme, ever obliging, ran the cameras and rolled the tape.
At my father's house, now my house, in Bamako, there is a big framed picture of him with Jimi Hendrix from 1969. I remember I used to look at this photo as a child and I would admire this cool and crazy-looking guy, Jimi, who had this spark in his eye.  This inspired me to listen to his music and then, in turn, his music helped to inspire me to learn the guitar.
For me, two songs from the Are You Experienced album had a powerful impact on me: "Fire" and "Red House." "Red House" to me is like the perfect American blues song. Although his music was so different from our traditions, I was able to hear and feel our music in this song. And then there was "Fire" that I fell in love with—me and my brothers would listen to this and dance around. Jimi was a hero for me because he represented something really pure and exciting about Western rock music that drew me in.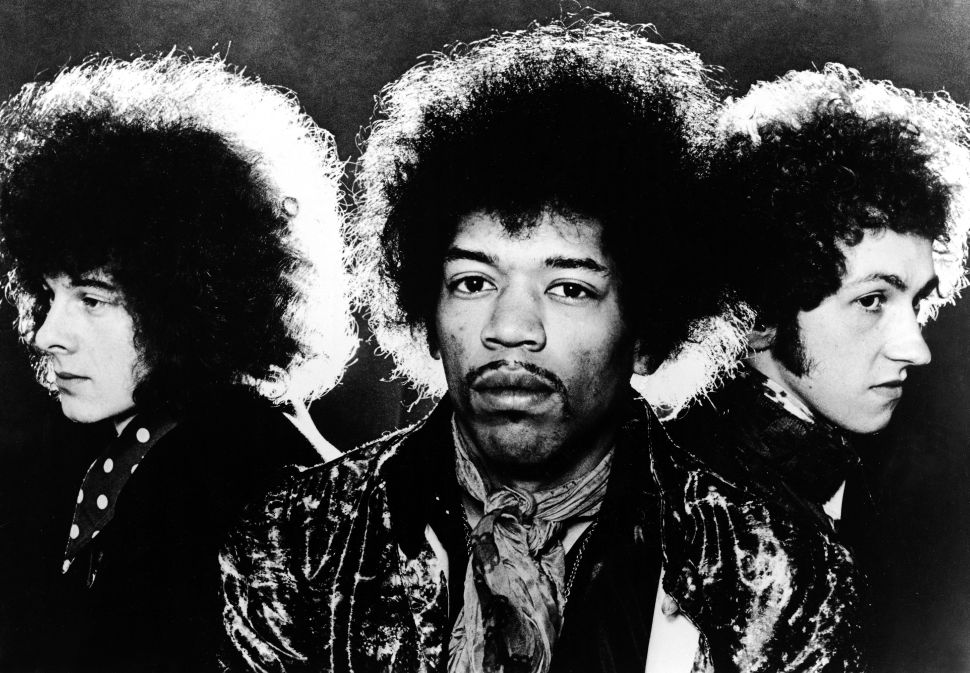 I feel Jimi Hendrix is a singular figure in the world of guitarists…he has single-handedly inspired several generations of guitarists to start the guitar. It's pretty incredible, all the guitarists I have spoken with between age 20 and 60, to see just how many of them started playing because of Hendrix, myself included. Hearing Hendrix—and the album Are You Experienced in particular—as an 11-year-old blew my mind wide open.
I actually went out and got a black-and-white Stratocaster, and the guitar tablature book of Are you Experienced so I could teach myself the songs—this guitar tab book is in fact still on my bookshelf today! Hearing Jimi Hendrix is really what first got me excited about improvisation. There is an excitement, recklessness, uniqueness, beauty to everything that Jimi plays and the music resonates just as strongly today as it did when I first heard Are You Experienced as a kid.
When I was 5, on the first day of kindergarten, they took away the dress-up station because my friend and I put dresses, wigs and high heels on and acted like we were singing and playing "Foxy Lady" on some boat oars! [Laughs] I'm 43 now, and I still find myself analyzing the production of that album and his guitar tone. I'm also still amazed that all that was played upside down and backwards! Great fuckin' record!
Vernon Reid, Living Colour
Hearing Jimi Hendrix's Are You Experienced as a young journeyman guitarist was a seminal, cementing event in the realization of just how important Jimi Hendrix was. Being too young to have been exposed to Hendrix's music in sequence, I heard Band Of Gypsys first, then heard the studio albums. The title song, "Are You Experienced," remains a personal favorite, and is both an artistic and technological pinnacle of what was possible in the studio at that time. That backwards guitar solo for that song is amongst the greatest of the entire Rock Era.
When I was 16, I hadn't yet thought about taking the plunge into learning guitar even though my favorite listening was any track that had hot and wild playing: Mike Bloomfield with Butterfield, Jeff Beck with the Yardbirds, Eric Clapton with John Mayall. My friends and I would listen to Rosko and Alison Steele The Nightbird on WNEW-FM and when they gifted us with Are You Experienced, we were all blown away.
The radio DJ's would parcel out individual tracks with an emphasis on "Hey Joe" and "Purple Haze," eventually playing the entire album. Jimi's playing was so far beyond what anyone else was doing that I didn't even think of it as guitar but as a completely new instrument, at one with his voice and structures. This feeling has only been enhanced over the years as Jimi's records—even when flawed—remain inspirational.
Listening to Are You Experienced many, many times has revealed details about the guitar vision and craft and the onomatopoeic sonic sculpting that contribute to an overarching sense of a revolutionary leap from the typical music of the day to one unmoored in time-space.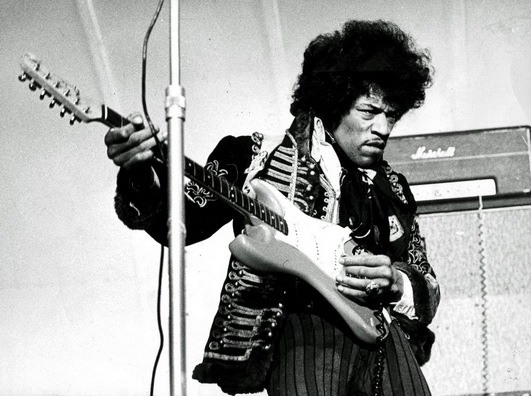 Jeffery Salter, Banditos
I think every guitarist, and maybe musician, has that moment in their teenage years where Jimi totally changes the course of their life. I was experienced around 14 in the back of a skate shop we would hang around back in Birmingham. He wrote the textbook with that record. His combination of chops, taste, and completely freaking out yet balancing on the line of beauty and chaos really shaped my foundation as a player.
Steve Diggle, The Buzzcocks
Jimi Hendrix gave you noise sexuality and turned your world upside down! A song like "Foxy Lady" has a very intense rhythm and when Jimi says "you know you're a cute little heartbreaker, and you know you're a sweet little love maker, I want to take you home," it's like a wild animal about to devour its prey!
He's coming to get ya like a big bad wolf in the middle of a sonic sensual noise! It's a long way from a "Moon in June" song and you just have to surrender. He really is coming to get ya whether you like it or not!
It's hard to even know where to start…That's one of those albums, and Hendrix is one of those players that was just beyond time, beyond this planet (third stone from the sun), and really helped in the collective evolution of music and the human race.
Down to the molecular level, the universe is composed of vibrating waves of energy—sound. Our DNA is the same thing—sound and color…the evolution of music is at the same time the evolution of us understanding who and what we are. Hendrix was doing things the world had never heard before, helping us connect those strands that had been missing, and helping us evolve.
Think of all the intellectual and social progress that has been made since '67. I'd hate to think where we'd be without Jimi's shredding. And what he did is eternal. As long as people are free, kids will always find that record and it will continue to work its magic. Ten million shredders will come along, but he's secured a place that will only become stronger with time.