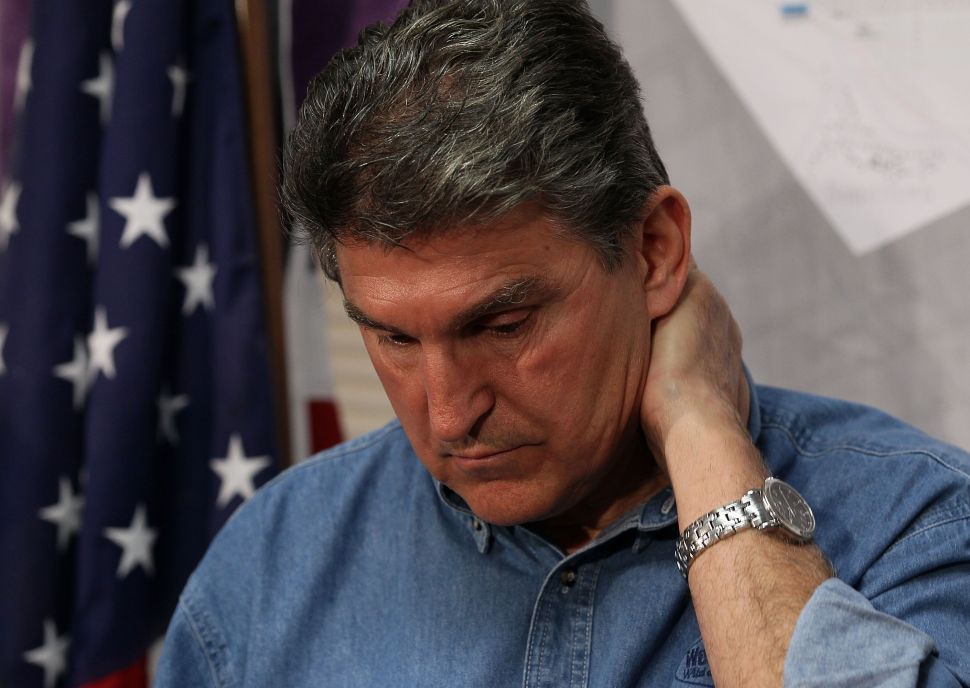 In a conference call in February, Sen. Joe Manchin taunted a supporter of Sen. Bernie Sanders to primary him in his 2018 re-election race in response to criticism that Manchin should hold a town hall to directly engage with his constituents in West Virginia. "What you ought to do is vote me out. Vote me out! I'm not changing. Find somebody else who can beat me and vote me out," Manchin said. An activist on the call asked for clarification whether this was an invitation or a threat. Manchin accused the activist of supporting Sanders and said, "Bernie Sanders is not even a Democrat." This exchange combined with his pandering to Donald Trump has inspired calls for Manchin to be primaried and removed from Democratic leadership.
On March 1, progressive activists with CREDO delivered a petition with 225,000 signatures demanding Senate Minority Leader Charles Schumer remove Manchin from party leadership, citing that Manchin voted to confirm every one of Trump's nominees. Leading up to his re-election, Manchin has cozied up to Trump's base. He has praised Trump in several Breitbart articles, and he regularly offers the far right publication exclusive access, including a one-hour "get to know you session." His shift from moderate Democrat to Republican in Democrat clothes has inspired progressives to support Paula Jean Swearengin, a coal miner's daughter and activist who will challenge Manchin in the primaries.
"What inspired me to run to run for Congress is that I have lived through the progression and regression of the coal industry. I've watched my family, my neighbors and my friends suffer from a single industry economy. We are one of the poorest and sickest states in the country. We don't have the opportunity for a better future," said Swearengin, who is backed by Brand New Congress, an organization founded by two former Bernie Sanders staffers, and Justice Democrats, in an interview with the Observer. "The market is down with coal, and there's no promise that they are going to rebound. We have to worry about mechanization decreasing our workforce. People here in West Virginia live in impoverished conditions. In some places, it's similar to conditions in a third world country. We've been under a singular economy without having any prospects of a clean and stable economic infrastructure, and that's really my inspiration."
Swearengin cited that many of West Virginia's leaders in both political parties cater to coal barons instead of voters, a pervasive trend in the state. The Washington Post reported on May 12 that former Massey Energy CEO Don Blankenship, who was imprisoned for one year after overt negligence and abusive labor practices caused the death of 29 miners in one of the Massey Energy's mines, immediately began defending himself on Twitter and TV as soon as he was released. Blankenship and other coal barons have poured millions of dollars into elections in West Virginia to instill politicians that favor the coal industry's interests over the people of West Virginia's. Manchin worked for coal brokerage firm Enersystems before winning his seat in the Senate. The New York Times reported that Manchin received an income of nearly $2 million from his position at the firm in the 19 months before getting elected to the Senate, generating a personal income from an industry he has sided with multiple times in policy decisions.
"The last time I talked to Joe Manchin was in a town hall. I told him about my family dying. I felt like he was immune to hearing what I had to say," said Swearengin. "When I told him that all West Virginians deserve clean and safe jobs, he pointed to the coal miners in the crowd and said they they deserved jobs, and that he and I would have to agree to disagree. So he was saying only one sector of our workforce deserves jobs. Yes, of course, those miners deserve jobs—clean, safe jobs with good pay. That's what West Virginians need. Even though Joe Manchin supported the miner's protection act, he's missed some very important issues." She cited that Manchin refused to fight against the bankruptcy bail-out for the coal industry, while elderly in the United Mines Workers Association, many of whom worked in coal mines for decades, were at risk of losing their healthcare.
Swearengin added, "The reason that I decided to fight back is that I believe the leaders are out of touch with our struggles, and I think it's time for West Virginia to invest in ourselves and take back what was ours. We are some of the most hospitable people in the world, but right now, we are divided. We're divided because we are put against each other to put food on our tables and provide clean water for our children. Some of our creeks run orange and black now. We live in one of the most bio-diverse regions outside of rainforests, and it's being destroyed. Not only is our heritage being destroyed but our land, our health, and our connection to each other."
Several leading Democratic politicians have written off West Virginia or attacked it because the state overwhelmingly supported Donald Trump in the presidential election. In a blog post in December 2016, Daily Kos Founder Markos Moulitsas wrote, "Be happy for coal miners losing their health insurance. They're getting exactly what they voted for." In September 2016, former President Bill Clinton mocked coal miners in West Virginia and Kentucky. "The coal people don't like any of us anymore," Bill Clinton said during a rally. "They blame the president when the sun doesn't come up in the morning now."
In contrast, at the Sister Giant Conference in February 2017 Bernie Sanders said, "We need environmentalists who understand that if we are not bold and decisive in transforming our energy system away from fossil fuel to energy sufficiency and sustainable energy, the future of this planet is in doubt. But we at the same time have got to stand with those coal miners and their families who may lose their job and make sure we work to economically develop the areas where they live. They cannot be set aside. So it is a question of bringing people together."
Swearengin noted Bernie Sanders's support in West Virginia, where he beat Hillary Clinton by nearly 15 percentage points, because Sanders acknowledges the issues West Virginians are concerned about. "People in West Virginia feel neglected. I know people who have struggled to eat. I think that West Virginians have taken a lot of the blame for Donald Trump, but we've not had a hope for our future for a long time, so I don't think it's fair for the Democratic Party to blame West Virginia," Swearengin said. "Democrats here have been supportive of Democrats that act like Republicans like Joe Manchin. So I think that we all need to take responsibility and realize that in order to make a change, we have to work together, and we have to acknowledge the problems that people are facing."