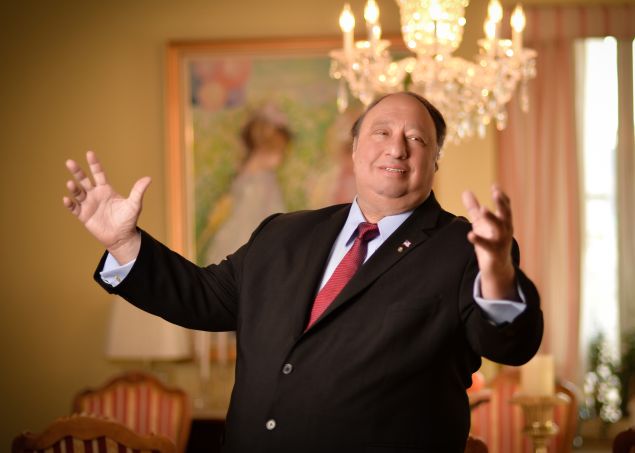 John Catsimatidis—the supermarket, oil and real estate mogul who placed second in the 2013 Republican primary—announced today he would not make a second attempt at Gracie Mansion, having decided incumbent Democratic Mayor Bill de Blasio is just too tough to dislodge.
Catsimatidis revealed his decision this afternoon, following months of public flirtation with the prospect of another run. The Gristedes founder said he had concluded de Blasio enjoys tremendous inertia in the office he has occupied for the past four years.
"I have often said I have one more race for office in me. But, after careful consideration and consultation with my family, friends and advisers, I have decided the 2017 race for mayor of New York will not be it," Catsimatidis said in a statement to the press. "My decision was based in part on the fact that the power of an incumbency is extremely hard to defeat."
The Greek-born billionaire, who hosts a radio program on AM 970 The Answer, pledged to remain politically outspoken and active. He listed among his pet causes improving stubbornly poor test scores and college readiness among public school students, bolstering support for the NYPD, cutting business regulations and ameliorating the "national disgrace" of living conditions within the New York City Housing Authority.
"Even though I won't be a candidate, I will continue to speak out on the issues of the day on my weekly radio show, giving my honest opinion on what's right and what's wrong in our city, our state and our nation," he said. "I want other New Yorkers, especially immigrants, to have the same opportunities I had to live the American Dream."
Catsimatidis' abstention leaves real estate executive Paul Massey the best-funded candidate in both the GOP and general election fields. But the gaffe-prone magnate is close to Staten Island Assemblywoman Nicole Malliotakis, a fellow Hellenic-American who filed paperwork last week to join the Republican fray, and said she would drop out if Catsimatidis entered.
Also in the running is Jets lineman-turned-minister Rev. Michel Faulkner. Celebrity cop and private investigator Bo Dietl botched his voter registration paperwork, and is seeking the necessary support of three of the city's five Republican county leaders to run on their party line.