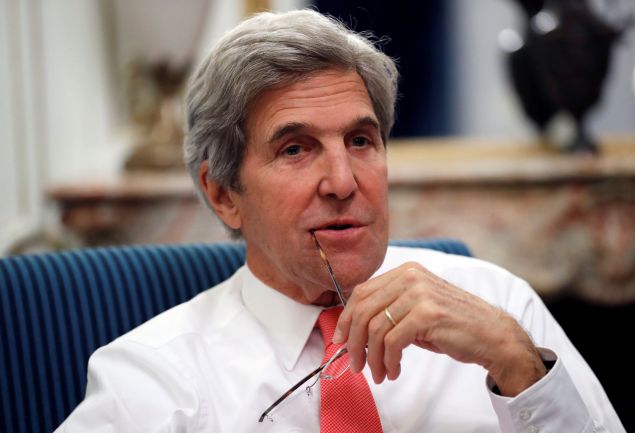 Ex-Secretary of State John Kerry ripped President Donald Trump for pulling out of the controversial Trans Pacific Partnership trade deal, which would have leveled barriers to commerce and standardized regulations between the United States and an array of Pacific Rim nations, arguing that the swift pivot away from the accord damaged American influence and credibility internationally.
Former President Barack Obama—with the help of Kerry and his predecessor, Hillary Clinton—hammered out the TPP with Japan, Australia, Canada, Mexico, Chile, Peru, Brunei, the Philippines, Vietnam, New Zealand and Singapore, against the urgings of labor and other left-liberal interest groups. Obama fought his own party to secure so-called "fast-track" authority from Congress, which would have allowed the House and Senate to only vote "yea" or "nay" on the agreement, without changing its particulars.
But that vote never took place and Trump, who ran a fiercely nationalist campaign, signed an order to withdraw from the deal.
"Something that I in the administration, and the president, worked extremely hard on through the years was the TPP, the Trans Pacific Partnership," said Kerry, who accepted an award in Manhattan today from the nonprofit The Common Good. "You can say 'I don't like Clause C, or E,' or whatever. You go and negotiate. It was just thrown out, completely thrown out. In doing so, we walked back eight to ten years of our work American efforts and credibility in the region."
Kerry predicted "a long-term downward payout" from the current administration's decision, which will limit the U.S.'s ability to promote its interests abroad in the future. The TPP was designed to counter the growing influence of China, but critics on both ends of the spectrum warned about the loss of American sovereignty, and exposing U.S. workers to competition with those in poorer nations with weaker workplace regulations.
"And I think that our influence as a result, and in terms of what I believe where is the level of business, where is the level of transparency and accountability, opportunity will be lost," he said. "And that is something that day to day right now, worries me the most, is lost opportunity. Because we don't have time, folks."
The 2004 Democratic presidential candidate tied the trade issue to what he described as the president's backward-looking efforts to rejuvenate the coal industry, and his threats to withdraw from Paris climate change agreement, which would cap greenhouse gas emissions. Trump has claimed that climate change is a myth fabricated by the Chinese government to hobble the American economy, and argued that efforts to regulate coal mining and burning damage underprivileged regions of Appalachia.
Kerry recalled personally witnessing chunks of ice breaking away from Arctic glaciers, noting that such pieces were doomed to melt and elevate sea levels internationally, threatening coastal cities.
"This is serious business and, and, we're not talking about accelerating our efforts to get people to get off of coal, we're talking about going backwards into coal," he said. "What it is is wasting time where we don't have time."
Nonetheless, the former State Department head sounded upbeat about the possibilities for the global future, asserting Americans can find prosperity by fighting to resolve the problems of the world.
"What are we doing raising our hands about the lack of jobs and opportunity, when there's tons of opportunity sitting out there waiting to be had?" he said. "I honestly am optimistic about our ability to do this. We can get through this."
As it happens, Kerry's successor Rex Tillerson signed an international agreement today acknowledging the international need to address climate change.
The TPP was broadly popular among congressional Republicans, but engendered opposition from the Tea Party, the right-wing website Breitbart—formerly managed by White House strategist Stephen Bannon—and from then-Alabama Sen. Jeff Sessions, an early Trump supporter and current U.S. Attorney General.
Both Trump and Vermont Sen. Bernie Sanders ran aggressively against the deal, and Clinton announced her own opposition after a finalized version came out in 2015. Nearly the entire New York City congressional delegation attacked the pact, with the exception of Queens Congressman Gregory Meeks.